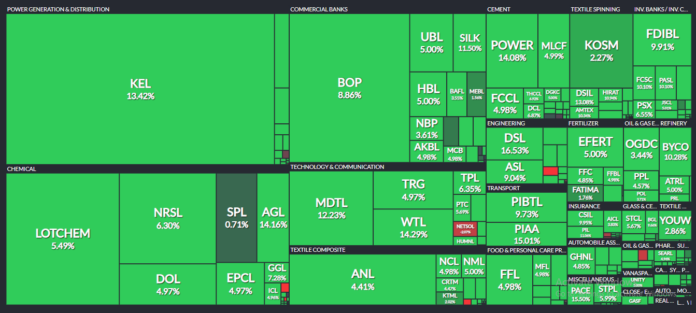 'Pakistan might get a $6-7 billion financial package from IMF in the wake of Saudi deal'
KARACHI: Bulls of the Pakistan Stock Exchange (PSX) made a comeback on Wednesday. Investors' confidence revived after Saudi Arabia agreed to give Pakistan $3 billion in foreign currency support for a year and a further loan worth up to $3 billion in deferred payments for oil imports to help stave off the current account crisis.
Moreover, as per the media reports, the Pakistani Rupee appreciated against the US Dollar by 1.5 per cent and hit an intraday high at Rs 132 in the inter-bank market.
"The market has welcomed the Saudi package which has eased off the situation Pakistan was faced with of late," said Muzammil Aslam, former chief executive of EFG Hermes Pakistan — the only foreign brokerage house in the country.
PM Khan's government has also entered talks with the International Monetary Fund (IMF) as it seeks a potential bailout package to stem its balance of payment and current account deficits.
"Tuesday's relief package will likely lessen the number of funds the country will need to secure from the IMF," analysts said, adding that Pakistan "might get a $6-7 billion financial package from the IMF" in the wake of the Saudi deal.
It is pertinent to mention that an IMF team is set to arrive in Pakistan in early November to begin negotiations. Since taking power in August, PM Khan has sought loans from friendly countries such as China and Saudi Arabia, promised to recover funds stolen by corrupt officials, and embarked on a series of high-profile populist austerity measures.
The KSE 100 index on Wednesday crossed the 39,000 mark and reached an intraday high of 1,580 at 39,296.33. The index appreciated by 4.13 per cent and closed at 39,271.12 after gaining 1,556.22 points. The KMI 30 index jumped up by 4.66 per cent to end the day higher by 2,972.89 points at 66,803.18. The KSE All Share index accumulated 935 points and settled at 28,925.72. Out of 385 traded scripts, 327 advanced while 51 declined. As many as 164 companies touched their upper caps intraday.
Trading volumes surged up by a massive 49 per cent DoD basis and were recorded at 333.64 million. K-Electric Limited (KEL +13.42 per cent), The Bank of Punjab (BOP +8.86 per cent) and Lotte Chemical Pakistan Limited (LOTCHEM +5.49 per cent) led the volume chart. The scripts had traded 68.50 million, 30.33 million and 25.45 million shares respectively.
The transport (+8.61 per cent), power (+7.98 per cent) and refinery (+7.98 per cent) sectors were major gainers. Cement sector on the other hand gained 4.25 pe cent in its cumulative market capitalization. Major players Lucky Cement Limited (LUCK +5.00 per cent), D G Khan Cement Company Limited (DGKC +5.00 per cent) touched their upper-locks.
MCB Bank Limited (MCB +4.98 per cent) nearly touched its upper lock after the company declared its financial performance for the third quarter of 2018. The company's revenue appreciated by 9 per cent QoQ. Earnings per share declined from Rs4.62 in the same period last year to Rs3.84 in the current year. An interim cash dividend of Rs4.00 was also declared by the company in addition to Rs8.00 already paid.
Fauji Foods Limited (FFL +4.98 per cent) released its financial results for 3QFY18, showing an increase in sales by 9 per cent QoQ. The management managed to reduce the marketing and distribution expense by 5 per cent QoQ hence the earning per share improved from Rs-3.63 in the same period last year to Rs-1.70.