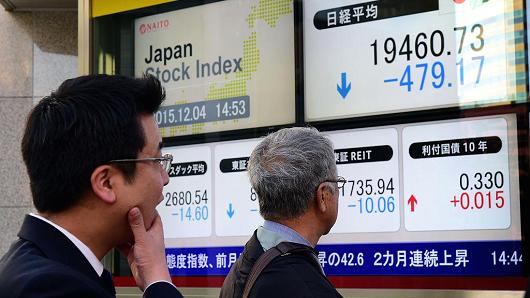 BEIJING: Most Asian stocks sank Tuesday after a tech sell-off dragged Wall Street lower.
KEEPING SCORE: Tokyo's Nikkei 225 lost 2.3 percent to 21,760.59 while the Shanghai Composite Index gained 0.8 percent to 2,652.70. Sydney's S&P-ASX 200 declined 1.8 percent to 5,834.20 and Seoul's Kospi gave up 0.7 percent to 2,065.42. Hong Kong's Hang Seng gained 0.2 percent to 25,706.88, while India's Sensex retreated 0.2 percent to 34,747.01. Jakarta gained while New Zealand, Taiwan and other Southeast Asian market declined.
WALL STREET: A sell-off in technology companies knocked more than 600 points off the Dow Jones Industrial Average. The wave of selling snared big names including Apple, Amazon and Goldman Sachs. Banks, consumer-focused companies, and media and communications stocks all took heavy losses. That, in turn, weighed on chipmakers. The Standard & Poor's 500 index lost 2 percent to 2,726.22. The Dow gave up 2.3 percent to 25,387.18. It was down briefly by 648 points. The Nasdaq composite slid 2.8 percent to 7,200.87.
APPLE: The tech tumble followed an analyst report that suggested Apple significantly cut back orders from one of its suppliers. That fueled questions about the outlook for tech industries and U.S. economic growth. Apple fell 5 percent after Wells Fargo analysts said the iPhone maker is the unnamed customer that optical communications company Lumentum Holdings said was significantly reducing orders. Shares in Lumentum plunged 33 percent.
US-CHINA TRADE: Markets in Shanghai and Hong gained after the South China Morning Post newspaper reported Chinese President Xi Jinping's top economic adviser, Vice Premier Liu He, might visit Washington ahead of Xi's planned meeting with U.S. President Donald Trump. The newspaper, citing unidentified sources, said the visit is aimed at easing trade tensions but no schedule had been decided. The two sides have raised tariffs on billions of dollars of each other's goods in a dispute over U.S. complaints about Beijing's technology policy. Xi and Trump are due to meet during this month's Group of 20 gathering of major economies in Argentina.
OPEC: Saudi Arabia said the oil cartel and allied crude producers will likely need to cut supplies, perhaps by as much as 1 million barrels of oil a day, to rebalance the market after U.S. sanctions failed to cut Iran's output. Khalid al-Falih's comments showed the balancing act U.S. allies face in dealing with President Donald Trump's actions. Trump has demanded OPEC increase production to drive down U.S. gasoline prices. Al-Falih, who on Sunday said the kingdom would cut production by more than 500,000 barrels per day in December, said Saudi Arabia gave customers "100 percent of what they asked for." That appeared to be a veiled reference to Trump.
ENERGY: Benchmark U.S. crude fell 87 cents to $59.04 per barrel in electronic trading on the New York Mercantile Exchange. The contract sank 26 cents on Monday to $59.93. Brent crude, used to price international oils, lost 81 cents to $69.33 in London. It declined 6 cents the previous session to $70.12.
CURRENCY: The dollar declined to 113.89 yen from Monday's 113.84 yen. The euro gained to $1.1241 from $1.1218.