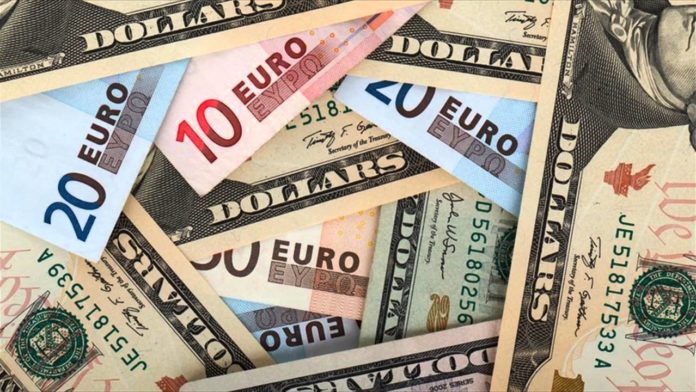 SINGAPORE: The dollar rose versus its major peers on Monday, as investors sought shelter in safe-haven currencies as fears of a global growth slowdown and U.S.-Sino trade tensions sapped risk appetite.
The greenback and the yen, both considered safe-haven currencies advanced as traders fear that last week's capitulation in oil prices suggests that the global economic recovery is losing steam.
The British pound changed hands at $1.2819, gaining 0.05 percent versus the dollar. European Union leaders sealed a Brexit pact on Sunday calling it the 'best possible' deal that Britain could have got.
A vote in the British parliament is expected to take place just before the next EU summit on Dec. 13-14. Most analysts expect sterling to be subdued till then.
With Brexit settled, for now, currency traders are looking to the upcoming G20 meeting in Buenos Aires on Nov.30, where U.S. President Donald Trump and Chinese President Xi Jinping are likely to discuss trade.
Investors are hoping a workable deal can come out of the summit because if not, Washington's 10 percent tariff rate on $200 billion of Chinese imports will rise by early next year to 25 percent.
Trump has threatened to impose tariffs on all remaining Chinese imports – about $267 billion more in goods – if Beijing fails to address U.S. demands.
The yen traded with a strong bias in early Asian trade on Monday. The Japanese currency traded within a very tight range of less than 100 pips last week.
The dollar is expected to remain in an uptrend against the yen, with the Fed on a monetary tightening path while the Bank of Japan remains committed to its ultra-loose monetary policy due to low growth and inflation.
This interest rate differential between U.S. and Japanese bonds makes the dollar a more attractive bet than the yen.
Analysts also believe another factor supporting the dollar is Japanese investors remaining heavily invested in the U.S. and other foreign assets.
The euro traded marginally lower at $1.1335. The single currency lost 0.7 percent versus the greenback last week as traders reacted to weak economic data out of the common area.
The ongoing tussle between Rome and Brussels over Italy's free-spending budget, which breaks the European Commission's fiscal rules, has also put the euro under pressure.
However, Italian Deputy Prime Minister Matteo Salvini hinted on Sunday at the possibility of tweaking the country's deficit goal for next year, a move that could open a negotiation between Rome and Brussels to avoid a disciplinary procedure against Italy.
There will be an increased focus on ECB President Draghi's appearance at the European Parliament on Monday, with markets expecting to take dovish tone given the weakness in recent economic data.
The New Zealand dollar lost 0.3 percent to trade at $06760 as investors took in weaker-than-expected retail sales data.