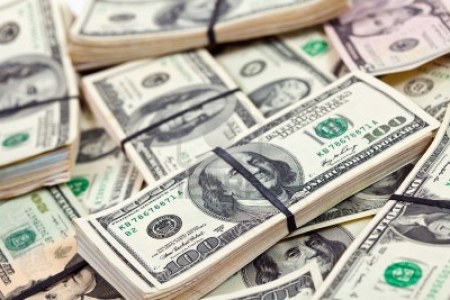 SINGAPORE: The dollar weakened against its peers on Thursday after Federal Reserve Chairman Jerome Powell said U.S. interest rates were just below neutral, taken by many investors as a tip that the rate hike cycle was nearing its end.
Powell's dovish remarks took the currency markets by surprise as he noted that the policy rate, at 2-2.25 percent, is now "just below" the broad range of estimates of neutral, which in September was 2.5-3.5 percent.
This view represents a significant departure from comments in October when Powell said rates were a "long way from neutral at this point".
The Fed chairman's remarks led to the dollar weakening across the board, especially versus riskier currencies such as the Australian and New Zealand dollars.
They both gained 1.2 percent after Powell's remarks. Later, the Aussie advanced slightly more while the kiwi weakened.
However, some analysts cautioned against reading Powell's comments as overly dovish.
Traders expect more clues on the Fed's monetary tightening path from the minutes of the U.S. central bank's Nov. 7-8 meeting, due out later on Thursday.
The dollar index, a gauge of its value versus six major peers, traded marginally lower at 96.76 in Asian trade. The index lost 0.54 percent on Wednesday, its steepest percentage decline since Nov. 1.
Traders may be cautious of building aggressive short positions, given the G20 summit on Friday and Saturday where U.S. President Donald Trump and China's President Xi Jinping are scheduled to discuss contentious trade matters.
Early this week, Trump said it was "highly unlikely" he would agree to China's request to hold off a planned Jan. 1 increase in tariffs for further talks.
At 0436 GMT Thursday, the dollar was down 0.4 percent versus the yen to trade at 113.25. But analysts expect interest rate differentials between the U.S. and Japan to support the dollar/yen in the next couple of months.
The euro changed hands at $1.1377, gaining 0.1 percent on Thursday. The single currency gained 0.7 percent in the previous session thanks to dollar weakness.
Sterling traded marginally higher at $1.2843. Investors expect the pound to remain under pressure as traders bet that British Prime Minister Theresa May will fail to win approval for her Brexit deal from a fractious parliament.
The Bank of England warned on Wednesday that Britain risks a bigger hit to its economy than it suffered from the global financial crisis a decade ago if it leaves the European Union in a "disorderly" manner, which would include a 25 percent crash in the value of the pound.