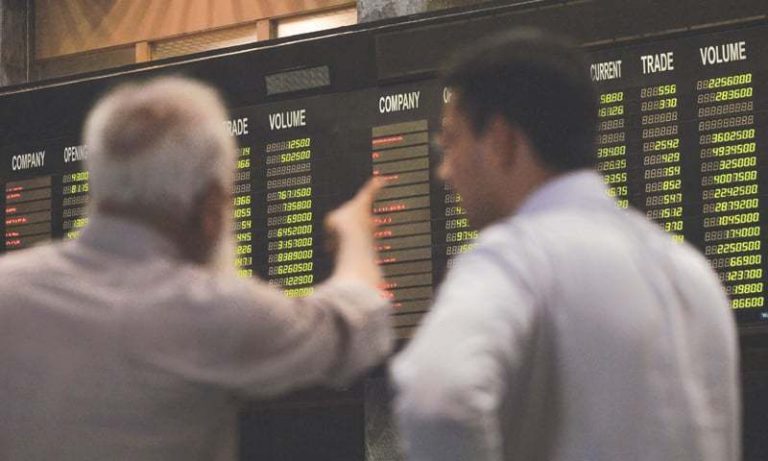 LAHORE: Another lackluster session ended with bears dominating at the Pakistan Stock Exchange (PSX). Investor confidence continued to remain weak ahead of the Monetary Policy Statement (MPS) to be announced on Friday.
The country's balance of payment crisis does not seem to be ending soon as its net international reserves now stand at negative $4 billion even after eliminating IMF debt obligations, according to latest figures released by State Bank of Pakistan (SBP) on Wednesday.
Traded volumes were below 100 million on Thursday for the first time in last 39 sessions. This was only the third time in 5 months where traded volumes did not cross the 100 million mark. The KSE 100 touched its intraday high of 40,781.43 minutes after the session begun. It then went south to hit intraday low of 40,462.91. Failing to recover losses it settled lower by 65.97 points at 40,638.83. The KMI 30 index depreciated by 265.47 points to close at 68,883.57. While, the KSE All Share index ended at 29,351.72 after losing 18.81 points.
Trading volumes declined by 22 per cent day on day (DoD) basis and were recorded at 97.42 million. The Bank of Punjab (BOP +1.55 per cent) ended as most traded script of the session with a volume of 6.34 million. Siddiqsons Tin Plate Limited (STPL +2.24 per cent) and Fauji Cement Company Limited (FCCL -2.01 per cent) were next in line on volume chart. The scripts had 5.87 million shares and 3.79 million shares exchanged respectively.
The banking sector gained 0.34 per cent in its cumulative market capitalisation as investors wait for the next monetary policy. Market analysts expect a further hike in interest rates.
While, the oil and gas exploration sector declined by 0.68 per cent, power generation and distribution sector by 0.50 per cent and oil and gas marketing sector by 1.28 per cent.
Exide Pakistan Limited (EXIDE -5.00) declared its financial results for 2QFY19. The company's sales declined by 19 per cent YoY. On the other hand, the earnings per share improved from Rs -25.65 in SPLY to Rs -20.93 in CY.
PSMC closed on its lower capitalisation on Thursday at Rs244.2, as news flow suggested that according to the Automobile Policy 2016-2021 the government cannot extend Greenfield investment project status to any of the existing three Japanese car assemblers including Pak Suzuki Motors.
Refineries closed in the green on Thursday, led by NRL(+5 per cent) and ATRL (+1.5 per cent), as the Cabinet Committee on Energy (CCoE) ordered immediate lifting of furnace oil from refineries and a 6-month plan envisaging all fuel requirements within a fortnight.
Investor participation severely regressed on Thursday as traded volumes fell by 22 per cent to 97 million, while traded value plummeted by 28 per cent to $35 million.
Meanwhile, Exide Pakistan Ltd (EXIDE) announced its 2QFY19 results, posting LPS of Rs20.9 against EPS of Rs3.14 in the same period last year. This is due to a 19 per cent YoY decline in sales, a 2.4x YoY rise in operating expenses and a 73 per cent YoY rise in finance cost.
It was reported the government is expected to reduce petroleum prices by Rs7 from December 1, citing lower crude oil prices in the International market.
Minister for Information Technology (IT) Khalid Maqbool Siddiqui told a Senate committee that a breakthrough was expected in the recovery of $800 million from Etisalat, which had bought 26 per cent shares of Pakistan Telecommunication Company Limited (PTCL) in 2005 at a price of $2.6 billion.
Meanwhile, Prime Minister Imran Khan was informed at a meeting that over 40 bidders and construction companies had applied for providing land and constructing housing units under the Naya Pakistan Housing Programme (NPHP) of the federal government.