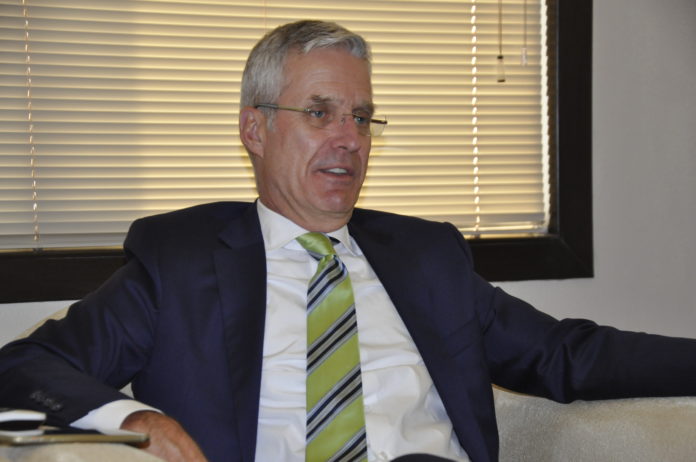 KARACHI: The Pakistan Stock Exchange (PSX) is in the process of acquiring a brand-new trading system, said its Chief Executive Officer (CEO), Richard Morin here on Monday.
"We expect to implement this new trading and market surveillance system in the next year, said Morin.
Meanwhile, PSX is preparing to list an Exchange Traded Fund (ETF) and rules will be sent to the Securities and Exchange Commission of Pakistan (SECP) for approval later this month and we have market maker commitments for this product, said Mr Morin.
He said, "once all necessary approvals have been taken by the regulators, we will be ready to list ETFs as soon as an Asset Management Company issues them. We are currently in talks with AMCs and we hope to see at least one commit soon.
"Exchange Traded Fund is like a mutual fund, but it will be traded like a stock listed at the exchange.
"This ETF would be managed by the Asset Management Companies (AMCs) and we were working on this product for last many months," he claimed.
"Listing in Exchange-Traded Fund (ETF) which is a marketable security that tracks an index- is a complex undertaking. It has been the focus of attention in Pakistan for last many years," he further added.
Mr Morin said this product would be launched with the help of AMCs, brokers, market makers and close coordination by the PSX and SECP.
While talking about adopting modern technology in Pakistan, the MD PSX said that they were also going to introduce an online application for account opening.
After the introduction of this app a lot of documentary and paperwork would be eliminated, the MD said.
It is a very important initiative to streamline the account opening process and an important part of our effort to increase the number of investors at PSX, he said.
For the past many years, the total investors of PSX have remained stagnant.
Mr Morin added that PSX, NCCPL and CDC have a team working on this initiative. We have taken the regulator on board over this app and will soon announce a timetable for its rollout, subject to final approval from SECP.
The SECP would have to approve E-signature for this mobile app for opening the account in CDC instead of many signatures and documents.
"This digital app would encourage brokers to bring in more investors to the exchange," he said.
The PSX CEO said he saw tremendous opportunities for investors, where they could buy PSX equities, specially KSE-100 Index stocks, at a very attractive price as the companies are paying among the among the highest dividend yield in the world at over 6 per cent to their investors