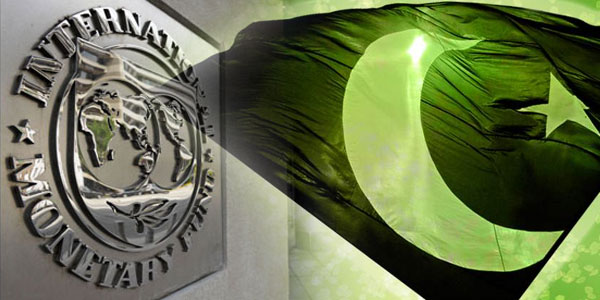 LAHORE: The International Monetary Fund's resident representative in Pakistan, Teresa Sanchez has said they are at initial stages of assessing how much resources Islamabad would require for a bailout.
Pakistan hasn't only approached for financial assistance but also for policy advice, which constitutes a usual part of its service to member countries, said Ms Sanchez.
In an interview to Radio Mashaal, Ms Sanchez said, it was in course of devising and calibrating a programme for Pakistan.
Elaborating about the designing of the program, IMF's representative in Pakistan said they look at elements like financial difficulties a country faces, financial support it receives from other sources, like donors or from tapping international markets.
She said once all this work is concluded, then the IMF will finalize how much resources would Pakistan require from it and highlighted they are at early stages of it.
In response to a question, if US Secretary of States' statement of warning Pakistan against using IMF money to pay Chinese debts could influence whether if it obtains the loan, Ms Sanchez said, "It is true that the U.S. has the largest quota at the IMF. Its quota is around 17 percent of the total fund. However, the IMF is a multilateral institution. Decisions are based on consensus."
She added, "The pressure on taxpayers needs to be explained. Remember that IMF member countries deposited their quota at the fund a long time ago — at the time when the fund was created or at the time when that specific country joined the fund."
Ms Sanchez explained the operations of the IMF are not financed by taxpayers' money coming in annually and under particular conditions, any member country was permitted to borrow a share of the funds' money.
She explained like any loan procured, member countries borrowing from the IMF would need to restore the portion they took from them and pay some interest.
The IMF's representative in Pakistan stated, "Right now, Pakistan has placed a request for an IMF loan program. That request has been responded to. We are working on it.
There has been no interference. We are going to continue working on using the same criteria and with the same methodology that we usually use for all countries, making sure that Pakistan has a good program that is best for the country — a program that could help Pakistan to address its macroeconomic challenges."
Moreover, in response to a question as to what conditions must Pakistan meet to obtain an IMF loan, Ms Sanchez explicitly stated that this wasn't the way the fund operates.
It neither approaches and dictates them what to do in exchange for financial assistance, she said.
She explained the procedure on how the IMF's operations work and citing the example of Pakistan, Ms Sanchez said it needs conducting a macroeconomic stabilization.
Continuing about Pakistan, Ms Sanchez said the fiscal deficit had risen substantially in the last 1.5 years and the power sector was also in trouble due to a large circular debt.
The currency exchange rate is coming under pressure due to current account balance posting a large deficit, she added.
"All of these imbalances need to be addressed with the implementation of adjustment policies.
The fund provides financial support to countries that need to conduct this type of adjustment, such as Pakistan. This is the focus of our operations: to support the implementation of the policies and reforms that Pakistan needs right now," said Ms Sanchez.
When questioned about where the discussions had reached with Islamabad and could a timeline be provided for finalizing the programme, Ms Sanchez said both sides had a common understanding of the forthcoming challenges.
She added, that the IMF had accumulated data and held detailed discussions with their Pakistani counterparts.
"Now we have a clear understanding of where we want to go. So, we have achieved the first phase that is the diagnosis of the problems. We have also passed the phase of identifying goals," said Ms Sanchez.
She said tweaking of different policy options needed to be done and focus on devising of actions, which needed attention to problems such as composition and sequencing.
Discussions are still ongoing, which will continue in the coming weeks, remarked Ms Sanchez.
In response to a query whether an IMF bailout package to Pakistan could impact projects like the China-Pakistan Economic Corridor (CPEC), Ms Sanchez said IMF's decree was to provide advice to countries on macroeconomic problems.
She explicitly stated that the IMF doesn't micromanage countries and instructs as to which development and investment projects they should carry out.
Ms Sanchez explained that such investments and projects are evaluated by IMF to ensure that the borrowing decisions that support them are sustainable over the medium term.
"We assist countries to assess their medium-term financial liabilities at the government and private sector level, especially if they have external repercussions.
The goal is to ensure that countries can afford these liabilities in the future under different scenarios. Pakistan is borrowing from several sources to carry out its investment in infrastructure. From the World Bank, the Asian Development Bank, and from China.
We take into consideration all of these borrowing operations in our work, on a routine basis. We do that all that time with all countries," she concluded.