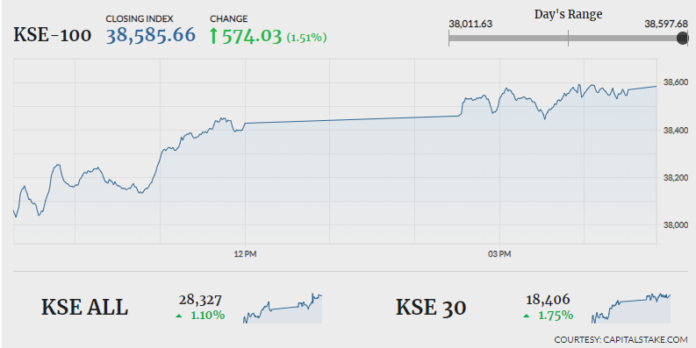 KARACHI: After trading in red for three consecutive sessions, the Pakistan Stock Exchange (PSX) rallied up and ended the last session of the week in green. Indices which started the day low soon made a recovery and moved uphill thereon. Nevertheless, volumes on Friday remained low.
As reported by State Bank of Pakistan (SBP), the second tranche of $1 billion was received from Saudi Arabia on Friday, resulting in a much-needed boost in foreign exchange reserves which now stand at $9.24 billion. The third installment is expected to be received in January, according to the Ministry of Finance.
Furthermore, the Asian Development Bank (ADB) has planned to provide support to Pakistan by lending $7.528 for various development projects during the next three years.
The KSE 100 index benchmark reached its day's high of 38,597.68 after gathering 586.05 points. It then settled on upper side at 38,585.66 (up by 574.03 points or 1.49pc). The KMI 30 index appreciated by 1,128.26 points to close at 65,132.10, while the KSE All Share index closed at 28,326.96 after gaining 307.20 points.
Trading volumes were recorded at 98.52 million, a minor appreciation from yesterday. The Bank of Punjab (BOP +1.27pc) was the most traded stock of the day with a volume of 11.06 million. Next in line were Lotte Chemical Pakistan Limited (LOTCHEM +2.56pc) and Pak Elektron Limited (PAEL +1.64pc). The scripts had traded 6.79 million and 4.77 million shares respectively.
The fertilizer sector managed to gain 2.31pc in its cumulative market capitalization. Fauji Fertilizer Bin Qasim Limited (FFBL +2.31pc), Engro Corporation Limited (ENGRO +4.14pc), Engro Fertilizer Limited (EFERT+1.65pc) all ended with decent gains.
Mirpurkhas Sugar Mills Limited (MIRKS -4.86pc) declared its financial results for Financial Year 2017-18 (FY18). A final cash dividend of Rs1.50 was announced by the company along with its performance. Sales appreciated by 49pc YoY, while earnings per share increased from Rs-22.01 per share in the same period last year to Rs 5.97 in the current year.
Pakistan Engineering Company Limited (PECO -4.37pc) released its financial performance for the first quarter of FY19. Sales declined by 72pc YoY, while earnings per share depreciated from Rs0.66 in the same period last year to Rs-7.13 in the current year.