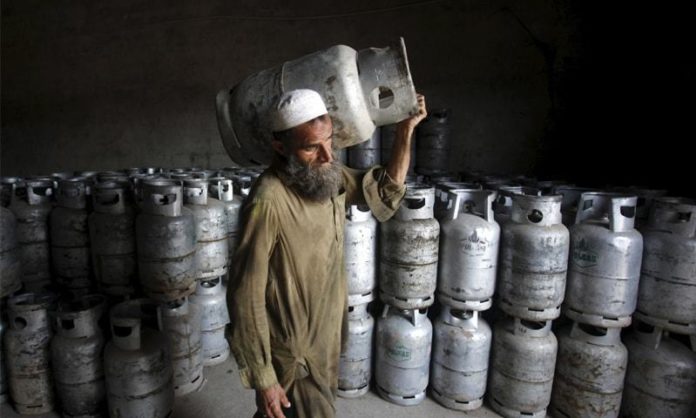 KARACHI: The price of liquefied petroleum gas (LPG) went up on Saturday as most of Sindh continued to experience the shortage of natural gas.
As per details, LPG cylinders were being sold at Rs2,000 in Karachi, while the prices increased by Rs10 to Rs15 per kilogram. LPG prices were also increased in Larkana and Hyderabad.
Due to the low pressure of natural gas across Sindh, the prices of rotis in Larkana and Sukkur increased by Rs2, while in Hyderabad, the people were forced to cook food using coal and wood.
Residents of the province have been without CNG, and largely without affordable public transport, for seven days. They have had to use costly rickshaws and taxis, whose fares have skyrocketed in the past week.
The Sui Southern Gas Company (SSGC) initially said there were issues at the Gambat gas fields, however, after sources in the PPL refuted this, the SSGC took a U-turn.
Gas supply hasn't been halted because of technical issues, said Shehbaz Islam, an SSGC representative. He said the supply hadn't been completely shut off but was actually reduced.
Meanwhile, the government has decided to resume gas supply to the CNG sector, Petroleum Minister Ghulam Sarwar Khan announced on Saturday, almost a week since the crisis hit CNG stations in Karachi and left public transport in disarray.
Talking to media men along with Governor Sindh Imran Isamail, he said on the directives of the prime minister, meetings were held with all stakeholders, including Sindh Chief Minister Syed Murad Ali Shah, on the issue in detail.
"We held detailed talks with the CNG association earlier today. I am pleased to announce that we will resume gas supply to the CNG sector at 8pm tonight," he added.