If you happen to visit Lahore's MM Alam Road, you would notice an overwhelming presence of restaurants on both its sides. According to an estimate, in the last 10 years alone, more than 25 restaurants have opened up here and closed down, and the failure rate in the restaurant industry still remains high. At one end of this road is a restaurant called Cafe Zouk, which has been there since 1995 (or almost 24 years), a rare feat in an industry with such a high failure rate.
Despite the odds, the restaurant is still a hot favourite among the food loving Lahoris, while almost all its competitors from the 1990s, have succumbed to the test of time. So why has the restaurant been such a hit and how has it been able to keep itself relevant in the grueling and unforgiving market for restaurants in Lahore? Profit sat down with Cafe Zouk's owner, Shahzad Khokhar to find out.
The recipe for success
According to Shahzad, the secret of success lies in his dedication and a hands-on approach to managing the restaurant, making it possible to tailor and adapt to a target market that has evolved over the last two and half decades. "Your interest in the business must remain the same compared to when you first started it. What happen is that the interest of the owners generally slides after the first year or so and they tend to leave the business to be run by the managers. I am hands on in that sense. I decide everything, along with my consultant ranging from the theme of the restaurant to the menu," he says.
Over the years the restaurant has experienced substantial increase in its share of the market segment that it serves. In the beginning Cafe Zouk was primarily targeted at a younger audience (people in their teens and early 20s). However, over the years, the original target market grew up and started bringing their families (parents and children) along with them to the restaurant. Hence the restaurant was no longer catering to only the same target audience that it was when it first started.
"We initially targeted our offerings towards teenagers and youngsters. And gradually our market segment grew. We got the older people who were in their 30s and the youngsters who had settled down and gotten married. Now we also have parents and people in their 60s and 70s coming to our restaurant," says Shahzad Khokhar.
Since the target market has grown now, Shahzad has had to adapt accordingly and make some changes to his restaurant that included but were not limited to the food menu and even the music. "Cafe Zouk was the first restaurant in Lahore to introduce Thai Food. We brought a chef from abroad, he stayed here for a couple of years and he trained our people. In the beginning, the majority of the food served was of Thai food and we had a very small section of continental dishes. However, now we have a very good mix of dishes on our menu," he says.
Currently, the restaurant offers a mix of almost 200 dishes, a huge jump from the minimal 12 dishes that it started with back in the 90s. However, the key lies in not just expanding the menu, but also in maintaining a certain consistency. "It is about maintaining what you have started. We have dishes here that are 20 years old. Not only do we want to improve and come up with new stuff. But we also want to maintain whatever we came up with. Lots of people have favourites that we simply cannot do without," explains Khokhar.

Asad Sheikh, a Lahori food critic and enthusiast, who runs the famous Facebook group Foodies R' Us, also agrees. "If you go to Zouk after 10 years, they will have the same taste and flavour. I have seen many restaurants, whose taste change with time, but Zouk is one place which is always consistent," he says.
Copper Kettle, Zouk's biggest competitor from the 1990s, closed its doors to customers in 2017. Shahzad feels that its closure had to do more with it being unable to adapt with time. However, Asad Sheikh says that it had something to do with its location.
"When Copper Kettle opened up in the basement of the Empire Center at Gulberg Main Boulevard, there weren't many other options in Lahore for a younger audience to hangout. But as the time passed, location mattered. Parking was always a serious issue there," says Asad.
Copper Kettle's second branch in Liberty Market also had the same issue with parking. On the other hand, Zouk's location on a corner plot at the end of Lahore's MM Alam road meant that it had ample parking space at not one, but at least two sides of the restaurant. And the presence of a public park right next to it meant that even when Zouk's own parking was filled, customers always had access to the park's parking space.
Shahzad says that running a restaurant is not an art, but a science. "A restaurant has its own costing and a unique financial mechanism. Food costs plays an important role. For a successful restaurant the food cost should be maintained between 35% to 40% (of total sales volume). According to Shahzad, the trick is finding the right balance between pricing and the purchasing cost. "You have to balance it in a way that the customer does not feel a pinch and your food cost remains maintained as well."
And it's not just maintaining the food cost that is essential, but maintaining other overheads is also important. "You have to keep your overheads down as well. The cost can be a killer. If you only a few tables are occupied at a particular time, then you can shut some air conditioners down and save on electricity costs."

And then there are those small details, attention to which is essential for the success recipe to work. Initially the restaurant was based on a night club like theme, and had dim lights and loud and trendy music appealing to the taste of the young market segment it was targeting. However, since the target market has expanded, things have changed now. "I make the music selection myself according to the crowd. If there is a young crowd in the restaurant, I put on songs that they will like. If I have an older crowd I put on music from the 1980s and 1990s. So you have to keep improvising all the time."
"And then what we do is that occasionally like on New Years', Christmas or Halloween, we get some ornaments (to decorate the interior). At Halloween we get masks and we bring a DJ and keep things exciting for the customers."
"Even the suits and uniforms worn by the managers are selected by me. Obviously, when they come here, they need to have a trendy look. I don't go up to the tables. They are the only people who come into communication with the customer. They have to be properly dressed up and they have to be polite," he explains.
The expansion dilemma
When it comes to marketing, Shehzad, almost in a complacent manner, quickly dismisses the relevance of the much-hyped food festivals to his business. "If after 24 years, people do not know Cafe Zouk, then they will never know Cafe Zouk. These food festivals are more important to food businesses that are just starting out," he says stressing on the fact that the restaurant's Facebook page that has a following in excess of 600,000 people is his main tool for marketing. "Going to these food fests is not going to make people come to Zouk more. People just go to the festivals because it is a fun thing to do."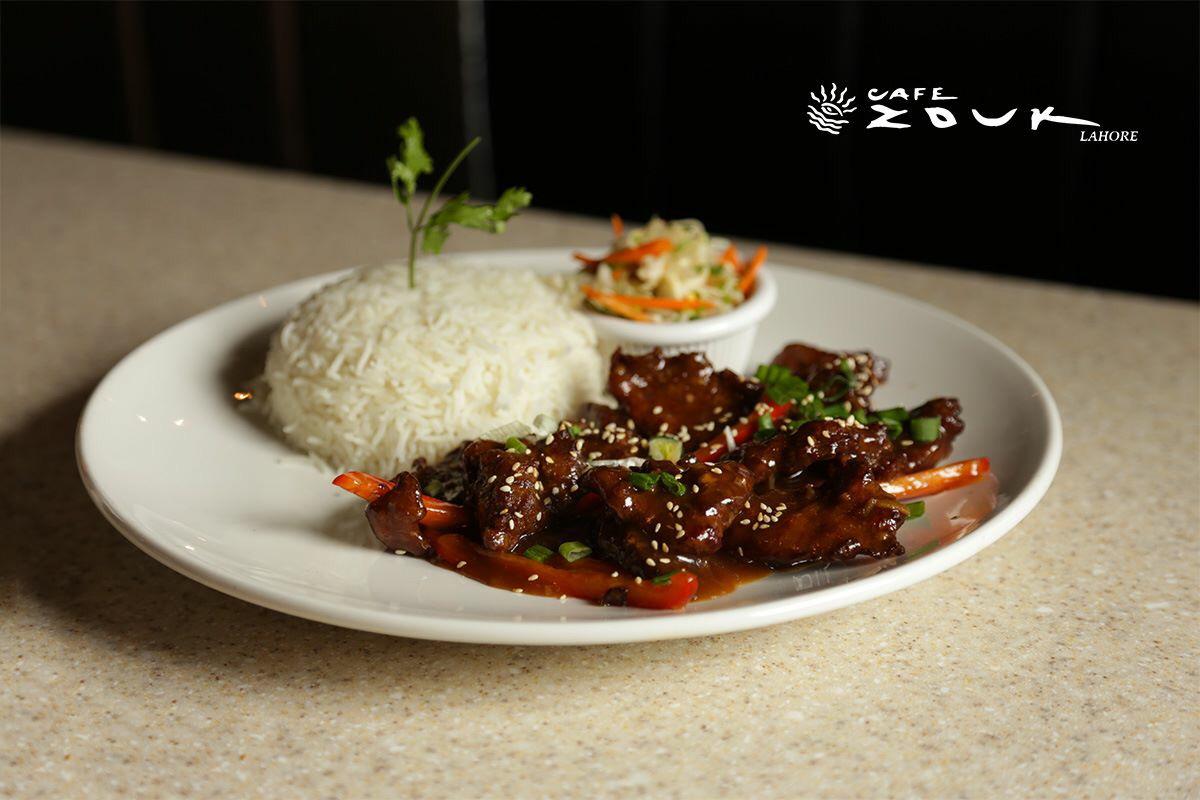 However, even after 24 years of being in the business, Cafe Zouk is thriving on the MM Alam road, but that is still the only legitimate branch of the restaurant in the country. Shahzad seems hopeful about the prospects of expanding his business in the future, given certain conditions are met.
"We have people coming in and asking us (for a franchise). But we are looking for the right kind of people who should be able to keep up the same kind of reputation that we have here," he says. Currently, matters related to Cafe Zouk Karachi – which was opened by one of Shahzad's business partners – stand disputed in court.
Shahzad alleges that his partner did not run the restaurant according to the standard that was required.  Simply put, the hands-on approach that Shahzad has used until now might be feasible for operating a single restaurant outlet, but when it comes to running multiple branches finding the right people (franchisee, managers, etc.) becomes all the more important for the simple reason that you can be only at one place at a given time.