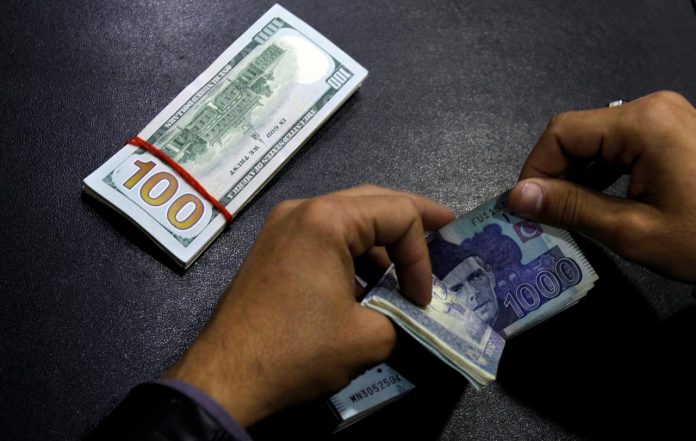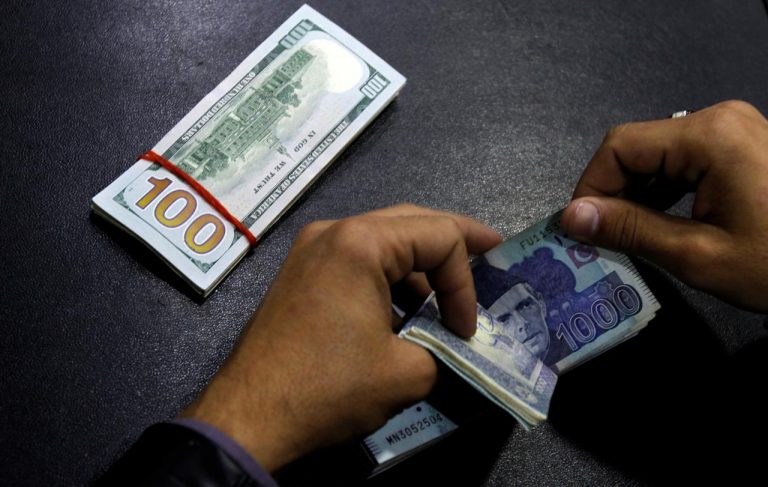 The rupee, capital markets remained under duress in 2018 due to dwindling forex reserves, growing external financing gap, imports, trade deficit, political and economic uncertainty
A leading foreign and local analyst concurred that a free float exchange rate mechanism being sought by the IMF is the way forward for the government
LAHORE: As 2018 ended, Pakistan has been left reeling by currency devaluation, fiscal vulnerabilities, a balance of payments crisis and depleting foreign exchange reserves.
Due to hike in interest rates and robust economic growth in the US, emerging markets have experienced a massive outflow of capital during 2018 to safe-haven assets like US treasury bonds.
Consequently, the greenback has appreciated against most other currencies during 2018, according to a chart prepared by the International Monetary Fund (IMF).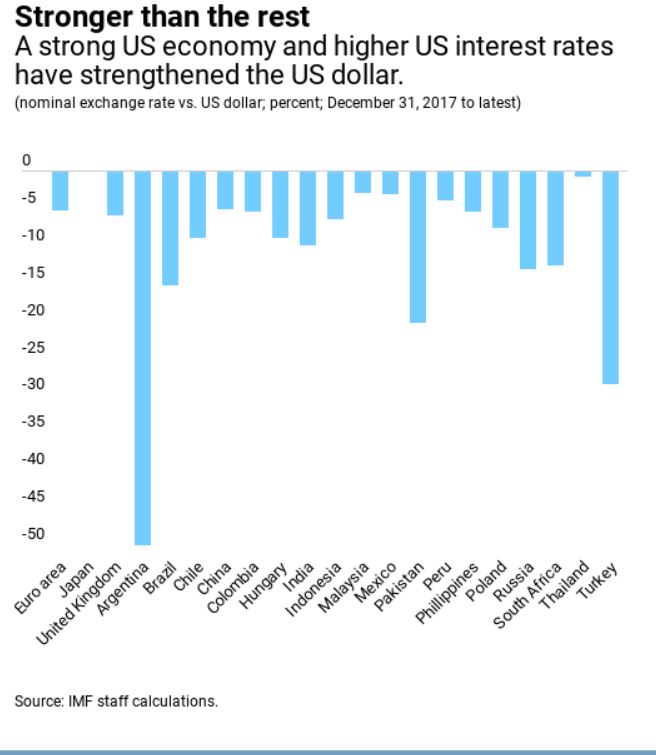 According to the IMF, the Pakistani rupee has depreciated between 20-25% against the greenback, although the actual value stands at approximately 26% since January 2018.
In six rounds of devaluation since December 2017, the rupee nosedived by approximately 28% and the State Bank of Pakistan hiked the key interest rate by 425 basis points since January 2018 to 10%.
Not only has this stoked inflation, but rising interest rates will lead to fiscal tightening and restricting of the money supply would mean borrowing from banks will become expensive for consumers.
Further worsening matters was the poor performance of the Pakistan Stock Exchange (PSX), as the benchmark KSE-100 index recorded a decline of 8.4% or 3,405 points in 2018 due to continuing economic and political uncertainty.
Equities recorded sluggish trading during 2018 as traded volume plateaued by 22% year-on-year (YoY).
The market capitalization of PSX also declined by Rs22.2 billion in 2018.
The capital market recorded the highest never net foreign outflows of $537 million in 2018.
In the first half of 2018, foreign selling clocked-in at $134 million, whilst a majority of the selling was witnessed in the second half of the year.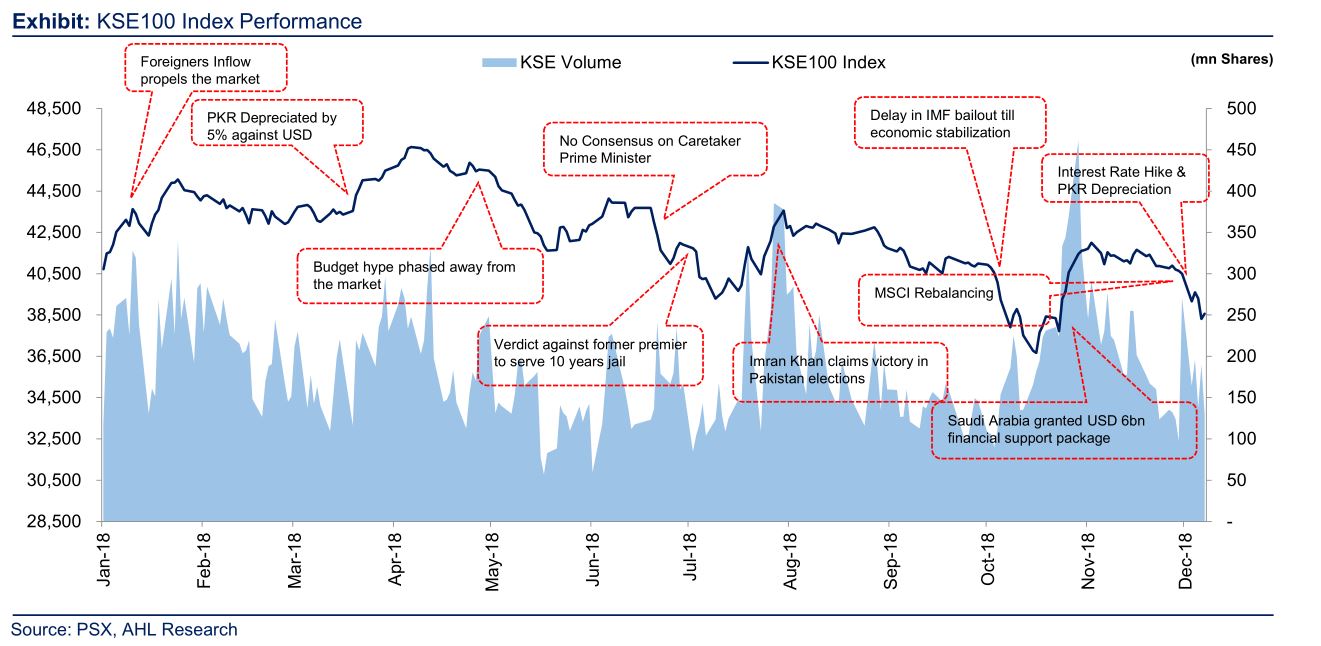 The devaluation of the rupee failed to stimulate exports during the first five months (July-November) of the financial year 2018-19, as they grew by a meagre 1% to $9.12 billion against $9.04 billion in the same period last year (SPLY).
Although the Pakistani economy grew at a thirteen-year high of 5.8% during the last financial year 2017-18, it ratcheted a record current account and trade deficit of $18 billion and over $37.5 billion respectively during the period under review.
Adding to the economic woes by end of FY18 in June were the skyrocketing imports which grew 15.1% to $60.9 billion, as exports failed to keep pace and grew by 14% to $23.228 billion.
Pakistan recorded a record budget deficit of Rs2.26 trillion and widened to 6.6% of GDP in the last financial year 2017-18 due to a lagged performance of the tax machinery and expansionary fiscal policies.
The budget deficit for the previous FY18 was Rs780 billion (2.5 percent of GDP) higher than the target approved by the last parliament in June 2017.
Moreover, the country's external financing crisis, debt servicing and sliding foreign exchange reserves to 4.5-year lows have caused an economic headache for the Pakistan Tehreek-e-Insaf (PTI) government.
To retire previous debt, Pakistan has been contracting more loans from foreign sources albeit its pace has slowed down in July-November of current FY18-19 to $1.7 billion.
Compared to the period under review in 2017, funds received from international creditors plunged by 37% or $1 billion.
Finance Minister Asad Umar has been running pillar to post since taking charge at the end of August and has been able to clinch partial relief by clinching financial bailout packages from Saudi Arabia and recently the UAE.
He has repeatedly stated that he has arranged for funding from bilateral sources to plug the external financing gap.
Also, he has said several economic measures taken by the government would contribute to a decrease in the current account deficit by $6 to $7 billion in FY19 compared to FY18.
The Saudi financing facility involved parking of $3 billion in the State Bank of Pakistan (SBP) foreign exchange reserves, which cannot be utilized and a deferred oil payment facility worth $3 billion.
Recently, the United Arab Emirates government extended a helping hand by offering to deposit $3 billion in the central bank to support the financial and monetary policy of the country.
In a statement to Reuters, Information Minister Fawad Chaudhary said Pakistan is expecting the UAE to extend further financial assistance via deferred oil payments.
He refused to reveal the amount of assistance to be provided via deferred oil payments, however, stated this constituted part of the discussions which contributed to the UAE announcing it would park $3 billion in SBP to shore up forex reserves.
Profit in mid-December reported Pakistan may obtain at least $2 billion short-term loans from China after the Joint Coordination Committee (JCC) meeting in Beijing concluded.
It was stated a short-term lending arrangement could be arranged with the Industrial and Commercial Bank of China (ICBC), according to the report.
Free float exchange rate mechanism vs artificial management
Pakistan officially approached for a bailout request in October on the sidelines of the annual conference of the IMF and the World Bank in Bali, Indonesia.
An IMF mission led by Harald Finger visited Islamabad from November 7-20, 2018 and held talks with Pakistani authorities.
It made significant progress toward reaching an understanding on policy priorities and reforms that could be supported by a financial arrangement with the IMF.
However, recent media reports have hinted at an impasse in negotiations between both sides.
The IMF has asked the government to implement a free float exchange rate mechanism and levying of additional taxes besides an increase in gas and power tariffs and reining in the circular debt which stands at over Rs1.2 trillion.
According to a report in Dawn, government officials were of the view that the country's forex exchange market is too thinly traded to be left to the whims of the market and are persisting to retain some control which allows them to intervene, only if to rein sharp swings stimulated by speculative activity.
While talking to Profit regarding the benefits of a free float exchange rate mechanism, Oanda's Head of Trading, Asia Pacific Stephen Innes said he was a firm proponent of it.
Elaborating the issues with lower liquidity currency pairs, especially ones with duelling deficits, Mr Innes stated they fall under the crosshairs of currency speculators on the first buckle in the emerging market (EM) complex as external factors seem to be driving EM.
Moreover, Mr Innes stated that the central bank will need much more autonomy to US interest rates and currency markets to guide the markets.
However, he believes in the broader context, the market thinks the greenback will weaken in 2019 and the Pakistani rupee will catch a tailwind from that and continue to struggle on the domestic front.
In an emailed response to Profit, Faizan Kamran Khan Investment analyst at Arif Habib Limited Research said, "We expect the PKR/USD parity to settle at Rs 147 per USD by June 2019."
He explained that regardless of the volume of transactions, a free float mechanism tends to be fairer.
According to Faizan, a free float mechanism helps the currency find its true value as well as be protected from artificial management.
"In cases where the currency is artificially managed, the currency will at some point face a drastic depreciation which tends to be very hurtful for the economy," he added.