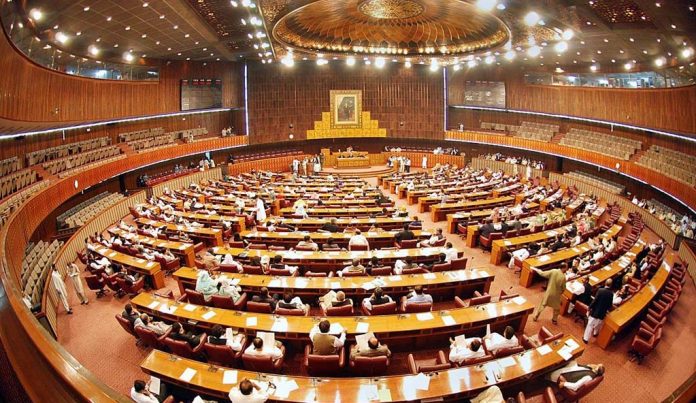 Senator Shibli Faraz stresses the need to increase engineering exports so that more revenue can be generated
ISLAMABAD: The Senate's Standing Committee on Commerce and Textile has directed the Federal Board of Revenue to expedite its efforts against under-invoicing and money laundering so that the country's exports could be increased.
The committee, which met under the chairmanship of Senator Shibli Faraz, discussed issues pertaining to under-invoicing with a particular reference to information technology (IT) products.
The committee chairman said that the current account and fiscal deficit remained the main challenge for the country. "We need to enhance our exports to get more revenue and to overcome these challenges," he stressed.
The chairman stated that textile is the backbone of Pakistan's economy but the country should also increase its engineering exports, as it would not only result in international market competitiveness but would also help the country generate more revenue.
Shibli Faraz said, "We have only one percent of engineering exports, which need to be enhanced for the growth of local industry. The government is committed to taking all measure to stop the weak and bleeding sectors."
The committee expressed strong reservations on the import of secondhand spare parts of agriculture technology, including tractors. The chairman said that the protection of the local agriculture industry, including agriculture technology, was among the top priorities of the government.
A senior FBR official briefed the committee on the issues pertaining to money laundering and under-invoicing and informed about the efforts undertaken by FBR to stop these economic crimes.
He apprised the committee about the board's efforts in promoting best international practices as recommended by World Customs Organization (WCO), World Trade Organization (WTO) and Organization for Economic Cooperation and Development (OECD) against under-invoicing and money laundering in the country.
"We are fully committed to stopping the under-invoicing in IT products, including laptops, wireless x-point, hard disk drive and USB drives," he added.
The meeting was attended by Senators Nauman Wazir Khattak, Dilawar Khan, Ghous Muhammad Khan Niazi, Ahmed Khan and senior officials of the Ministry of Commerce and Industry and FBR.