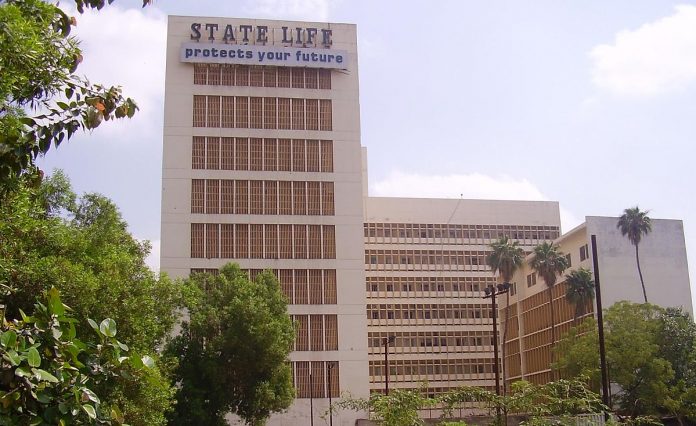 'SECP had informed the Ministry of Commerce about the unusual profit of SLCL'
ISLAMABAD: Commerce Secretary Younis Dhaga has disclosed before the Public Accounts Committee (PAC) that a sum of Rs4.8 billion has been paid to the fake commission agents of State Life Corporation Limited (SLCL).
The PAC meeting was held with Shahbaz Sharif in the chair. The forum discussed the audit paras of the fiscal year 2012-13 of the Ministry of Commerce. Subsequently, the commerce secretary briefed the committee about the working of Pakistan's trade officers in missions abroad.
During the meeting, Pakistan Tehreek-e-Insaf member Raja Riaz asked the commerce secretary about the suspension of SLCL sales officers and their subsequent protest in Multan. The secretary replied that the Security and Exchange Commission of Pakistan (SECP) had informed the Ministry of Commerce about the unusual profit of SLCL, therefore, the government investigated the matter and found the payments bogus.
"We have stopped making payments to the newly-promoted sales officers of the corporation. No officer of the company has been laid off as part of the steps taken by the ministry," he asserted.
Responding to another question raised by Raja Riaz, the secretary said that the government-owned insurance companies, including the SLCL, have been removed from the privatisation list, as these companies would operate more efficiently under the government's control.
To a question raised by PAC Chairman Shahbaz Sharif, Younis Dhaga stated that soon after assuming office, the country's exports increased by 14pc as compared to the last fiscal year, adding that the exports also increased by 5pc during the first six months of the current fiscal year.
"Owing to the regulatory duty imposed by the federal government, a visible decrease was witnessed in imports, while exports observed an increase of $3 billion during my tenure," he added.
Pakistan was also receiving orders from those countries which never bought a single item from Pakistan, the secretary said, adding that Pakistani exporters received several orders during the 'Ham Tax Fair' held in Germany. "Wheat, rice, sugar, mango and oranges are being exported at a large scale."
The auditor general of Pakistan on the occasion informed the PAC that several audit paras of the Ministry of Commerce were pending due to non-conduction of the Departmental Accounts Committee (DAC). The accounts officers were not sitting with the auditor officers due to which a number of paras were pending for years, he added.
Upon this, the PAC chairman directed the committee secretary to write a letter to all principal accounting officers for holding DAC on a regular basis.