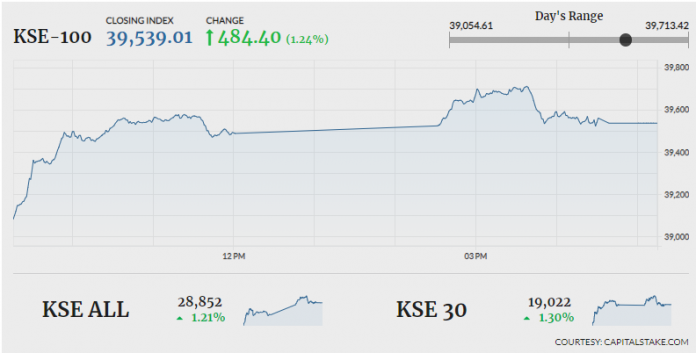 KARACHI: The Pakistan Stock Exchange (PSX) managed to end the last session of the week in green amid positive sentiments. Indices traded positive all day long as tensions between India and Pakistan seemed to have defused a little.
On the economic front, foreign exchange reserves held by the State Bank of Pakistan declined by 0.08pc on a weekly basis and now stand at $8.04 billion.
The KSE 100 reached its day's high of 39,713.42 after gathering 658.81 points in the second half of the session. It finally closed higher by 484.40 points or 1.23pc at 39,539.01. The KMI 30 index accumulated 723.44 points to settle at 66,233.47, while the KSE All Share index appreciated by 345.35 points, ending at 28,852.00. The advancers to decliners ratio stood at 218 to 86.
Market volumes declined from 159.39 million in the last session to 137.15 million. The Bank of Punjab (BOP +0.79pc) was the volume leader for the third consecutive session with 8.84 million shares exchanging hands. Next in line were Oil and Gas Development Company Limited (OGDC +2.74pc) and K-Electric Limited (KEL +0.83pc) with 5.59 million shares and 5.50 million shares swapping hands respectively.
Mughal Iron and Steel Industries Limited (MUGHAL +4.99pc) declared its financial performance for the second quarter of financial year 2018-19 (2QFY19). The company's sales went up by 39pc YoY, while its earnings per share improved from Rs1.25 in the same period last year to Rs1.43 in the current year.
Roshan Packages Limited (RPL +2.30pc) also released its results for the second quarter of FY19. The company's sales increased by 37pc YoY. It's earnings per share, on the other hand, deteriorated from Rs0.03 in the same period last year to Rs-0.47 in the current year. Distribution and selling expenses were up by 71pc, causing a decline in net profit.
Wyeth Pakistan Limited (WYETH +4.99pc) announced its financial result for the year ending 30th November 2018. A final cash dividend of Rs50 was also declared by the company. Sales showed an increase of 6pc YoY, while earnings per share declined from Rs689.36 (including profit from discontinued operations) to Rs-7.82 in the current year.