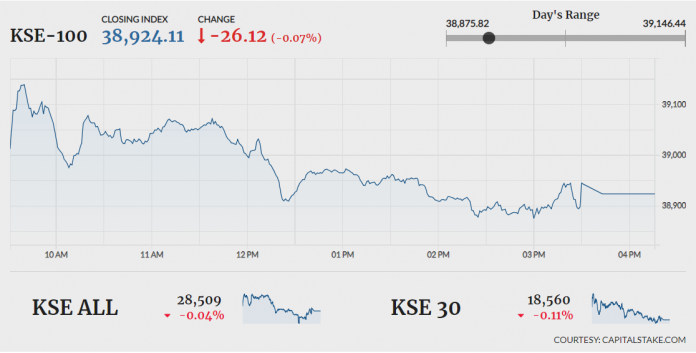 KARACHI: The Pakistan Stock Exchange (PSX) witnessed a slow start to the week as the indices which opened positive changed their outlook by the afternoon, eventually closing the day in red. Foreign investors closed the last week as net sellers with a net outflow of $3.46 million.
According to news reports, Finance Minister Asad Umar, during his speech at a seminar, that Pakistan is all set to receive $4.1 billion in financial assistance from neighbouring countries, adding that the United Arab Emirates would deposit $2 billion at an interest rate of 3pc while China would lend the remaining $2.1 billion at a markup of 2.5pc.
The KSE 100 index touched its intraday high of 39,146.44 after gaining 196.21 points. It then nosedived -0.19pc to reach the day's low of 38,875.82. It finally closed on the lower side at 38,924.11 (down by 26.12 points). The KMI 30 index lost 209.87 points to settle at 64,173.14, while the KSE All Share index fell short by 11.69 points, ending at 28,508.51. Out of the total traded shares, 134 advanced, 170 declined while the value of 26 remained unchanged.
Trading volumes remained low and were recorded at 67.74 million with 50.34 million coming from the KSE 100 stocks. The Bank of Punjab (BOP +1.66pc) was in the lead with 16.29 million shares exchanging hands, followed by K-Electric Limited (KEL +0.50pc) and Dewan Cement Limited (DCL +8.57pc). The stocks had 4.11 million shares and 2.96 million shares traded respectively.
The oil and gas exploration sector lost 0.51pc in its cumulative market capitalization after a decline in global oil prices. Oil and Gas Development Company Limited (OGDC -0.83pc), Pakistan Oilfields Limited (POL -0.38pc) and Pak Petroleum Limited (PPL -0.29pc) ended the session in red, whereas Mari Petroleum Company Limited (MARI +0.13pc) closed slightly positive.
Tobacco sector managed to gather +0.96pc in its total market capitalization. Philip Morris Pakistan Limited (PMPK) was up by +4.36pc while Khyber Tobacco Company Limited (KHTC) declined by -2.44pc.