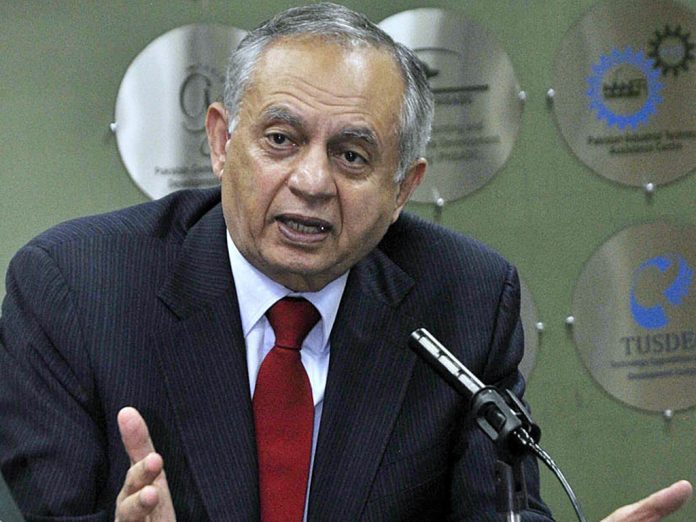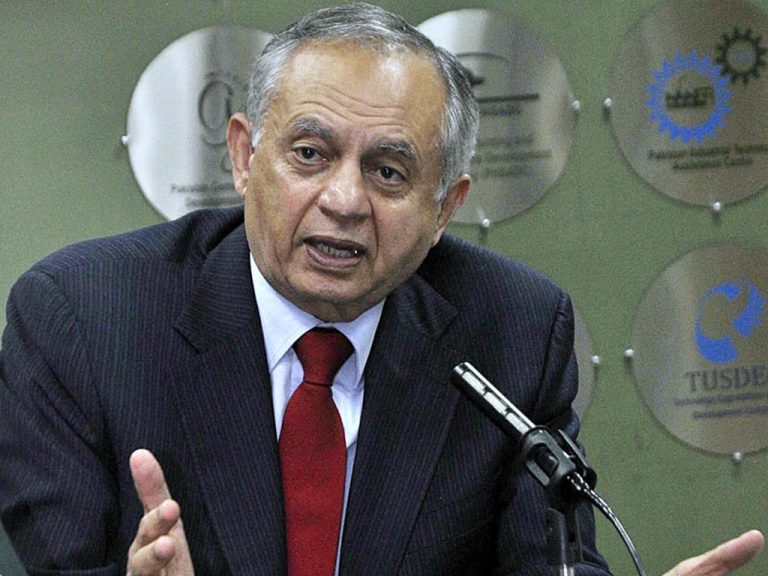 'We are working on a progressive industrial policy that will be compatible with the emerging challenges and will be based on diversification and expansion'
FAISALABAD: Advisor to Prime Minister on Commerce Abdul Razak Dawood said on Wednesday that the government has finalised policy interventions for upgradation and value addition in the textile sector with enhanced market access.
Addressing the 5th international conference on 'value addition and innovation in textile' organised by National Textile University (NTU) Faisalabad, he said that now it was time for the business community to play its due role in capturing the global textile market.
He said that textile was the main economic strength of Pakistan but the entire textile chain had inherent problems of technology upgradation, adding that starting from ginning up to textile garments, the entire chain was working with obsolete technology.
He said the government had introduced new reforms through policy interventions. "We are working on a progressive industrial policy which will be compatible with the emerging challenges and will be based on diversification and expansion," he added.
Dawood underlined the importance of small and medium enterprises (SMEs) and said that a separate policy would be framed to encourage and promote the sector.
Regarding tariff policy and duty structure, the advisor said the government had made progress on it while more steps would be taken in the coming budget.
He also mentioned the issues of cost of doing business and ease of doing business in Pakistan, saying, "Our ranking has improved from 147 to 136 with regard to ease of doing business, while we are trying to further improve it by bringing Pakistan among the top 100 countries."
He said that some tariffs have already been trimmed by the government, adding that the government has decided to further reduce the tariff, especially on the import of raw material.
Commenting on the ginning sector, the advisor said, "Our ginning factories are operating with obsolete machines manufactured in 1950. There are 1,000 units in Pakistan whereas Australia has only 28 ginning factories. Our ginners are generally involved in trading of cotton and we must set up to new, bigger and state-of-the-art ginning units to compete in the global market."
He said the government would also facilitate the ginners with administrative policy and financial support.
Regarding spinning, Dawood said that on an average, the country's spinning units have 39,000 spindles, adding the government would also provide necessary incentives and funding to improve their efficiency, besides installing the latest machinery.
He also explained in details the efforts made by the incumbent government in providing market access to the Pakistani exportable surplus.
On Free Trade Agreement (FTA) with Indonesia, he said that it was not in favour of Pakistan. "We renegotiated it with Indonesia which has allowed duty-free export of 20 new items from Pakistan," he added.
He said, "We are also negotiating with China for a trade agreement. Commerce Secretary Younus Dagha is vigorously engaged with his Chinese counterpart and a new FTA is expected to be signed next month," he observed.
Continuing, Abdul Razak Dawood said that national economy was going through a critical stage but "we must have to take difficult and bold decisions to revive the economy".
He was optimistic that Pakistan would get maximum foreign direct investment (FDI). "We are concentrating on the establishment of seven special economic zones across the country," he added.
The PM's aide noted that Bangladesh is offering a tax holiday for three years whereas Pakistan is offering a tax holiday of 10 years. "Hence, we are expecting maximum FDI in the coming years."
Earlier, NTU Rector Prof Dr Tanveer Hussain briefed the chief guest about the progress of the university and its future development plans. Memorandums of understanding were also signed between NTU and various industries to strength industry-academia liaison.
All Pakistan Textile Processing Mills Association (APTPMA) Chairman Engr Rizwan Ashraf, Textile Division Secretary Syed Iftikhar Hussain Babar and former textile minister Chaudhary Mushtaq Ali Cheema were also present on the occasion.