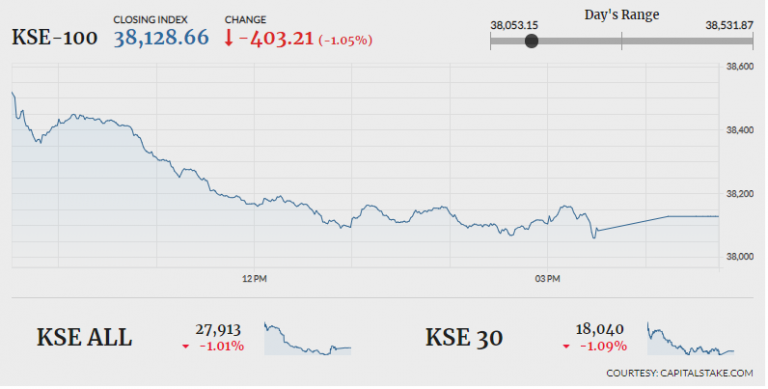 Market participation decreased by 33pc, from 54.20m shares in the previous session to 36.49m shares
KARACHI: The Pakistan Stock Exchange (PSX) witnessed a dry start to the week on Monday, as indices kept shedding gains all day long amid lacklustre trading.
Investors preferred to stay on the sidelines as experts from the Financial Action Task Force (FATF) reviews progress made by Pakistan. The team shall evaluate the measures taken to curb terror financing and money laundering and the outcome will either land Pakistan into the blacklist or off the greylist.
The KSE 100 index sank by 478.72 points to touch its intraday low of 38,053.15. It settled down by 1.06pc (403 points) at 38,128.66, reducing the year to date return to a meagre 0.35pc. The KMI 30 index fell by another 1,063.21 points to end at 61,906.21, taking its year to date return to a negative 2.31pc. The KSE All Share Index recorded a 2.51pc decline since the beginning of the year and stood at 27,912.97. Out of the 302 traded companies, 219 remained on the losing end.
Taking its inspiration from 4th January 2019, the 100 Index traded its lowest turnover and volume for 2019 in Monday's session, with 100 Index turnover and volume falling to levels last seen on 17th December 2018, and 17th May 2018, respectively.
Market participation for the 100 Index decreased to 36.49 million shares from 54.20 million (-33pc) in the previous session. The major contributions to the total market volume came from K-Electric (KEL -4.43pc), WorldCall Telecom Ltd (WTL -5.26pc) and The Bank of Punjab (BOP -0.54pc), churning 12.75 million shares out of the All Share volume of 56.47 million shares. Daily traded value for the 100 Index fell down to just $16.52 million from $27.05 million in the previous session (-38.92pc); Oil & Gas Development Corp Limited (OGDC $3.11 million), Luck Cement Limited (LUCK $1.34 million) and Bank Alfalah Limited (BAFL $0.77 million) were among the top contributors from traded value perspective.
Major contribution to the 100 index decline came from Oil & Gas Development Corp Limited (OGDC -1.74pc), Luck Cement Limited (LUCK -2.78pc), Pakistan Petroleum Limited (PPL -1.30pc), Pakistan Oilfields Limited (POL -1.89pc) and Engro Corporation Limited (ENGRO -1.03pc), taking away -139 points. On the flip side, Philip Morris (Pakistan) Limited (PMPK +4.18pc) added 10pts. The 100 index is 5pc above its 52-week low of 36,274.25, reached on October 15, 2018, and 19pc below its 52-week high of 47,144.12, reached on April 6, 2018.
Pakistan Suzuki Motors Company Limited (PSMC -5.00pc) declared its financial result for the year 2018. Despite an 18pc surge in the cost of sales, a chunk coming in from currency devaluation, the gross margins down were down from 9.48pc to 5.88pc. This was attributed to increased borrowing, which led to a jump in the finance cost from Rs68 million to Rs363 million.
The company reported earnings per share of Rs15.77 with a fourth-quarter loss of Rs1.15. For investors, dividend yield dropped from 3.72pc to 1.81pc.