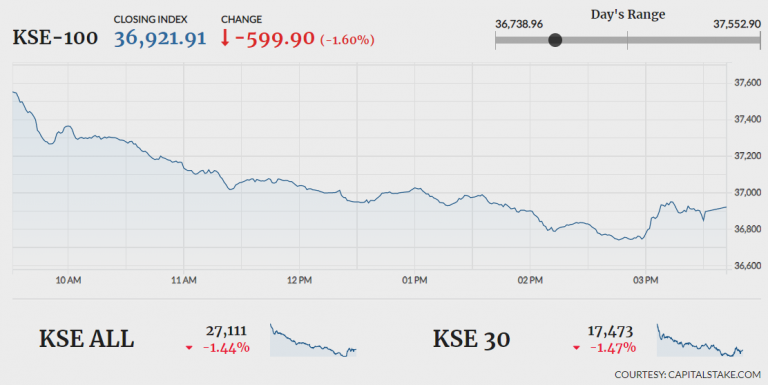 KARACHI: The Pakistan Stock Exchange (PSX) started the week on a negative note with bears in the lead once again. The KSE 100 index plunged over 700 points during intraday trading, thus breaking the 37,000 mark. Foreign investors closed the last week as net sellers with a net outflow of $3.67 million.
According to a recent report published by the World Bank, Pakistan's economic growth is expected to decelerate to 3.4pc in the current fiscal year (FY19) and will further drop to 2.70pc in FY20, as stringent fiscal and monetary policies are expected to be formulated/implemented to address the prevalent macroeconomic issues. In FY18, the growth rate reached an 11-year high and was recorded at 5.8pc.
The KSE 100 index benchmark touched its intraday low of 36,738.96 after depleting by 782.85 points or 2.13pc. It settled lower by 599.90 points at 36,921.91. The KMI 30 index declined by 1,377.02 points to close at 60,253.44, while the KSE All Share index ended lower by 396.12 points at 27,110.50. The advancers-to-decliners ratio stood at 57-to-265.
The overall market volumes were recorded at 106.94 million. K-Electric Limited (KEL -4.78pc), Fauji Cement Company Limited (FCCL -5.13pc) and Unity Foods Limited's right shares (UNITYR1 -5.59pc) were the top traded scripts of the day with 10.90 million, 9.51 million and 8.06 million shares exchanging hands respectively.
The cement sector lost 4.77pc from its cumulative market capitalization. D G Khan Cement Company Limited (DGKC -5.00pc), Maple Leaf Cement Factory Limited (MLCF -4.99pc) and Bestway Cement Limited (BWCL -5.00pc) touched their lower locks, while Lucky Cement Limited (LUCK -4.86pc), Fauji Cement Company Limited (FCCL -5.13pc) also closed in red.
The automobile assembler sector chipped off 2.68pc from its cumulative market capitalization. Pakistan Suzuki Motors Company Limited (PSMC -5.00pc), Hinopak Motors Limited (HINO -5.00pc) and Ghandhara Industries Limited (GHNI -5.00pc) touched their lower circuit breakers. Ghandhara Nissan Limited (GHNL -4.99pc), Atlas Honda Limited (ATLH -3.74pc) and Indus Motor Company Limited (INDU -2.51pc) also ended in negative.
Sazgar Engineering Works Limited (SAZEW -0.42pc) released its sales and production data for the month of March 2019. As per latest data, 1,108 units were produced while 1,280 units were sold.