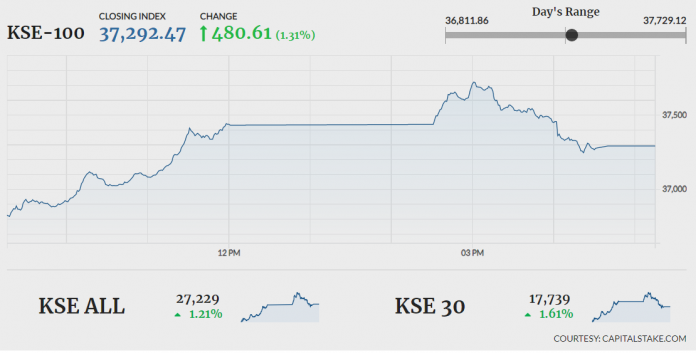 KARACHI: After a slow start, the Pakistan Stock Exchange staged a massive rally to end the last trading session of the week in the green zone. Foreign investors closed the session on Thursday as net buyers with a net inflow of $0.537 million.
According to the recent data released by State Bank of Pakistan, the current account deficit of the country dipped by 29.5pc to $9.6 billion in the first nine months of the current fiscal year as compared to $13.6 billion in the same period of last year.
Furthermore, foreign direct investment (FDI) dropped by 51.5pc to $1.3 billion in the first nine months of the current fiscal year. Analysts attributed this decrease to the prevalent economic uncertainty, which kept the investors hesitant during the period under review. FDI was recorded at $2.6 billion in the same period of last year.
Accumulating 917.26 points, the KSE 100 index benchmark reached its intraday high of 37,729.12. It closed higher by 480.61 points or 1.29pc at 37,292.47. The KMI 30 index settled positively at 60,944.40 after gathering 652.66 points, while the KSE All Share index gained 324.64 points, ending the session at 27,229.21.
The overall volumes dropped from 216.25 million in the previous session to 177.19 million (18pc). The Bank of Punjab (BOP +8.52pc), K-Electric Limited (KEL -0.59pc) and Unity Foods Limited (UNITY +4.22pc) topped the volume chart. The scripts had traded 28.68 million, 13.55 million and 10.66 million shares respectively.
Meanwhile, as per media reports, the Cabinet Committee on Energy removed the ban on the import of furnace oil in order to meet the needs of power plants, keeping in mind that consumption of electricity would increase in the coming months.
Following the news, the power generation and distribution sector gathered 0.79pc in its cumulative market capitalization. Altern Energy Limited (ALTN +4.98pc), Kot Addu Power Company Limited (KAPCO +3.32pc), Hub Power Company Limited (HUBC +1.95pc) and Nishat Power Limited (NPL +1.93pc) all closed in green.
Mari Petroleum Company Limited (MARI -1.22pc) declared its financials for the third quarter of FY19. The company's revenue increased by 37pc YoY, while its earnings per share improved from Rs32.73 in the same period of FY18 to Rs47.43 in FY19.