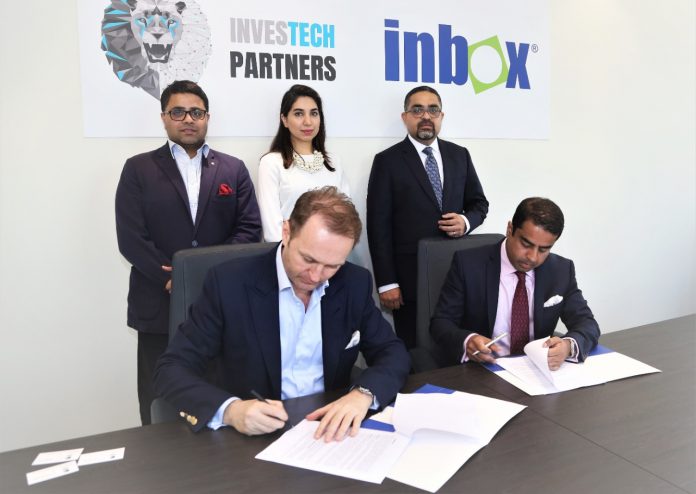 Global investment management firm Investech Partners has teamed up with Inbox, one of the largest information technology company in Pakistan, to invest in and utilize innovative digital technologies based on Blockchain in Pakistan.
The companies have signed a memorandum of understanding in this regard to work together and optimize Pakistan's potential when it comes to digital technologies.
On the occasion, Investech Partners CEO Thomas Stray said: "We are excited to be partnering with Inbox, a key player in Pakistan's technology landscape. We believe Pakistan has untapped potential as an investment location for digital platforms."
"With over 60 million smart phone users accessing high speed internet, the country represents a significant domestic market for new innovative digital products and services. Blockchain has significant opportunities especially in areas of financial services focused on the unbanked, education, healthcare and retail," he added.
Inbox CEO Mir Nasir said, "Our partnership with Investech Partners is part of our strategic plan to become a transformative digital platform organization in the country and the region."
He added that they believe in harnessing partnerships with global disruptive technology companies wanting to enter Pakistan as well as promoting and investing in innovative Pakistani organisations that drive its digital economy.
Furthermore, Inbox Chief Digital Officer Haris Shamsi recognises the need for a forward thinking approach in Pakistan.
"In the future there will be more trillion dollar tokens than trillion dollar companies and cross-border, Blockchain-based, self-sovereign identity standards will emerge for individuals, as well as physical and virtual assets. Blockchain is the future and this partnership will help in bringing purposeful digital transformation in Pakistan," Shamsi said.
The partnership between Inbox and Investech also entails startup investments in the nation, through the Fusion fund.
Khurram Hamid, chief marketing and strategy officer at Investech Partners explained the purpose of this fund and said, "The goal of the Fusion fund is to invest in emerging technologies in emerging markets, such as Blockchain, which can help solve problems of over a billion people because if we can do that we can create new billion dollar companies within the emerging markets and beyond."