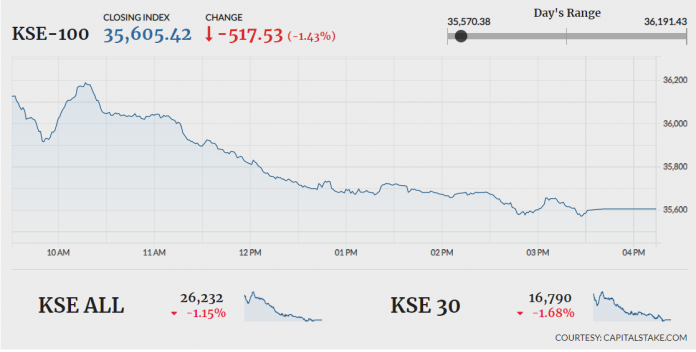 KARACHI: Investors of the Pakistan Stock Exchange (PSX) witnessed a dull start to the week as indices continued to crumble amid lack of turnover. Foreign investors were net buyers for the previous week with a net inflow of $4.76 million.
According to a recent report published by the World Bank, Pakistan has substantial potential to increase tax receipts without imposing further taxes or increasing their rates. The country's revenue could go up to 26pc of GDP if tax compliance was to be raised to 75pc, it added.
Breaking below the 36,000 points mark, the KSE 100 index touched an intraday low of 35,570.38, levels not seen since May 2016. Failing to recover loses, the index closed lower by 517.53 points at 35,605.42. The KMI 30 index declined by 1,220.32 points or 2.11pc to close at 56,659.46, while the KSE All Share index sunk by 305.47 points, ending at 26,232.32.
The overall market volumes declined further and were recorded at 71.42 million, of which 54.35 million came from the KSE 100 index. Maple Leaf Cement Factory Limited (MLCF -4.78pc) was in the lead with 6.44 million shares exchanging hands, followed by The Bank of Punjab (BOP -1.73pc) and Unity Foods Limited (UNITY -5.78pc). The scripts had traded 5.70 million and 4.19 million shares respectively.
As the holy month of Ramadan commences today (Tuesday), the market shall open at 10:17am and close at 2:00pm from Monday to Thursday. Timings for Friday shall be 9:17am to 12:00pm.