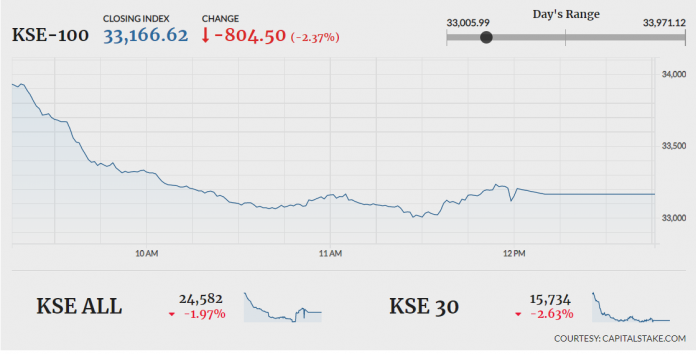 KSE-100 index sheds 804.5 points on Friday, 1,700 points in week
KARACHI: Continuing with its declining trend, the Pakistan Stock Exchange (PSX) ended the last trading of the week also in the red zone, as the indices continued to bleed all day long amid low turnover.
Investors preferred to stay on the sidelines following the uncertainty arising from the fluctuation in currency, concerns regarding upcoming budget, anticipated hike in monetary policy and decline in the rate of economic growth.
As per reports, the US Dollar recorded a new high of Rs150 in the open market on Friday. The value of rupee has been on a constant decline since Pakistan's bailout agreement with the International Monetary Fund.
Moreover, according to the State Bank of Pakistan, foreign exchange reserves held by the central bank fell by 1.5pc on a weekly basis and were recorded at $8.85 billion.
The KSE 100 index slumped to an intraday low of 33,005.99 after losing 965.13 points. It closed lower by 804.50 points at 33,166.62, losing around 1,700 points during the week. The KMI 30 Index plunged by 1,843.14 points to end at 51,963.15, while the KSE All Share Index sank by 494.97 points, settling at 24,582.47. Out of total traded scripts, 32 advanced, 260 declined while the value of 13 remained unchanged.
Trading volumes depreciated from 108.58 million in the preceding session to 90.37 million (a decline of 17pc on a daily basis). K-Electric Limited (KEL -8.25pc) was the top pick of the day with 15.34 million shares exchanging hands. Pakistan International Bulk Terminal Limited (PIBTL -5.60pc) and Unity Foods Limited (UNITY -10.81pc) were next in line with 5.60 million shares and 4.76 million shares respectively.
The cement sector lost 3.81pc from its cumulative market capitalization. DG Khan Cement Company Limited (DGKC -5.00pc), Maple Leaf Cement Factory Limited (MLCF -4.98pc), Kohat Cement Company Limited (KOHC -5.00pc) and Attock Cement (Pakistan) Limited (ACPL -5.00pc) were all floored. Lucky Cement Limited (LUCK -1.90pc) and Bestway Cement Limited (BWCL -4.58pc) also closed in the negative zone.