Senator Mian Mohammad Ateeq Sheikh raised concerns in a Senate standing committee a few days ago over Pakistan Telecommunication Authority (PTA) blocked phones being unblocked illegally on the black market. He said that it is costing approximately Rs 2,000 to Rs 3,000 to unblock smartphones, depending on the model and make of the phone.
As per PTA records, there are approximately 3 million smuggled or non-custom-paid smartphones in the country. The first phase of blocked these phones began on April 30, 2019. PTA has the option of getting a blocked phone unblocked by registering it with  DIRBS – a device verification and blocking system by PTA. However, for this the unpaid custom duties need to be paid first. According to Senator Ateeq, doing so would bring north of Rs 30,000 per blocked phone approximately, although cheaper phones have less duties on them.
If the claims are true then there is not only a major drain on the revenue for the national exchequer but also a dire threat to the data security of the general population of Pakistan. Profit decided to test the claim on our BS meter.
Methodology
Profit reached out to a number of people directly involved with importing, sales and repairing of mobile phones in Pakistan to seek their take on the possibility and consequences of such operations taking place in the black market. Among those interviewed are shop owners and vendors operating in Lahore's Hafeez Center and Islamabad's Blue Area, Peshawar Mor, and Karachi Company, and Director SmartLink Technologies, Muhammad Ahmed Butt, who is also an official distributor, wholesaler and retailer of mobile phones operating out of Hafeez Center in Lahore – the biggest mobile market in Punjab.
Findings
There are two ways a non-compliant phone be made compliant without paying customs duty to the authority.
If your mobile shop vendor has a phone of similar make or model, say broken or damaged, but with functioning motherboard and PTA compliant, he can simply transfer that motherboard to your phone, changing the IMEI number and all the necessary details that PTA may require. However, this option is slightly more difficult and more expensive than the second one, which is the common practice, at least in Hafeez Center Lahore.

If you have access to the passport number and/or CNIC number of any Pakistani citizen who has travelled abroad in the past one year, you can add these details and make your phone compliant without needed to pay any charges.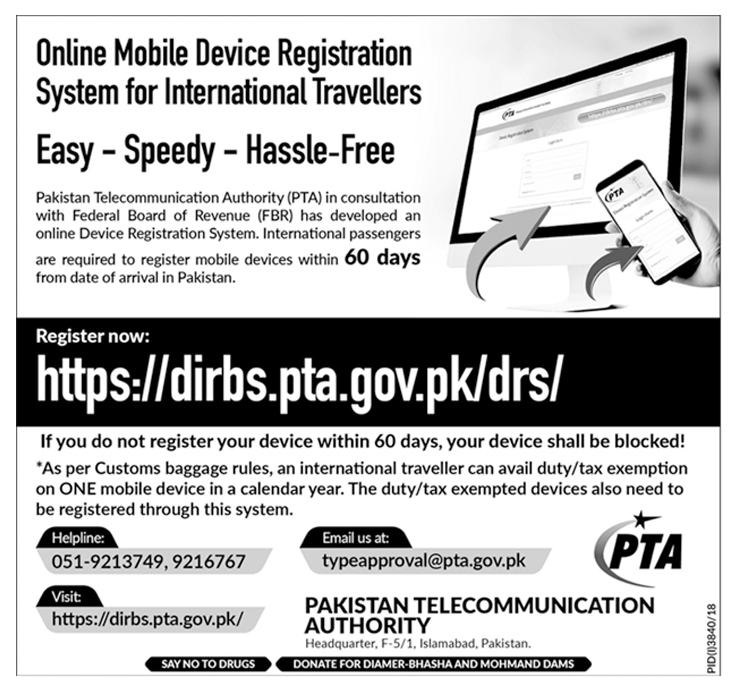 This second option is what has led to black market changing of non-compliant phones to compliant ones. The number of phones made compliant is in hundreds of thousands according to some estimates from the government as well as those who operate in the mobile market.
Ahmed said, "The customs duty on a new iPhone is north of Rs 45,000. But in Hafeez Center some iPhones have been made PTA compliant for as low as Rs 1,000." For reference, the price of iPhone XR in Pakistan, as of the moment this article is being written is around Rs 164,000, with customs duty of Rs 60,000 plus. During Profits own visit to Hafeez Center in Lahore, we came across numerous shop owners willing to unblock PTA blocked phones for a charge of Rs4,000 to Rs6,000.
The shopkeepers in Islamabad had more to add. A mobile repair shop owner operating in the Karachi Company area of Islamabad, named Samiullah explained further. "If I have a legally purchased and registered smartphone, I have an IMEI number that is also legal and registered. So if I change the IMEI of another phone to the same as my phone, it will start to work. However, if my IMEI is blocked, then all phones with the same IMEI will also be blocked," he told Profit. That said, PTA or any authority in Pakistan for that matter has no power to figure out how many devices are being operated on a single IMEI number.
Another shopkeeper from Blue Area Islamabad, Usman Ghani dealing in high-end phones, primarily Samsung and Apple said, "The person changing the IMEI number knows it's illegal, and the person getting it changed also knows it's illegal. So this is one of those things where you know a guy who knows a guy who knows a guy who can do it." However, from Lahore a shopkeeper in Hafeez Center was nabbed by the Federal Investigation Authority for this very crime.
"One person here in Hafeez Center made more than 500 phones PTA compliant from the same computer system by entering random citizen's data," informed Ahmed. "One of the passport numbers this particular person used belonged to a senior officer from FIA who had travelled abroad recently with his family. When that officer went to get a phone that he brought with him to get PTA compliant, he got to know that another phone had already been made compliant on his data.
Profit's verdict:
Given the statements by market insiders, there is no denying that indeed mobile phones are being made PTA compliant without payment of the due custom duties, at least in areas where there are major mobile hubs like the Hafeez Center. Side by side the passport and national identity card numbers of unsuspecting citizens are also being misused. Although PTA does plan to take strict actions, re-block some suspicious phones and put heavy penalties of jail time and fines on those who are involved in such activities, in the short run it remains to be seen how this activity is curbed. Therefore, Profit gives the senator's claims a 'Real Deal' rating on the BS meter.