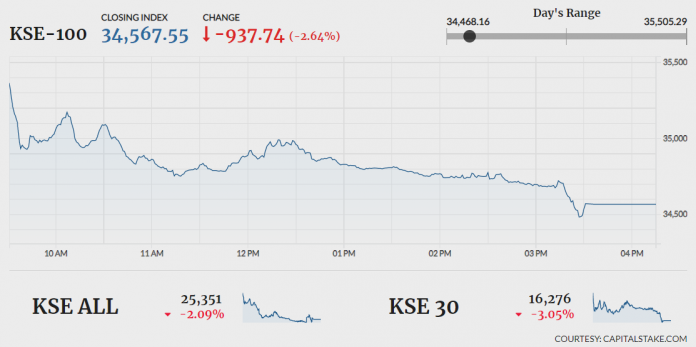 LAHORE: Bearish sentiments surrounded the bourse on Monday with the KSE-100 index benchmark dipping by over 900 points, as investors adopted a cautious approach ahead of the announcement of the Federal Budget 2020.
On the economic front, the US Dollar regained Rs2.24 against the Pakistani Rupee in the interbank market during the opening hours and was traded at Rs151.24. On the political front, the Islamabad High Court rejected former president Asif Ali Zardari's application for an extension in his pre-arrest bail.
Losing over 3.01pc, the KSE-100 index declined to its intraday low of 34,468.16. It ended the session lower by 937.74 points at 34,567.55. The KMI 30 index sunk by 2,016.71 points or 3.57pc to end at 54,515.12, while the KSE All Share index depreciated by 542.14 points, closing at 25,350.62. Out of 305 traded scripts, 56 advanced, 228 declined while the value of 21 remained unchanged.
Trading volumes remained low in the first session after holidays and were recorded at 91.74 million. K-Electric Limited (KEL +4.40pc) was in the lead with 18.53 million shares exchanging hands, followed by The Bank of Punjab (BOP -5.45pc) and Unity Foods Limited (UNITY -8.30pc). The scripts had traded 7.33 million shares and 4.31 million shares respectively.
According to a notification sent by the PSX, the board of directors of Crescent Steel & Allied Products Limited (CSAP +2.75pc) have approved the amalgamation of Crescent Hadeed (Pvt) Limited and CS Energy (Pvt) Limited with and into CSAP (parent company). The date of amalgamation is June 30, 2019.
The cement sector lost -4.92pc from its cumulative market capitalization. DG Khan Cement Company Limited (DGKC -4.99pc) and Maple Leaf Cement Factory Limited (MLCF -4.99pc) nearly touched their lower locks, while Bestway Cement Limited (BWCL -4.92pc), Lucky Cement Limited (LUCK -4.75pc) and Kohat Cement Company Limited (KOHC -4.91pc) also closed in the red zone.