Ernst & Young, the global accounting and professional services firm that goes by its brand name EY, is re-evaluating its relationship with its Pakistani partner Ford Rhodes Sidat Hyder, which includes the possibility that EY will sever its ties with its local partner altogether.
Rumours of this potential change have been swirling in the accounting industry in Pakistan since at least January of this year, Profit has learned through sources familiar with the matter, and have caused alarm among Pakistan's leading accountants and partners at the local affiliates of the global Big Four accounting firms.
According to sources familiar with the matter, the cause of the re-evaluation appears to have been the results of an internal compliance audit of Ford Rhodes Sidat Hyder by Ernst & Young's global offices, a routine practice designed to ensure that the firm offers consistent standards of work to its clients worldwide. That compliance audit found significant deficiencies within the practices of Ford Rhodes Sidat Hyder, and caused the re-evaluation to begin.
Conversations between Ford Rhodes Sidat Hyder and Ernst & Young are ongoing and have not yet reached a definitive agreement or settlement on the matter. Profit reached out to both entities for comment on the matter but did not receive responses.
It is also unclear as to what precisely was found to be deficient in the practices of Ford Rhodes Sidat Hyder. Insiders at the firm are either unwilling or unable to comment, and partners and other accountants at rival firms also appear to be in the dark as to what precisely was the problem, except that it appears to have been significant enough for at least one, and possibly more, partners to have been fired from their jobs, an almost unprecedented action in the history Pakistan's Big Four accounting firms.
The unwillingness of anyone to state specifically what the problem was is unsurprising: the Big Four accounting and audit firms rely on their reputation for integrity above all else for business. A loss in confidence would be a devastating blow to the firms.
Whatever the issue, it appears the problem had been festering for some time and had remained obscured from view of the global partnership in large part owing to Pakistan – and specifically Karachi's – poor security situation, which had meant that the annual compliance audits were typically conducted not by a randomly assigned set of partners from the global firm, but specifically by Pakistani accountants working out of the EY offices in the United Arab Emirates.
Sources familiar with the matter say that many of these accountants had previously worked at the Pakistan offices of EY and would tip off their former colleagues on the scope of the coming compliance audit, which would allow Ford Rhodes Sidat Hyder to be able to paper over their deficiencies in time.

In 2018, however, with the security situation significantly improved, EY felt comfortable sending non-Pakistani partners to conduct the compliance audit, which meant that Ford Rhodes Sidat Hyder was not given advance warning of the scope of the audit. As a result, significant deficiencies were found in the practices of the local firm by their global partners, resulting in seriously difficult conversations that have been taking place since then.
The senior management at EY Pakistan have been left scrambling, trying to fix those deficiencies – which resulted in at least one partner being fired – and have tried to contain the flow of information, going so far as to keep even senior employees in the dark as to what is happening with respect to the conversations with EY Global.
"Yes, the rumours are rife that EY might be pulling out from Pakistan," said one source in EY Pakistan who wished to remain anonymous. "We have confronted the top management, but the top management has told us that the two partners – foreign and local – have only been discussing different matters, including a possible merger of EY Pakistan (EY Ford Rhodes Sidat Haider) with EY Global. The top management has assured us that nothing of the sort is happening right away and routine work needs not to be disturbed."
Few in the industry believe a complete pullout of EY from Pakistan is on the cards. Many believe the global firm is likely to wish to retain its presence in Pakistan, but with tighter global control – and far less autonomy for local partners. The worst case scenario being envisioned by these partners is for EY to sever its ties with Ford Rhodes Sidat Hyder and opening up a separate EY Pakistan office, as the local subsidiary of one of its other global offices, either in the Middle East or elsewhere around the world.
Causes of friction
Sources in the industry say that part of the reason for the friction between the global partnership of the Big Four firms and their local partners in Pakistan can come from standard operating procedures and policies set by the global firms that are not always easily applied within the Pakistani context.
An example cited by those sources was the following: private companies doing business in Pakistan who hire the Big Four accounting firms for an assessment or evaluation may have fewer requirements for the standards that need to be followed, but the global standards that the firm's local affiliate would need to adhere to in order to retain their global affiliation would force them to perform services that the client neither wants nor needs, and is most certainly not inclined to pay for.
"The international audit industry has evolved but Pakistan's industry has yet to evolve," said one partner at a Big Four firm in Pakistan. "It is difficult to follow benchmarks of the Big Four. Sometimes it is not even required in our local environment, but the foreign partners want us to follow their guidelines."
Reverberations across the industry
Regardless of the outcome of the conversations between EY and Ford Rhodes Sidat Hyder, it is becoming clear that the industry as a whole is feeling significant reverberations already.
According to a source at a rival Big Four firm, there are now reports that PricewaterhouseCoopers (PwC) is beginning a similar, deeper compliance audit by a non-Pakistani global partner of its affiliate in Pakistan, AF Ferguson & Company, a process that sources say began earlier this month.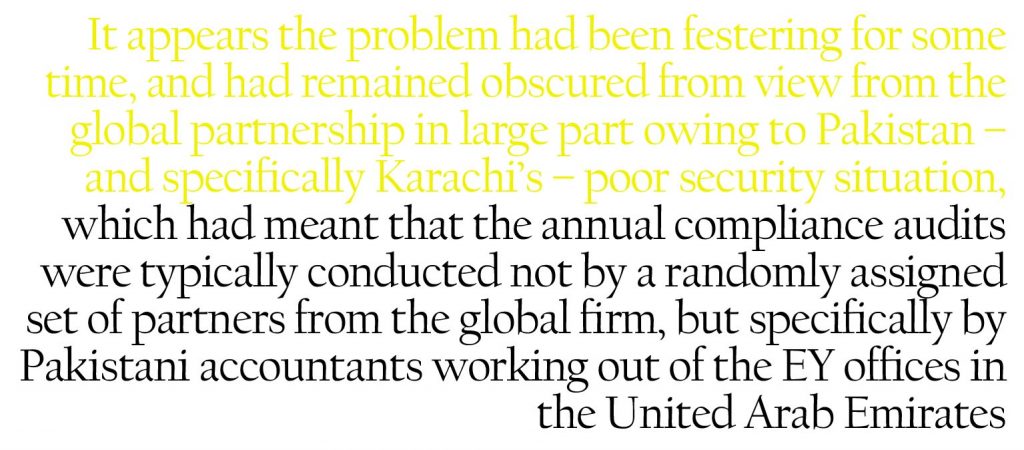 Partners at all the major accounting firms are now worried about what is likely to happen to their global affiliations.
"I am disappointed as, ultimately, this will affect all Big Four firms which is not good for the country," said one partner at a Big Four firm in Pakistan. "This will give ideas to the other Big Four who may follow suit. Risk management is a very big issue for them."
Others have tried to downplay the significance of what is likely to happen. "The pioneers of Pakistan's auditing industry A. F. Ferguson is better known than its foreign partners PwC. The 'Big Four' are not too big in Pakistan," said another industry insider, a partner at another Big Four accounting firm. "Therefore, if Ernst and Young pulls out of Pakistan, it won't be causing much damage to the industry."
"Pakistan is inherently a low-fees market for assurance. Local fees here are less than what auditing firms charges in other markets as assurance fees," the source said. "It is expensive to maintain Big Four standards – even as compared to other international auditing firms, and when the returns are low then pulling out may be more prudent decision than staying. There's reputation at stake."
Others, however, consider the notion that a Big Four accounting firm leaving Pakistan will have no impact on the industry as delusional thinking.
"The local partners of the Big Four are also the biggest accounting firms in Pakistan. There used to be some big names in Pakistan's audit industry some forty odd years back, who didn't partner with the big global names. Where are they now? Either they do not exist anymore or are too small to be observed," said another partner at a Big Four firm in Pakistan.
Why the Big Four matter to Corporate Pakistan
Multinational firms tend to prefer having a single audit firm that can audit their operations around the world, which is why accounting firms tend to be the most global organisations of professional services providers. For instance, if Siemens uses Ernst & Young as its auditors in Germany, they will want to use EY Pakistan to audit Siemens Pakistan.
Among the biggest impacts of EY leaving Pakistan would be the gap left in terms of technical knowledge and information technology, which the Big Four provide to their local affiliates. A pull-out would mean a loss of access to that knowledge base and technology.
Then, of course, there is a loss of access to the credibility that comes from having financial statements audited by a reputable global accounting firm. "If a financial statement is audited by a well-reputed firm and especially by one of the Big Four audit firms, it certainly gives credibility to the financial statements to the sigh of relief of the investors," said Arsalan Ahmed, an accountant at JS Global.
Arsalan has also heard the rumours that EY is leaving Pakistan and thinks it is not good for the country.
"Auditing by firms like EY give credibility to almost all companies in different industries. It helps investors take decisions more easily if they consider the financial reports credible. If EY leaves the country, then there is one firm lesser [in Pakistan], who gave credibility to financial reports of different companies in Pakistan. Credible reports lessen friction for investors to make decisions. If there is one less big name like EY in the country, then it might even mean a decline in investments," he said.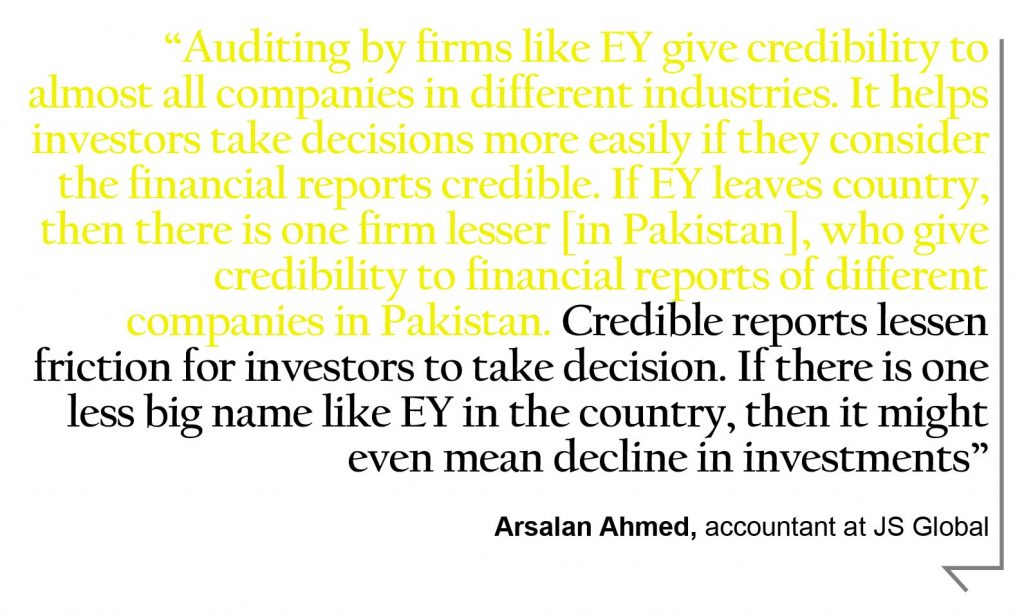 The industry source added that the Pakistan audit industry is staff intensive, with each of the Big Four firms having 1,500 to 2,000 well-paid white-collar employees. Should even one of them pull out, it would have a significant impact in terms of job losses and the closing of opportunities for Pakistani accountants and aspiring accounts.
And the blow to Pakistan would be devastating reputationally: all other countries that Pakistan competes against – in either the region or globally – have local partners and offices of all of the Big Four accounting firms. Pakistan already lags behind India in terms of other types of professional services providers: there are few – if any – global law firms, banks, investment banks, and management consulting firms with operations in Pakistan.
The fact that all Big Four operate in Pakistan is a rare bright spot in Pakistan's connections to the global economy. Should that change, it would have a major impact on the economy, and the willingness of investors to consider Pakistan as a lucrative destination. More importantly, if one firm leaves, it could start an exodus that results in all Big Four firms leaving, which would be a devastating body blow to Pakistan as an investment destination.