Bilal Arif, founder of a blockchain-based software-as-a-service (SaaS) company Block360, says all of his company's clients are outside Pakistan – mostly from Europe. Block360 is yet to have a local client and Bilal believes it is only due to lack of awareness about the technology.
Block360 currently has four foreign clients – two from Germany and one each from UK and Denmark. Bilal believes his startup has great potential to scale and has already started generating over Rs1 million per month in revenues, which his company is receiving in euros.
The company provides infrastructure for the cryptocurrency and machines economy. It develops and delivers cutting-edge software solutions necessary for businesses, governments, organizations and individuals to securely move assets across the blockchain. Since its inception in 2017, it has provided blockchain technology support to over 15 startups and established companies mainly in Europe but also in the United States.
Small businesses are becoming 'micro-multinationals' across the globe by using digital platforms such as eBay, Amazon, Facebook, and Alibaba to connect with customers and suppliers in other countries. Even the smallest enterprises can be born global. According to a McKinsey survey – which was cited in its report Digital Globalization: The New Era of Global Flows – 86% percent of tech-based startups reported some type of cross-border activity. Small businesses have the ability to reach out to new markets. Such businesses support economic growth everywhere.
But Pakistan is not faring well in the segment. The startup culture is struggling. Entrepreneurs have reported several reasons. There is still a cultural lack of support for entrepreneurship and the physical and technology infrastructure of the country leaves much to be desired. But a big complaint from startups is that there are still not enough venture capitalists willing to fund and scale their businesses.
"The startup culture is very bad in Pakistan. Nobody is working to address it, and those who are supposed to be doing this, are serving their own personal interests," said one entrepreneur who wished to remain anonymous so as to speak more candidly.
This entrepreneur successfully completed an incubation round at a renowned incubation center with their team, but was not happy with the experience at the incubator. In this person's view, the only good thing they got from the incubation was a place to sit, which served as a temporary office when the team was unable to afford renting an office of their own.
"There was a clause in the contract, which made it binding for the aspiring entrepreneurs to sit in all workshops when they are asked to, whether it is related to them or not."  
According to the entrepreneur of the tech-enabled startup, investors in Pakistan are not very much fond of tech-based business idea. And those who are interested ask for majority stakes in the company. "We come up with an idea, spent time developing it, and when we contact a potential investor, they ask us for majority shares. That's the biggest catch of our startup culture," the entrepreneur said.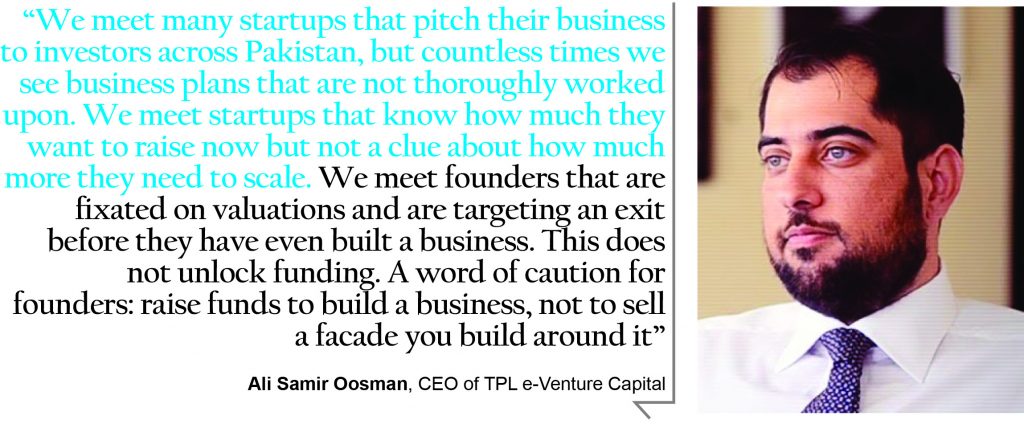 Most analysts agree that Pakistan has great potential for venture capital investment. It is the sixth most populous country in the world with a population of over 200 million. It has the fourth largest middle-class in developing Asia and 65% are under the age of 30 with a median age 22. It has one of the fastest growing retail markets with an average annual growth rate of 8.2% for the period 2016-21 – ahead of India's 5.3% and Vietnam's 4.8%. The size of Pakistan's retail market is $210 billion.
The online retail sales in Pakistan have surpassed $1 billion in 2018 with a compound annualised growth rate (CAGR) of 140% over the past four years. However, online sales are still only 0.34% of total global e-commerce as compared to India's 5% and Indonesia's 4%. But Pakistan's e-commerce sales are projected at $4-5 billion by 2021.
The difference between venture capitalists and vulture capitalists
Zoya Imam, head of investments at TPL e-Ventures – a CVC (Corporate Venture Capital arm of TPL Corp), the security technology and financial services company – says that venture capitalists who look for majority stakes in startups are mockingly referred to in the industry as 'vulture' capitalists.
Such investors are considered detrimental for the startup culture as it demotivates entrepreneurs seeking to build out their businesses. It is considered bad for industries that might flourish as a result of a thriving startup culture.
However, Ali Samir Oosman, CEO of TPL e-Ventures, believes that these 'vultures' – typically old family businesses rather than institutionalised venture capital firms – were nonetheless important initially as there was no one else in the beginning to finance Pakistani startups.
It was those early vulture capitalists that drew the attention of more professional and institutionalised investors, inducing in them a serious case of FOMO (fear of missing out) about the Pakistani startup ecosystem. "And finally, companies like TPL are here, who want to take things professionally ahead, keeping the interest of the entrepreneur intact in the startup."
"We aspire to be one of the first strategic investors a startup would come to. We have a small yet engaging team that plays an active role at every stage of a company's development; your coach, your sounding board, your door-opener or just a second pair of eyes to confirm whether you're on the right track.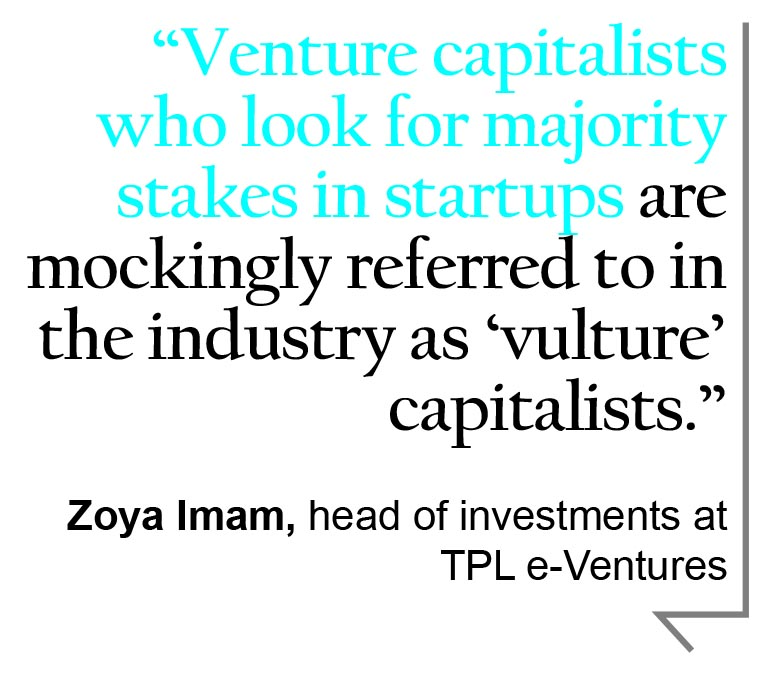 "TPL e-Ventures offer its portfolio companies not only financing, but also strategic and operational support as well as access to a national and international network. We aim to help the daring and passionate build meaningful, outstanding businesses. We are not passive financiers. We provide mentorship and strategic advice to startups in a number of fields, helping startups scale their business and help them raise their next round of financing.
"In fact, we actively mentor and advised startups on their business plans and strategy eventually connecting them with other investors even when we are not investing. A big part of our mission is to grow the industry and make Pakistani startups attractive investment opportunities," Ali said.
Entrepreneurs: know the game you are playing
Before approaching a venture capitalist, an entrepreneur or a startup must know their business. They must know and be able to articulate what they want and achieve. One piece of advice from venture capitalists to entrepreneurs: research the venture capital firm you are pitching to ahead of meeting them and understand whether their objectives align with your startup.
Venture capital funds manage the money of investors who seek equity stakes in startups. Such funds invest in early stage companies with a primary focus on technology, generally investing for a minority stake taking a long-term view somewhere between five and 10 years. The investments are generally high-risk for high-reward opportunities. However, these characteristics may vary from venture capital to venture across different markets and sectors. One thing remains constant that remains similar across the globe is the focus on finding innovative businesses that have the potential to disrupt, and helping them grow.
"Good startups have no shortage of investment opportunities. It's more about finding the right partner that shares and complements the founder's view and wants to see the startup succeed," Ali said.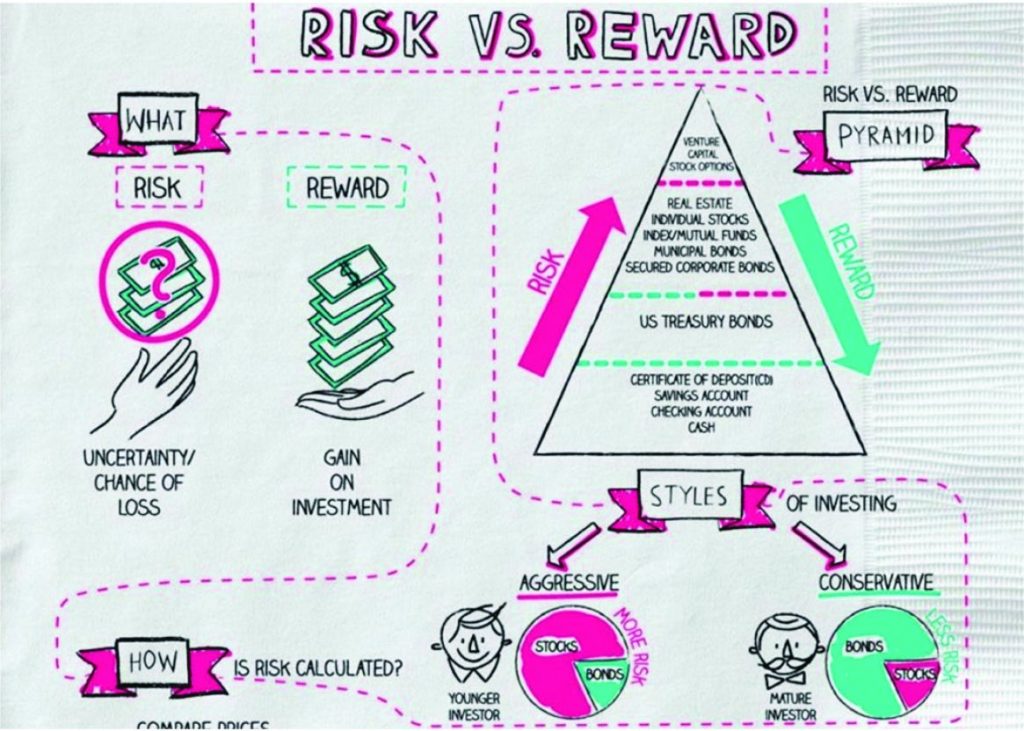 However, he strongly believes that although capital is also not unlimited in Pakistan, most Pakistani startups lack the aptitude to unlock even the available capital.
"I have seen startups even coming up with an exit plan. Just imagine entrepreneurs starting an idea that they are supposed to believe in to eventually sell it off. To an investor, it shows that even the entrepreneur doesn't completely believe in his or her idea. If an investor comes with an exit plan, it's fine but it's not fine for an entrepreneur."
He said that people, who are looking for capital investment, do not properly do their homework and do not know what would be their revenue stream and what they are looking to achieve through their enterprise.    
"But an important thing that startups must ask themselves before anything else is: what am I doing wrong that I can do better?"
"We meet many startups that pitch their business to investors across Pakistan, but countless times we see business plans that are not thoroughly worked upon. We meet startups that know how much they want to raise now but not a clue about how much more they need to scale. We meet founders that are fixated on valuations and are targeting an exit before they have even built a business. This does not unlock funding. A word of caution for founders: raise funds to build a business, not to sell a facade you build around it."
The founders of all the unicorns (private startups valued at over $1 billion) in the world do not worry about exit opportunities – that is the job of the investors as they are time-bound sometimes. The founders worry about building the biggest and best business they can.
The venture capitalists' lament
"There are always anomalies and lucky stories but in my opinion, on the supply side of startups, to be honest and straightforward, most of the founders sitting at [government-funded] National Incubation Centers (NICs) across the country and out in the market are not experienced enough to solve the problems a startup throws at them. Many are fresh out of college. I believe it would be best for young entrepreneurs to build at least two to three years of job experience. Take on new projects for your employer as an "intrapreneur", learn budgeting, costing, team management, timeline management, customer services, and then take on the challenges of entrepreneurship. They will be more confident and better equipped to handle what comes their way."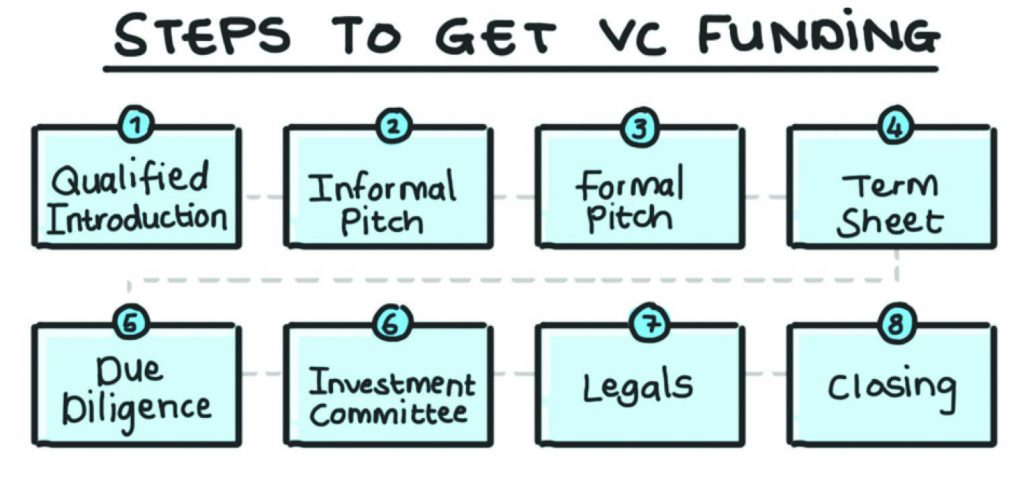 Accelerators in Pakistan can be a key learning and growth platform for startups. The ecosystem is at a very early stage as everyone is still trying to figure out what works and what does not. Accelerators, although not perfect, offer a great environment for innovators and thinkers to mingle and learn through each other's experiences. With good training programs and opportunities to interact with notable industry veterans, they enable young founders to learn and mature – and more importantly, determine a product-market fit.
Most founders in Pakistan, at one point or another experience 'imposter syndrome'. They put themselves in a position as founders of the business and sometimes feel alienated from what they feel they should be doing. In this regard, accelerators allow for them to connect with mentors, experts and coaches to be able to reorient themselves.
Accelerators are very important for venture capital and investors as well. A well-run accelerator takes an early stage concept or Minimum Viable Product (MVP) and supports them to gain enough traction, learn valuable skills for better management and aggressively test their solutions with access to end users in order to determine the viability of the product and its revenue potential and capabilities. This process helps de-risk a potential investment for the investor while ensuring that the founders are well prepared to face the challenges that await them.
What startups can do for the economy
Pakistan can be a nurturing ground for technological startups to help address economic and employment challenges in the country and venture capitalists have a major role to play in bringing about a digital revolution.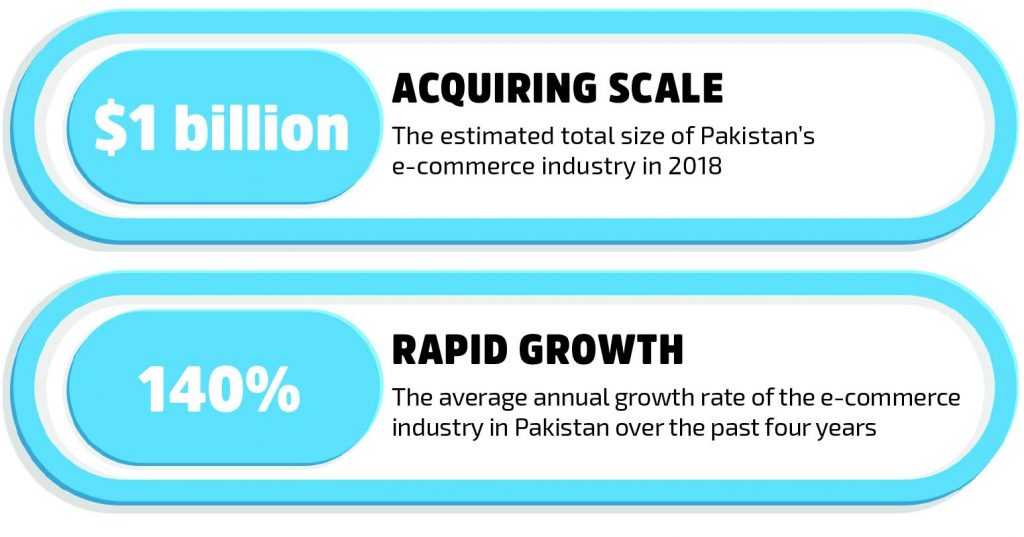 Ali, who is also a member of SECP's Committee on Fintech, said that the future of venture capital in Pakistan is very bright and we are already seeing deals where both local and foreign investors have deployed capital in Pakistani startups.
"A number of startups are making their mark locally and globally on the technology landscape which is a good omen not only for venture capitalists but for the government as well."
Internet penetration in Pakistan has grown from 2.6% to 27.5% in under five years with 40,000 new subscribers per day. In addition to this, Pakistan has over 100 million phone subscribers, 60 million 3G/4G subscribers, and 35 million social media users.
Venture capitalists typically focus their investment efforts using one or more criteria such as the industry segment that startup is operating in (mobile, biotech, Software as a Service (SaaS), fintech, etc,), the stage of the company (early-stage, seed, or Series A rounds, or later stage growth rounds with companies that have achieved meaningful revenues and traction); and geography (e.g. Pakistan, Emerging Markets, Silicon Valley, New York, etc.).
"Some of the segments that we are most excited about are Fintech, Healthtech, Agritech and customer-centric solutions that aim to solve everyday problems for the people of Pakistan. Solutions in these spaces are at the center for improving the lives of people and we are extremely excited at some of the solutions that are coming up over time."
What venture capitalists owe entrepreneurs
A good venture capitalist knows what is happening at the startups they invest in, how it is happening, where it is going and who is doing it, and what does the law say. They should be empathetic and should have an understanding of problems and solutions regarding a startups' target market. They must have the ability to identify great talent – talented founders. Venture capitalists should also have a good network and they must be the No. 1 fan of the startup they partner with. If they do not believe in the ability of their startups to do great things, then why should anybody else?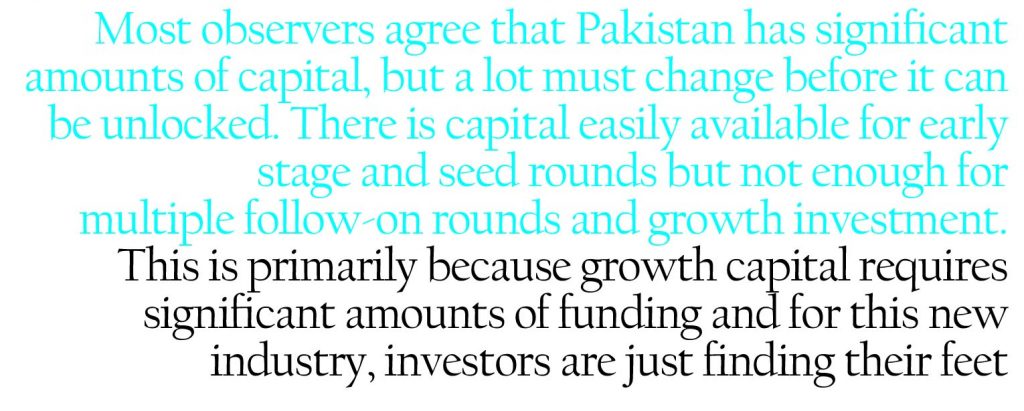 A good venture capital is not just a source of funding. The intent is to act as a long-term business partner. As opposed to an idea generating partner, a venture capital acts as a growth and strategy partner aside from the financing role. This is particularly important for early-stage businesses where the right partner could help multiply growth, unlock funding and generate leads, whereas the wrong one could drive the business to the ground. What is common in both situations is that both types of venture capital could fund the startup.
"In our case, we have a long-standing history of building and growing diverse businesses and making strategic partnerships that has positioned TPL as one of the most unique investors in the country. We have presence and knowledge across tracking, digital mapping, location-based services, insurance, payments, properties and logistics," Ali said.
"Fintech and the use of digital payment is a key to unlocking the true potential of digital commerce in Pakistan. With a number of players looking to solve the payments problem, I believe the future is very bright," Ali said.
However, the time it takes to unlock this potential will be determined by a number of key factors, which are improved regulation around transaction services and data management; incentives from government to support the growth of digital payments; easy access to financial services for all; availability to make digital payments via an integrated merchant network nationwide.
"As much as I believe fintechs will help provide access to financial services, the viability of the business model is still a big question. With huge costs associated with building out a financial services network, both consumer and merchant, and the ever decreasing MDR (Merchant Discount Rate), profitability for these startups without traditional banking products will be extremely difficult to achieve. In my opinion, the winner amongst fintech startups will be the one with the most active users and the largest merchant network thus becoming a high-value acquisition target. For now, all the power still lies with the big banks."
The evolutionary phase of Pakistani venture capital
Most observers agree that Pakistan has significant amounts of capital, but a lot must change before it can be unlocked. There is capital easily available for early stage and seed rounds but not enough for multiple follow-on rounds and growth investment. This is primarily because growth capital requires significant amounts of funding and for this new industry, investors are just finding their feet.
As a result, there is a lack of confidence in potential returns, disinterest in the long investment horizons, and a cautious approach overall. Good startups have no shortage of investment opportunities. However, it is a young ecosystem and it is expected that as the industry matures, more and more great startups would come from Pakistan.
"We have just started unlocking the potential for venture capital funding in Pakistan where local corporations and family investors are deploying capital. We have seen a number of deals announced already."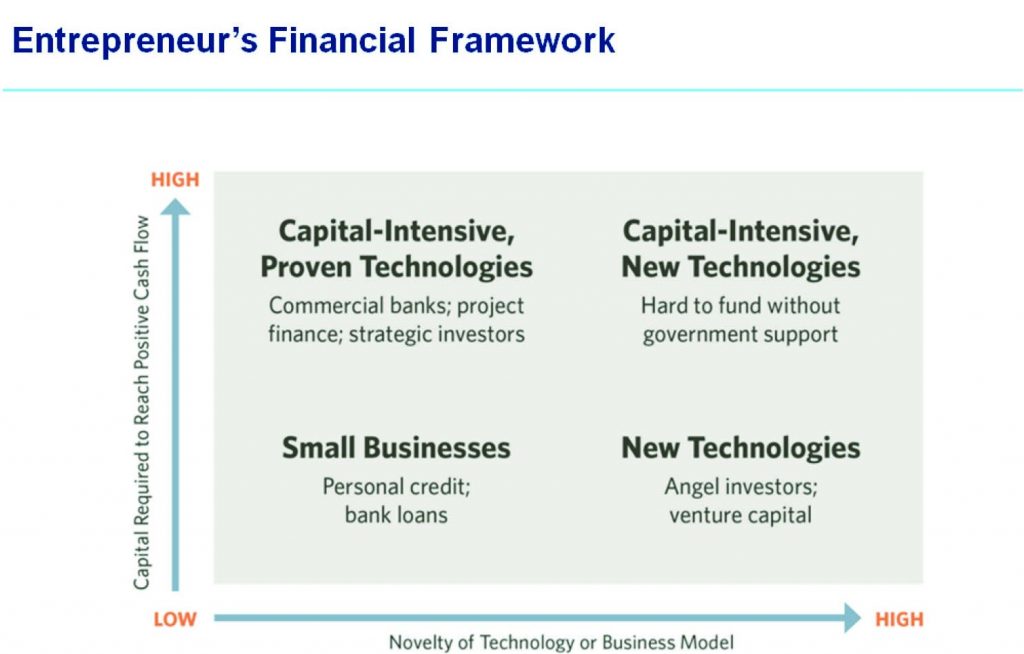 "To unlock more and more capital growth, eventually from international investors, the pace of growth for the industry at large has to increase. We need new policies and regulation. We need open APIs (application program interface), we need corporations using tools, we need more data on everything, we need everyone using a smart-phone, and we need digital banking and digital payments to spread far and wide. When that happens, then trust me: floodgates of funding will rain down on Pakistan's amazing talent," Ali said enthusiastically.
An API is a set of routines, protocols, and tools for building software applications. Basically, an API specifies how software components should interact. Additionally, APIs are used when programming graphical user interface (GUI) components.
TPL's portfolio
To a query about competitors, Ali said that the market is too small to have competitors and it is the time to welcome as more competitors as there can be.  
"We do not view the market from a competition perspective. We believe that at this stage in Pakistan's nascent startup ecosystem, everyone must work together and create an enabling environment for growth. The core intent of all venture capitals should be to focus on building and supporting the startup ecosystem by working together and ensuring that good startups are able to access everything they need to grow and scale whether that be mentorship, financing, operational support or access to other investors etc."
"But what sets us apart are three key factors – firstly, we are a large group of companies operating at a national and regional level across multiple sectors. This gives us great visibility of the market and customer pain-points via a number of industries. Secondly, startups are able to grow with our businesses leveraging everything from technology to customers and our shared services. Lastly, we spend time with the founders and help them with their business strategy and projections, even if we do not invest in them. We do this because we genuinely want them to succeed. A successful startup coming out of Pakistan is positive for all of us."
"It's like if our profits are 1% of a $50-million industry, it's nothing. But if the industry develops and become $500-million only then 1% would be a handsome amount."
Venture capital investments have so far been private transactions so it is difficult to assess an accurate figure that has been invested in Pakistan and comes under the category of venture capital. However, according to one estimate, venture capital investment was something around $25-28 million in 2018.
Talking about TPL's portfolio company KarloCompare, he said that it is a financial services aggregator and travel platform in which they have invested. The startup has shown impressive results post investment and is looking to solve for the lack of financial inclusion in the country. The platform works with corporations and direct consumers for travel packages and offers a power comparison engine which allows customers to apply for auto-loans, credit cards, personal loans and insurance.
As with all startups, KarloCompare faced a number of challenges from industry partners due to lack of API connectivity and a deteriorating macro situation in the country. But it has all been a learning experience. All Pakistani startups that are direct to consumer platforms, due to non-availability of any localized scaled platform, must rely on Google, Facebook and Instagram for lead generation.
As the rupee depreciates against the US dollar, the cost of marketing and customer acquisition goes higher with revenues in rupee remaining the same. This is a problem that directly affects the company but at the same time makes Pakistan a market for cheap customer acquisition cost in the eyes of global tech companies looking to enter Pakistan market.
"Despite these factors that are out of one's control, the team rallied well and responded to the challenge. I am glad to say that they are still growing and looking to raise funds. We are excited about where they are going," he said.
TelloTalk is another TPL's portfolio company. It is Pakistan's first home grown hyper-localized messaging platform that allows people to communicate, share content, transfer payments and transact with businesses. The over-the-top (OTT) instant messaging app TelloTalk in the past has even been defined as a potential answer to successful China's WeChat and India's Hike in Pakistan, with its indigineous characteristics.
Ali said that they were also working on three more ventures and one is in its final stages.