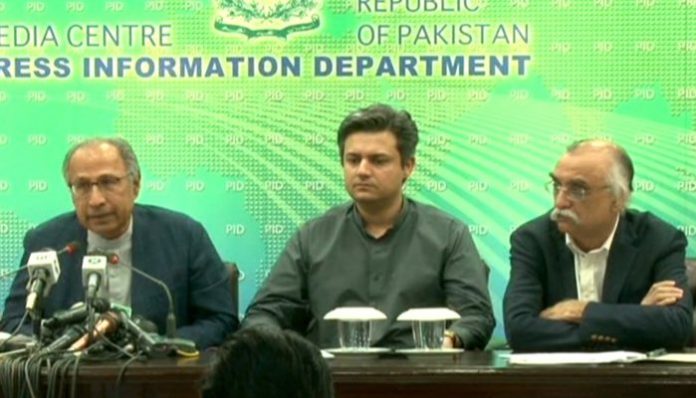 ISLAMABAD: A day after Federal Board of Revenue (FBR) Chairman Shabbar Zaidi rejected speculation in the media that any extension would be given in the deadline for the government's Asset Declaration Scheme, Adviser to Prime Minister on Finance Dr Hafeez Shaikh on Sunday announced that the government is extending the Asset Declaration Scheme till July 3.
He said this while addressing a joint press conference with Minister of State for Revenue Hammad Azhar, Special Assistant to Prime Minister on Information and Broadcasting Dr Firdous Ashiq Awan and the FBR chairman himself.
"There's been a lot of interest in the Asset Declaration Scheme," he said, adding that the deadline had been extended to banking office hours on July 3.
"We decided to extend the deadline as there has been a lot of interest in the Asset Declaration Scheme. We are giving people a final opportunity in case as some of them are still in the process or are facing difficulties wrapping it up," Shaikh said. "After that, the benami commission that we are currently establishing to pursue benami properties, will come into action," he added.
Addressing the media, Hammad said that thousands of people had availed the scheme so far. "We will put forth the details of this scheme in a few days," he added.
A day earlier, a statement from the FBR read, "No extension is being provided in the Asset Declaration Scheme." The FBR confirmed that June 30 was the final date for people to enter into the scheme and declare assets.
However, Firdous had said that the decision on extension in the deadline for the amnesty scheme would be taken during a meeting of Prime Minister Imran Khan with stakeholders on Sunday.
Speaking to media persons outside the Parliament House flanked by Chief Whip of Pakistan Tehreek-e-Insaf (PTI) Aamir Dogar, she had said that the prime minister would chair a meeting of all the stakeholders, including representatives of chambers of commerce and industry. The decision would be taken in the larger interest of the country, she had added.
On June 27, Prime Minister Imran Khan had hinted at an extension in the Asset Declaration Scheme in order to avoid inconvenience caused to citizens by the June 30 deadline.
During a special PTV transmission with the prime minister in attendance via video link, business tycoon Aqeel Karim Dedhi had asked the premier whether he would consider an extension in the deadline.
"I think the number of people interested in the scheme could be much larger if there was some clarification on what the purpose of this is, whether people have to deposit cash by June 30, whether this deadline can be extended by a couple of months. For instance, if you could register first and make the 4 per cent penalty payment, but deposit cash in the bank later?" he had proposed.
Prime Minister Imran had noted that although it appeared that leaving things until the last minute was a Pakistani trait, he was "considering it, because there's a lot of pressure, and lots of people are saying that there is too little time left to register".
The Internatio­nal Monetary Fund (IMF) has voiced opposition to the idea of extending the deadline for the amnesty scheme, saying doing so could hurt the country's case at the Board meeting that is scheduled to take up Pakistan request for a $6 billion bailout package on July 3.
AMNESTY SCHEME:
Under the scheme, assets within the country and abroad can be whitened after paying a rate of 4 per cent. The whitened cash assets will have to be kept in Pakistani bank accounts before June 30.
For people wanting to keep their whitened money abroad, a rate of 6 per cent tax will be charged.
For the declaration of real estate, its value will be considered 150 per cent more than the FBR-assigned value to bring it at par with the market rate.
People do not need to declare gold and precious stones, prize bonds and shares, and proceedings pending in any court of law.
Tax will be four per cent on all asserts except domestic immovable properties. It will be 1.5 per cent on the total value of domestic immovable properties. For foreign liquid assets not repatriated, people will have to pay 6 per cent tax (NRPs exempted).