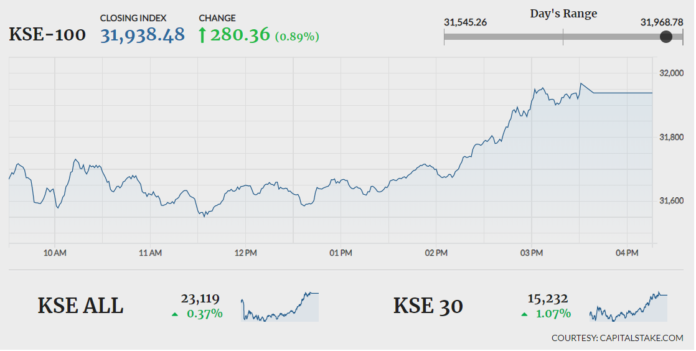 KARACHI: The Pakistan Stock Exchange (PSX) ended its losing run on Wednesday as the indices went north post noon. Foreign investors closed as net buyers on Tuesday with a net inflow of $2.74 million.
On the economic front, former finance minister Asad Umar commented in an interview that according to his assessment, inflation rates would peak in the next two to four months after which it would slowly start to go down. He added that this would then be reflected in the monetary policy and interest rates.
The benchmark KSE-100 Index touched an intraday low of 31,546.26 during the initial hours of the trading session. After range-bound trading for most part of the day, the index reached its intraday high of 31,968.78 shortly before the close. It ended higher by 280.36 points at 31,938.48. The KMI-30 Index added 771.34 points to close at 50,569.36, while the KSE All Share Index managed to gather 86.02 points, settling at 23,118.81.
The oil and gas exploration sector (+69.39 points), fertilizer sector (+60.59 points), banking sector (+34.88) oil and gas marketing sector (+33.02 points) and cement sector (+23.61 points) managed to pull the index out from the negative territory.
Among the companies, Engro Corporation Limited (ENGRO +34.25 points), Pak Petroleum Limited (PPL +33.97 points), Habib Bank Limited (HBL +20.10), Pakistan Oilfields Limited (POL +19.47 points) and Fauji Fertilizer Company Limited (FFC +19.47 points) remained the top contributors to the KSE-100 Index.
The overall volumes improved from the preceding session and were recorded at 70.22 million. Maple Leaf Cement Factory Limited (MLCF +3.54pc), TRG Pakistan Limited (TRG +2.30pc) and International Steels Limited (ISL +5.00pc) remained the volume leaders of the day. The scripts had exchanged 7.10 million shares, 5.72 million shares and 4.31 million shares respectively.