The Investor Service of Moody's Corporation – a financial services company – in its latest report about telcos said that regulations in the telecommunication sector of Pakistan are "less predictable and often politicised".
Drawing parallels between South Asian countries, the report stated that in Singapore, Indonesia and Malaysia, the regulations are stable and predictable, while in Thailand, India, Bangladesh and Pakistan, they are much less so.
"In Pakistan, there has been a history of government-enforced network closures (now declared illegal) for security reasons and the imposition of withholding taxes," the report noted. "In a number of South and Southeast Asian countries, the dividends that telecommunication companies pay to their government owners represent a greater cash drain than spectrum payments. However, the direct ownership of telecommunication by the Pakistani government is negligible which means that the dividends being paid to the government are also negligible."
The report stated that while spectrum payments in government-run auctions are higher in absolute terms, on a relative basis dividends account for a larger percentage of aggregate revenue for telcos in several countries.
"Government-owned incumbent telcos in Singapore, Malaysia and Indonesia pay the highest dividends to their respective governments, while privately-owned telcos in India, Thailand and Bangladesh pay more in spectrum auctions," said Moody's Vice President Nidhi Dhruv.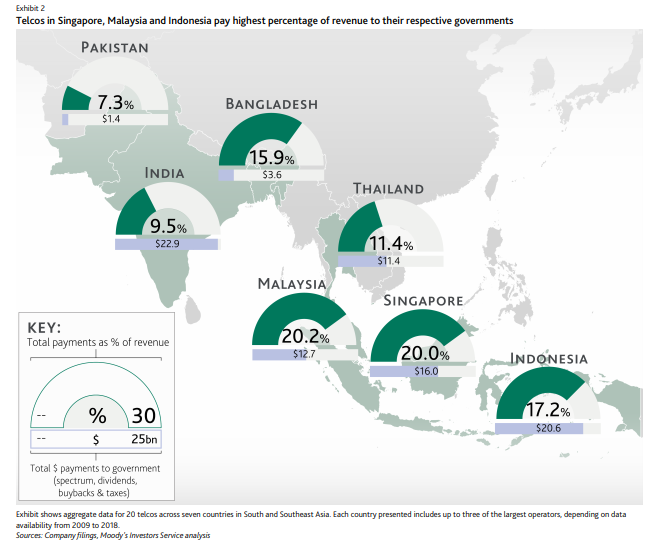 The report also said that there is an inverse relationship between spectrum payments and dividend payments to the government, which in turn translates the governments being the key beneficiary either way. At the same time, regulatory frameworks in the countries where telcos pay high dividends are generally stable and predictable, which means that the telco companies that pay higher amounts to the government also reap certain benefits in the form of regulatory support.
On the financial side, high capital spending, dividends and spectrums have resulted in neutral or negative free cash flow for telcos in the region, the report highlighted. "Moody's expects these trends to continue through at least 2021, and does not expect the telcos will be able to generate enough cash to pay down debt and reduce their elevated leverage."
For Pakistan, the report labelled free cash flow to be neutral.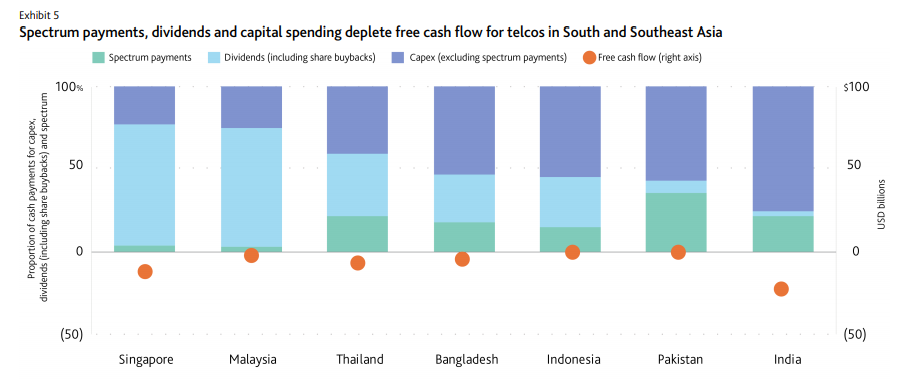 The report said that despite the pressures of higher dividends and spectrum payments, the telcos still have flexibility in certain areas. "Telcos have flexibility to cut back on dividends to shareholders to conserve cash. They have limited flexibility to cut back on capital spending given the intense competition in the industry. And they have no flexibility on spectrum prices and cannot reduce the amount of spectrum they purchase without reducing their network quality. In addition, operators must meet their annual spectrum payment obligations in order to use that spectrum they purchased in government-run auctions."