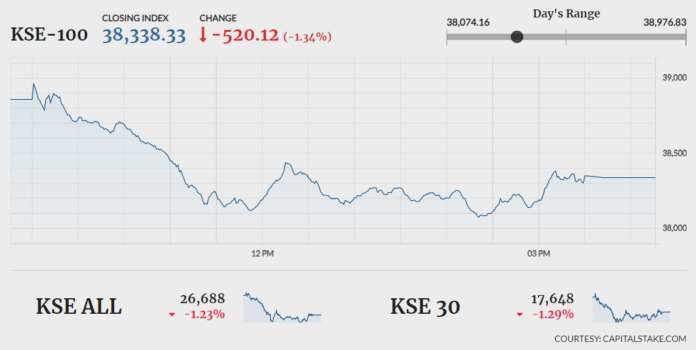 KARACHI: In line with global market trends, the Pakistan Stock Exchange (PSX) ended another session in the negative zone.
As per the analysts, the ongoing fear of global slowdown due to an increase in the number of coronavirus cases had triggered a fall in equities all around the world. Moreover, the decline in oil prices also dented the investors' confidence.
Meanwhile, foreign investors remained net sellers for the fifth successive session on Tuesday. A net outflow of $5.50 million was recorded with major selling in banking ($2.11 million) and cement ($1.40 million) sectors.
Losing 784.29 points, the KSE-100 Index touched at its intraday low at 38,074.16. Amid lack of positive triggers, it settled lower by 520.12 points at 38,338.33.
Among other indices, the KMI-30 Index declined by 1,051.92 points or 1.72pc to end at 60,119.88, while the KSE All Share Index fell by 331.03 points, closing at 26,687.95. Out of the total traded shares, 77 advanced and 227 declined.
The overall market volumes improved from 124.35 million in the previous session to 147.80 million. Shares worth $ 49.63 million were traded on Wednesday. Unity Foods Limited (UNITY -0.74pc) topped the volume chart, followed by Hascol Petroleum Limited (HASCOL -4.27pc) and TRG Pakistan Limited (TRG -4.15pc). The scrips had exchanged 29.78 million, 10.38 million and 7.49 million shares, respectively.
Sectors responsible for KSE-100's fall included fertilizer (-78.42 points), banking (-76.56 points) and power generation & distribution (-67.55 points). Among the companies, Hub Power Company Limited (HUBC -63.20 points), Engro Corporation Limited (ENGRO -55.93 points) and Dawood Hercules Corporation Limited (DAWH -48.03 points) dented the index the most.
On the financial side, Pakistan Stock Exchange Limited (PSX -1.50pc) declared earnings per share (EPS) of Rs0.11 for the second quarter of FY20 (Rs0.03 in 2QFY19), Oil and Gas Development Company Limited (OGDC -0.76pc) posted an EPS of Rs6.01 (Rs6.98 in 2QFY19), Amreli Steels Limited (ASTL -4.22pc) announced an EPS of Rs-0.78 (Rs 0.36 in 2QFY19), Unity Foods Limited (UNITY -0.74pc) registered an EPS of Rs0.52 (Rs0.19 last year), Shezan International (SHEZ 0.00pc) recorded an EPS of Rs-28.44 (Rs-2.60 in 2QFY19), while Nestle Pakistan Limited's (NESTLE 0.00pc) EPS declined from Rs256.05 in FY18 to Rs162.17 in FY19.