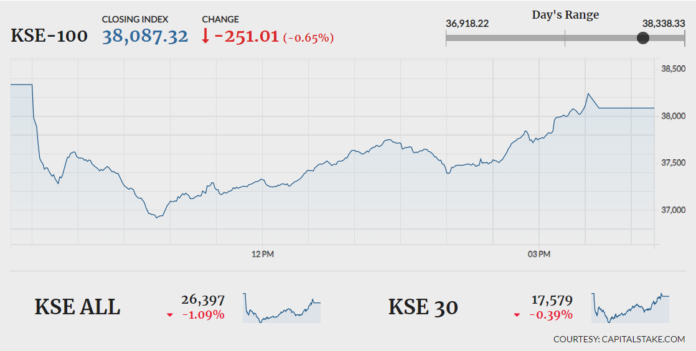 KARACHI: The Pakistan Stock Exchange (PSX) took a major hit on Thursday following the confirmation of two coronavirus cases in the country. Investors resorted to panic selling which led to the KSE-100 Index falling below the 37,000 points mark intraday.
Shedding 1,420.11 points in the opening two hours of the session, the KSE-100 Index recorded its intraday low at 36,918.22. However, it managed to recover most of its losses by the end and settled at 38,087.32 (-251.01 points).
Among other indices, the KMI-30 Index lost 575.80 points to close at 59,544.08, while KSE All Share Index ended 290.99 points lower at 26,396.96.
It may be noted that Thursday's intraday drop was the biggest recorded since last year, when the Pakistan Air Forced downed an Indian fighter jet, whereby the market had dropped 1,500 points as fears regarding an Indo-Pak war had escalated.
The overall market volumes surged 69pc on Thursday and were recorded at 249.24 million. Unity Foods Limited (UNITY -3.72pc), Hascol Petroleum Limited (HASCOL -4.02pc) and Maple Leaf Cement Factory Limited (MLCF +4.91pc) led the volume chart, exchanging 29.43 million, 17.54 million and 15.07 million shares, respectively.
Sectors that drove the KSE-100 Index south included oil & gas exploration (-131.24 points), oil & gas marketing sector (-50.34 points) and food & personal care (-42.38 points). Among the companies, Pak Petroleum Limited (PPL -54.64 points), Oil and Gas Development Company Limited (OGDC -46.00 points) and Pakistan Oilfields Limited (POL -30.96 points) dented the index the most.
"Simply put, it is a spillover of coronavirus and then the potential impact of it. It has just started and we don't know when may it end. The economy is already at a snail pace…any slowdown is likely to put recovery down the road," said KASB Managing Director Arsalan Soomro. "Decline in oil price decline is also having a negative impact on the index heavy oil & gas sector. Otherwise, it's a blessing in disguise and an act of God in the form of macro stimulus. Solves half of our current problems."
Pakistan confirmed its first two cases on Wednesday evening, which resulted in a bloodbath for investors.
Considering how Pakistan imports a significant amount of raw material from China, and with China being a major buyer of Pakistani textile, the market had been taken over by the bulls over concerns of the virus spreading within the region.
Analysts believe while the market is correcting itself, it is likely to remain range-bound as uncertainty is on the rise.
A contrarian view regarding the chances of recovery comes from Sami Tariq, Director of Research at Arif Habib Limited, who states, "The reasons for decline in the market include impact of coronavirus and related decline in regional markets, not achieving staff-level agreement with the IMF and decline in oil prices resulting in decline in oil and gas scrips. However, after closing for six consecutive sessions, we believe the impact has been overstated and the market is expected to rebound."