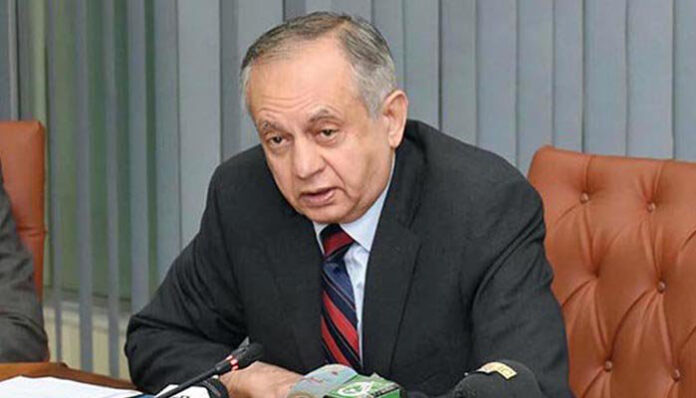 ISLAMABAD: Advisor to Prime Minister on Commerce, Textile, Industries and Production Abdul Razak Dawood has said the present government is working on textile policy to achieve growth and business targets.
The textile policy would be announced in next two weeks, he said while talking to a private news channel.
"We had gained free trade agreement (FTA)," he said, adding that there was no problem of duty-free access to markets. "The focus has been given to agriculture and industrial sectors through China Pakistan Economic Corridor projects," he added.
Commenting on the United States relations with Pakistan in terms of trade, Dawood said the business ties in the past had been tough but after the visit of Prime Minister Imran Khan to Washington, the hurdles to enhance trade activities between the two countries had been reduced, he added.
The business and trade volume with Americans would have results in next meetings, he assured. To a question about relations with China, he said that Pakistan's relation with neighbouring country China had been marvelous. 
Also addressing a press briefing the other day, Dawood said Pakistan desired market access to the United States and their investors to increase their investment here.
"We also prioritise for increasing our exports to achieve the objective of exports-led growth besides enhancing the bilateral trade with US," he said.
The adviser said during a meeting with the US Secretary of Commerce they discussed the issues related to bilateral trade and enhanced market access for Pakistan.
Razak said Pakistan is committed to acquire US Generalised System of Preference (GSP) programme, which provided nonreciprocal, duty-free tariff treatment to certain products imported from designated beneficiary developing countries (BDCS).
He said that as part of ongoing efforts to create jobs and economic growth on both sides, the two countries had held held regular consultations in May last under the Trade and Investment Framework Agreement (TIFA). The TIFA meetings goal was to expand bilateral trade and investment in goods and services in future.
Razak said Pakistan and the US also discussed ways to enhance the US investment in energy, oil and gas, agriculture, food processing and e-commerce besides increasing trade in agricultural goods and medicines. He said this was a high time for the US companies which invested in Pakistan for increasing bilateral economic and trade relations.
He said the US secretary's visit was the outcome of the previous discussions between Prime Minister Imran Khan and President Donald Trump to promote bilateral trade and enhanced economic engagements. The advisor also suggested that the US International Development Finance Corporation (IDFC) was appropriate forum, which also can help in developing of new businesses in Pakistan. The IDFC involved in funding of $60 billion for all the developing countries. He said that about IDFC assistance, Secretary Ross sounded positive and suggested that the commerce ministry should propose projects in that regard.
The advisor said that the US also agreed to improve the travel advisory for Pakistan for bringing mega brands and US investment in different sectors to Pakistan to create employment opportunities. Razak also hoped that Pakistan would achieve trade benefits from GSP-Plus provided by European Union for 10 year till 2023.
He said that Pakistan wanted to get access to the potential markets of African region, Russia and North America for enhancing the trade liberalisation to achieve the objective of export led growth.