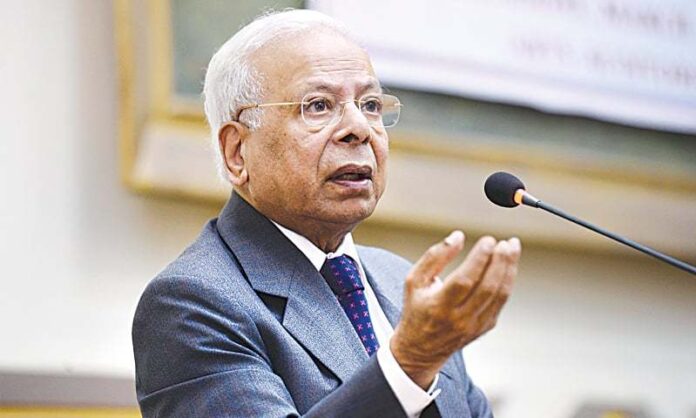 KARACHI: Sindh's economy will only improve with increased investment in renewable energy, and an increase in women education, said Adviser to Prime Minister on Austerity and renowned economist Ishrat Hussain.
The former State Bank governor was speaking at a panel on the second day of the Karachi Literature Festival (KLF), which will conclude tomorrow (March 1).
While most of the talks at the KLF were on culture and literature in Pakistan, the festival did host one talk on the economy: "Sindh's Economy: The Untapped Potential".
Joining Ishrat Hussain on the panel was Shamsuddin Shaikh, the former CEO of Sindh Engro Coal Mining Company (SECMC) and current CEO of Natural Resources Ltd; and Tahira Raza, former CEO of First Women Bank and current director on the board of Pakistan Petroleum Ltd.
Hussain, for his part, went out of his way to praise the efforts of SECMC, saying that the company had changed the lives people living there for the better.
Still, with that caveat, Hussain said that the future of Sindh's economy rested not on mining, but on renewable energy, like solar and wind energy.
"The current figure [for renewables] is 20pc; the government wants it to be 30pc," said Hussain.
He said that the economics of Thar Coal Project still had to be figured out, citing the cost of the transmission lines, and the demand for energy in Karachi and Jamshoro.
In general, he deplored the state of government in Sindh, saying he was especially unimpressed with the civil service present in the province.
"Previously, people were chosen on merit; now they are often just some MNAs or feudal lords," he complained.
As an example of merit, Hussain praised the fact that incumbent State Bank Governor Dr Reza Baqir, a "40-year-old bacha", was the boss of someone who was at least a decade older than Baqir i.e. performance should be valued over seniority.
Tahira Raza spoke at length on women empowerment, saying that banks needed to get over the culture of waiting around for women to ask for loans, and instead, go with loans to women in rural communities.
She also said that banks should be more open to SMEs, saying that failure is normal and part of setting up a business, and banks should give chances to people who have 'failed' in business before.
She said it wasn't enough to invest in roads and infrastructure, but also in formal education for women, which required a cultural shift in our mindset.
She was also adamantly pro-affirmative action, noting that the parliament, for instance, has a 33pc quota for women. The SECP also has mandated that at least one woman should be on a company's board; however, several companies asked the SECP for relaxation in the policy.
"There should be no relaxation in affirmative action," Raza categorically stated.
Despite being the current head of the company that explores mining options in Balochistan, Shaikh kept the focus not on mining or natural resources, but on social development.
Shaikh said he believed that social and human development is the 'soul of a company', a view he developed once he learnt about the conditions of Thar when SECMC was first set up there.
"We bought school uniforms for children in Thar, but a Class 5 student was wearing Class 2 child's uniforms," said Shaikh, noting that almost 45 per cent of children in Thar were stunted in growth.
Shaikh also said that in his experience setting up milk processing plants in Sindh, he had been more impressed with the female graduates from the University of Khairpur, labelling the male graduates as 'beykaar'.
He said that his company had to fight strong cultural attitudes that did not allow women in Sindh to work.