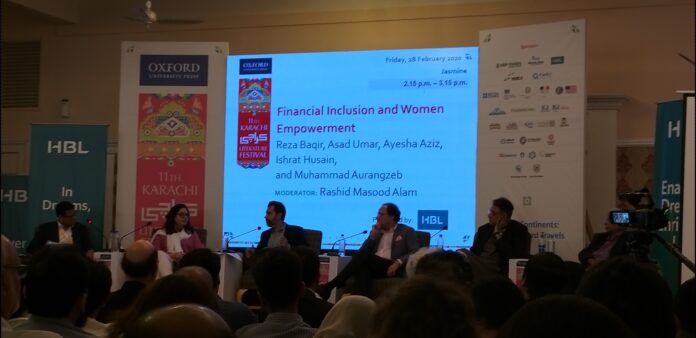 KARACHI: Speakers of a session titled 'Financial Inclusion And Women Empowerment' underlined on Sunday the need to strengthen Pakistani women with more financial autonomy and equal status in working environment.
The session, sponsored by Habib Bank Limited (HBL), was held at the Karachi Literature Festival (KLF).
Panelists included Governor State Bank of Pakistan (SBP) Reza Baqir, Minister for Planning and Development Asad Umar, Adviser to the Prime Minister Imran Khan on Institutional Reforms and Austerity Ishrat Hussain, President Habib Bank Muhammad Aurangzeb, and CEO/ Managing Director of Pak Brunei Investment Co Ltd, Ayesha Aziz.
Minister Asad Umer, speaking on the occasion, said the State Bank of Pakistan needed to revise its strategy for inclusion of more women.
He said the central bank had initially aimed at 15 million unique accounts for women, adding the target was later brought up to 20 million that still needed to be revisited.
The minister commented on how policymaking could prove to be a game-changer in terms of financial inclusion and help SBP in increasing the number of women bank accounts.
He said through the Kafalat programme, the payments would be made to women while using digital mobile accounts, adding approximately 0.85 million women would get accounts through the programme.
He informed the audience about the government's initiatives of Kamyab Jawan and Ehsaas Programme.
He said skill development, education, and provision of assets were three ways for women to be more empowered.
Umer asked women to move beyond the traditional skills of beauty parlor, knitting, and sewing.
Speaking on the occasion SBP Governor Reza Baqir referred to leading women in the world of finance such as Christine Lagarde and Kristalina Georgieva.
He pointed out that only 17pc women in Pakistan possessed bank accounts as compared to 50 per cent ratio in countries like Pakistan.
Baqir said people often believed that a number of women with bank accounts in Pakistan was less due to regional culture or on religious grounds, but nearly 64pc of women in South Asia, 50pc in Saudi Arabia, and 90pc in Iran held bank accounts with Muslim countries averaging at 60pc.
He underlined the need for financial inclusion of women.
Dr Ishrat Hussain stressed the need for inclusive environments for women and talked about how he created daycare centers at workplaces to encourage women to continue with their careers and not allow childbirth to act as a deterrence.
"It's about patriarchal forces, but also patriarchal attitudes," said Ayesha Aziz.
She commented on how the workplace ecosystem was designed for men and recalled when she had started working she was the first to have taken maternity leave.
Speaking about differences in salaries, Aziz said while blaming the patriarchy alone was not enough as women at workplaces lacked psychological empowerment to demand more.
"They don't fight for the promotion they strongly deserve. This lack of confidence is fading with the younger generation being more vocal than men," she opined.
Aziz commented on how the bias was likely to stay unless women made it to the top, similar to how it was on a global level.
Speaking about HBL's efforts to make a change, HBL President Muhammad Aurangzeb commented on how financial inclusion didn't just mean employment for women but also entailed women having their own accounts owing to financial freedom.
He said HBL had added five million women account holders through HBL Konnect, hoping to add a further 10 million this year.
Aurangzeb said a woman should have been at his position as women had a potential to lead.
During session, all panelists commented on the lack of women representation in the panel.
The panel that was set to discuss women empowerment comprised entirely men until an outrage on twitter had resulted in Ayesha Aziz's addition to the panelists.