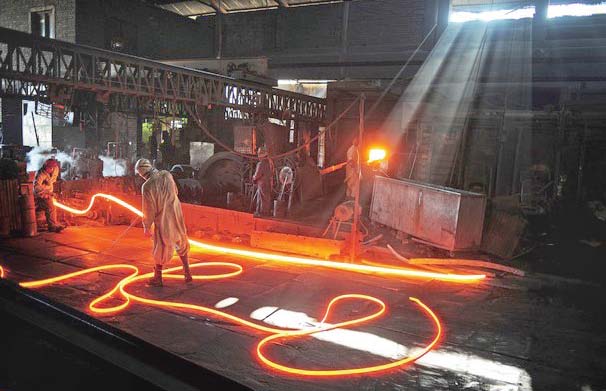 ISLAMABAD: While announcing a "special package" for the construction industry on Friday, Prime Minister Imran Khan completely ignored the steel sector, which is considered by many as the backbone of the construction industry.
Expressing serious concerns over this "ignorance", the Pakistan Association of Large Steel Producers (PALSP) said that the entire package would be meaningless in case the main sector is ignored.
In a statement issued soon after the announcement of the package, PALSP claimed that it was shocked to know that despite repeated requests made by the sector amid crisis caused by coronavirus, the government had ignored the steel sector in the package.
"There can be no construction without steel, so it is needless to say now that the focus needs to be aimed at enabling the steel sector to support construction activities," the association said. "Since Pakistani steel industry is already witnessing a major downturn, the current lockdown has created a situation where steel companies are defaulting and are close to bankruptcy."
According to the association, the steel sector, which provides material to the construction sector, should be allowed to operate across the country. "If steel mills and shops remain closed, how will construction sites operate?" it asked.
The steel industry has demanded the State Bank of Pakistan to provide one-time interest free loans to steel manufacturing entities for a period of 6 months to help create liquidity in the sector.
"There is no recovery of trade receivables and taking on additional debt at high interest rates in a sector that is struggling is not a viable option."
According to PALSP, turnover tax U/S 113 for industry should be reduced to 0pc from 1.5pc for manufacturers and downstream retailers/traders. This will ensure documentation and will provide some cash flow relief to an industry that is already making losses this year.
PALSP is a group of large, integrated and documented steel manufacturers that cumulatively represent 2.9 million tonnes of annual capacity, or 61pc of Pakistan's primary steel capacity.
Earlier, the prime minister had said that withholding tax on all construction related material has been waived off except on cement and iron, adding that those investing in the construction sector would not be asked about their source of income.
"The sector will be opened from April 14," the PM had informed.