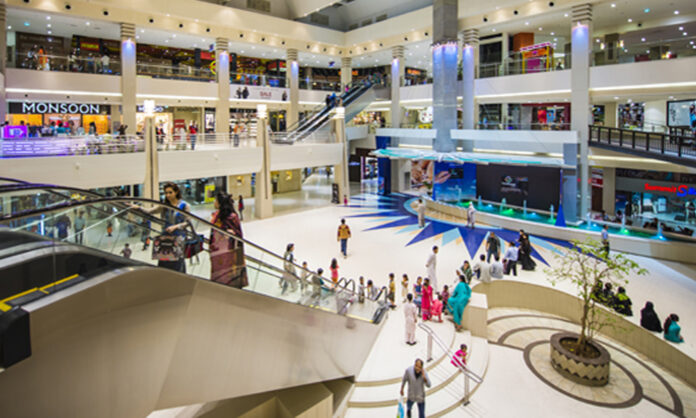 LAHORE: The official trade body of Pakistan's retail sector has appealed the federal government extend liquidity support amid the coronavirus pandemic crisis that is hitting the country's economy hard.
In a letter to Prime Minister Imran Khan and his economic ministers, the Chainstore Association of Pakistan (CAP) has listed four demands, which it says if not met could lead to serious repercussions on the economy in coming months.
Contributing 33 per cent to the services sector and more than 16pc to the employment in the country, the retail sector is also the highest contributor of skill development and value addition in the economy, the letter states.
CAP in the letter has asked the government to provide direct wage support to 600,000 employees of the organised retail sector, arguing that it would be their first priority to retain their skilled workforce.
"We are wondering that how long the retail sector could provide salaries to a huge number of employees during the lockdown, so we need immediate financial support from the government to avoid lay-offs."
Retailers also asked for reduction in the GST rate up to 6pc arguing that businesses would no longer be viable at 14pc-17pc of GST rate with reduced purchasing power in the country.
On the working capital crisis, they demand all principal payments to be deferred for one-year and interest payments waived for one-year.
The association also proposed the government new low cost/interest free loans against the current assets only to retail sector (especially those companies that do not have existing loans) with the State Bank of Pakistan ensuring disbursement of new loans within 30 days.
CAP also demanded the government a direct wages support (partial if not full) to retain employees in their bank accounts/mobile accounts for three months.
Over 50 sectors are allied with the retail sector including spinning, weaving, tanning, dyeing, processing, stitching, assembling and packaging businesses. The commercial construction industry also relies heavily on the retail sector. Many service providers involved in transportation, logistics, HR, IT, chartered accountants, and advertising are closely linked to this sector.
Altaf Hashwani, who is partner at Sana Safinaz, told Pakistan Today that retail businesses need support and concessions in order to save employment across the local economy.
"Our teams are an integral part of our business and we want to retain our workforce, but without immediate support, an industry that has lost weeks of revenues will be unable to sustain for much longer," he feared.
"It is also critical that we not only make our products as affordable as possible for the end consumers in these pressing times, but also help mobilise the local economy quickly once the shutdown is over. For this, we request that the government reduce sales tax on the organised sector," Hashwani said, adding without this measure, only the undocumented sector will survive and compliant businesses will suffer further to the point of no return.
He sought rent concessions and restructured rental options from landlords in the spirit of a mutually beneficial and long lasting partnership. "These two measures will go a long way in ensuring that retail businesses survive and contribute to the economy."
Asfandyar Farrukh, who is Managing Director of Hub Leather, claims their retail business was already suffering before the Covid-19 crisis due to the economic slowdown and the burden of additional taxes in the last federal budget.
"We had scaled down earlier in order to sustain ourselves but closing our stores for the past three weeks, for the safety of everyone, has been a massive shock. We are trying very hard to sustain most of our workforce and manage other fixed costs that are associated with a retail business such as rents, utilities and minimum taxes," he added.
In addition, Farrukh said, "They have a large supply base that consists mainly of small enterprises and the cottage industry so we have to take care of them as well because most of them don't have any financial reserves. There are many local businesses like ours, which had shifted from exporting to serving domestic customers instead."
"We are also a family managed business and work within our own resources instead of borrowing from banks. In such a case, we feel very overlooked when the government announces hundreds of billions in relief primarily for exporters and big businesses that are heavily leveraged."
Farrukh said retailers like them needed support primarily to meet payroll needs and working capital in order to get through the next 2-3 months due to the loss of revenue and cash flow disruption.
"There is still hope that the government will announce relevant measures and ensure fast delivery to those who need it. If that doesn't happen, after having built local brands over the past 19 years, it will be a tragedy to see our business and its workforce fade away," he noted.