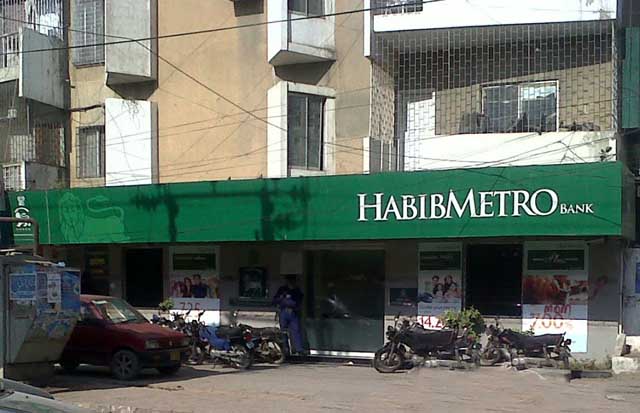 KARACHI: The Board of Directors of Habib Metropolitan Bank Ltd (HMB) met on Friday to review the bank's performance and announce its financial statements for the first quarter ending March 31, 2020.
According to the financials, which were released on Monday, the bank's profit after tax increased to Rs1.64 billion in the quarter ending March 2020, as compared to the Rs1.56 billion in the corresponding period last year, showing a growth of 5pc year-on-year.
However, when compared to the fourth quarter of 2019, profit after tax declined by 4.9pc.
The bank's earnings per share (EPS) clocked in at Rs1.48, which is a marginal increase from the Rs1.41 during the same period last year.
Despite the marginal increases, the bank's profit after tax was below analysts' expectations.
"The result was below our expectation on account of higher than expected lending under SBP refinance schemes, limiting the effect of higher interest rates on earnings," according to a research report by AKD Research.
The quarterly decline of 4.9pc can be attributed to the lower net interest income, and higher provisioning costs. Net interest income fell 6pc, from Rs4.77 billion in the last quarter to Rs4.48 billion this quarter. Provisioning costs increased to Rs484 million this quarter, compared to 124million in the previous quarter.
On a more positive note, there was a 43.6pc increase in non-interest income, from Rs1.59 billion last quarter, to Rs2.28 billion this quarter. In fact, non-interest income made up 33.8pc of total income, compared to its 25.1pc share in the last quarter.
Most of this was driven by the whopping 79pc increase in foreign exchange income, to Rs782 million, due to volatility in the exchange rate.
However, there was a 19.2pc decline in fee income, to Rs1.35 billion, which analysts attributed to the general global lockdown impacting trade income.
Not only are this quarter's results below expectations, but last year's financial statements were also disappointing.
According to the bank's financial statements for the year ended December 31, 2019, the bank's profit after tax stood at Rs6.96 billion, showing a growth of 8.42pc year-on-year. However, the bank's profits have been hovering around the Rs6 billion mark for the last four years, after crossing the Rs7 billion mark in 2015.