A question you may find yourself asking every month is where in the world did my money go. There is no shame in it, in fact it is only too relatable. This does not mean that you are bad with money, only that it is hard to keep track of how much you end up spending, where you spend it and whether you should have spent it in the first place.
The problem is a particularly pressing one for the salaried classes. As business reporters, we are no different. Part of our job may be to keep a stern gaze on where and how public and private ventures are spending their money, but that does not mean we, like so many others, are not familiar with the balance inquiry of shame that one must face at least a few times a month.  
Now, many would say it is simple enough. Just log all your income and expenses into a journal if you like to keep it old fashioned, or fill it all onto an excel sheet if you are tech savvy. Unfortunately, it is not all that simple. While these two methods help you track the inflows and outflows, it is a complicated method and you cannot budget as simply as you should be able to. 
If you decide to fill in a journal, you will need the assistance of a calculator; and if you go for the excel option, you are going to need to set a decent enough chunk of time aside just to maintain a record of all your spending. Even if one can manage that, ending your day by reflecting on all your expenses or frantically searching for receipts to trace back the day's spending is a tiring and laborious prospect. 
Managing money and sticking to a budget should not be stressful, and yet, so many of us find it a nightmare to stay on top of their financial position. 
In order to make this theoretically simple task of personal finance management practically simple, numerous mobile applications have been launched around the world. They come equipped with a myriad of features that help make the task of tracking income and expenses along with budgeting hassle free.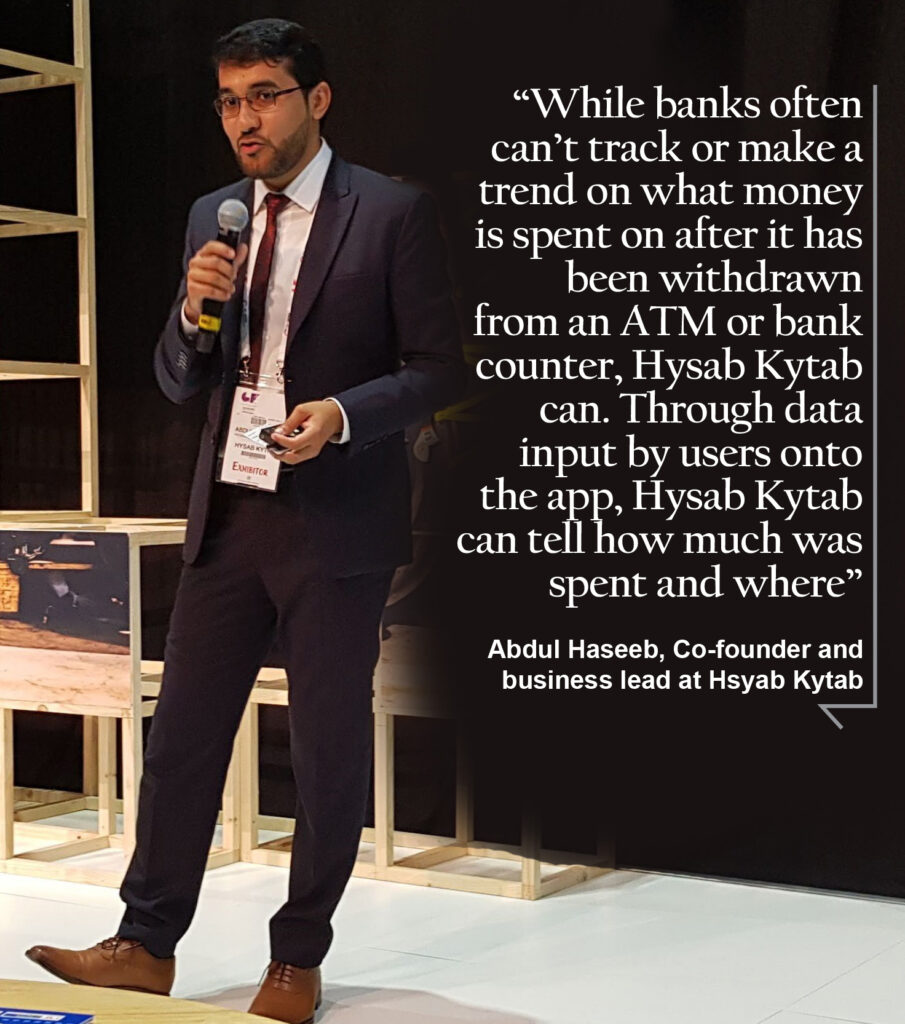 One of these is Hysab Kytab, the only personal finance management (PFM) application born in Pakistan. As the name suggests, the application was made with the primary purpose of helping individuals manage their finance better, essentially "the Hysab Kytab of their financial position". While the company interestingly started off as an ERP solution for small, medium, and micro enterprises, it ventured out by pivoting the idea towards consumers as well considering the market dynamics.
A quick personal product review
In the spirit of a product review, before venturing out to get more information on the application, we decided to do things the old fashioned way and used the application for 15 days. The application was easy to find on the app store, and once it is on your phone, all you need to do is enter your income, and how much cash you have stored in any bank accounts you may have. Following that, you can let the app know any monthly expenses such as your phone bill, internet charges, parking charges, etc. As for other expenditures, you can always enter them as they come instead of waiting for the end of the day like you would using an excel sheet.
The next part is setting up budgets to curtail expenses. There were quite a few categories set out, and the user always has the ability to add more. What's really eye-catching are the suggestions that show up on how to keep financially fit. These were mostly integrated with bank schemes. The app also displayed deals that one could avail to save on money and catalogues from leading supermarkets across the country. In case you are planning a trip, the app's travel mode helps you save and log expenses in terms of another currency. A wise feature to have handy considering how easy it is to splurge when travelling. 
The infographics are easy to understand for most users, and the application has a friendly interface and is easy to navigate. There were no hold ups, and logging an expense or inflow did not seem like a mammoth task. Logging in expenses in a timely and accurate way was doable, and as a result, not only was there a clear money trail, the app managed to save us ten percent more than what would have happened without setting and monitoring a budget.
While using the application as intended clearly has its benefits, what business model are the people over at Hysab Kytab using to stay afloat. Jonathan L. Zittrain, an Internet Law Professor and George Bemis Professor of International Law at Harvard Law School and Harvard Kennedy School said, "When something online is free, you're not the customer, you're the product." Well the product is free for me and for you, but what about institutions?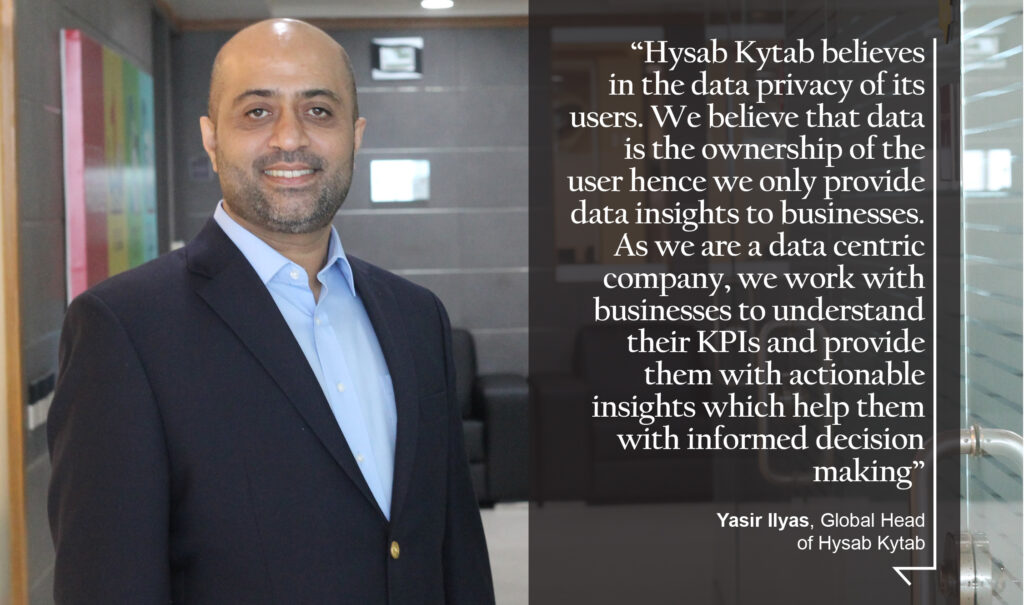 First and foremost, before we dig into the business model, let us get this straight: is the product safe to use? Is there a fear or chance of a privacy breach? After all, if you are the product, does that mean your data is what is being mined by this app? 
"Hysab Kytab believes in the data privacy of its users," explained Yasir Ilyas, the Global Head of Hysab Kytab. "We believe that data is the ownership of the user hence we only provide data insights to businesses. As we are a data centric company, we work with businesses to understand their KPIs [key performance indicators] and provide them with actionable insights which help them with informed decision making."
"At Hysab Kytab we understand that security of data is of prime importance. Although we are not a financial institution we make sure that our systems comply with the highest standard thus have achieved bank level security by becoming PA-DSS and PCI-DSS compliant," adds Abdul Haseeb, co-founder and business lead at Hsyab Kytab.
The Payment Application Data Security Standard (PA-DSS) and Payment Card Industry Data Security Standard (PCI-DSS) are two information security standards that are developed by the Payment Card Industry Security Standards Council, an organisation set up to maintain data security standards and originally created by Visa, Mastercard, American Express, Discover Financial Services, and JCB International.
Why is data so important for Hysab Kytab?
The company claims that there is no unethical breach of data. However, one has to wonder about the importance data has in today's world. Ilyas remarked, "As per the cliché used in the business world, data will replace oil. All businesses which have a weaker understanding of the customer will never be able to compete with a business which are armed with data insights about their customers and the industry they operate in."
According to him, data is the most valuable commodity in the market regardless of whether one is talking about financial or non-financial data. Adding to that, he said that the data insights Hysab Kytab provides to their customers helps paint a 360 degree view of the customer.
Haseeb added that their product has a unique selling point particularly because Pakistan is primarily a cash based economy. "While banks often can't track or make a trend on what money is spent on after it has been withdrawn from an ATM or bank counter, Hysab Kytab can. Through data input by users onto the app, Hysab Kytab can tell how much was spent and where." He explained that this information can help a bank or business target specific products to a certain individual. Jokingly Haseeb remarked that it is not creepy and invasive as Facebook advertising a product you were talking about.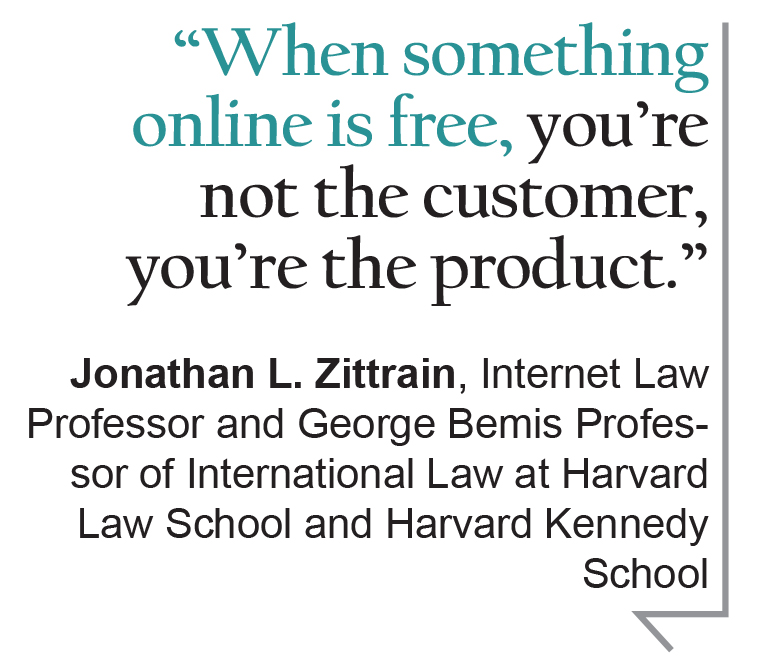 Haseeb then chirped in his favorite quote, being a student of data sciences, "In God we trust, all others bring data." And that is precisely how business is done as of late.
So what does Hysab Kytab really do?
On a very rudimentary level, Hysab Kytab provides its users an application through which they can track their income and expenses along with budgeting tools. "We are highly focused on making people financially literate and help them find avenues that bring the best values to them based on their income and spending habits" explained Ilyas.
However, for their customers, Hysab Kytab turns these data nodes into a financial profile for an individual as a means to get to know their consumption patterns better. Ilyas further added that he feels, alongside many that the basic need for any industry is data and that it cannot be said enough. "All these industries spend millions with research companies to provide them data insights which are based on conventional research methods. However, Hysab Kytab is unique as it provides insights on real time data insights from our whole user group rather than a sample of the population."
The team works towards strengthening their data by collaborating with the right partners. Ilyas and Haseeb told Profit how they recently joined hands with Telenor in order to enhance the localization of their data insights.
"A leading newspaper did an article about how much people spend on food. When they published the results, our data matched with their results but the key difference was that it must have taken them a lot of time to gather such data," they explain. "With Hysab Kytab, that data is readily available in real time not requiring conventional data gathering methods." Ilyas further commented that while that research could not adapt to changes instantaneously, the team at Hysab Kytab can.
Further, Haseeb noted that the business environment these days has become beyond competitive. Catering your product for varied consumer needs is now widely expected. Long gone are the days where one size fits all was the norm. Businesses cannot just expect to sell the same unified product to everyone. "This isn't a communist set up! Each consumer is unique and only by understanding them better, will a business be able to succeed."
Haseeb recalled one such discovery. He said that they came across certain individuals that spent nearly half of their income on fuel despite not showing any signs of leisure trips. Through analysis they were able to understand that these individuals were drivers on popular ride-hailing applications. As a result of this key insight, certain banks were able to pitch their fuel-savers cards to them instead of shooting their products blindly at them. This creates a win-win for both customers and banks, as customers save more and banks increase their card portfolio.
Hysab Kytab's integration with banks
"The product initially started off as a stand alone consumer application. However, upon seeing the high level of engagement, along with the ability to capture more details; banks soon realized that they could benefit by white labeling the application into their own banking applications," explains Haseeb. 
The application works beyond just a personal finance manager and goes the extra mile by providing key insights to institutions on how to service their clients better. "Our insights empower the relationship managers and branch managers with actionable data on how to approach a customer in order to increase the profitability of the bank by selling more product per customer and the revenue per customer of the bank."
Ilyas further commented that since the product is made in Pakistan, primarily for Pakistan, the team places a strong focus on localisation. While the product is available and has a user base in more than 160 countries, the team feels that localizing the service and data insights is imperative. "Hysab Kytab also tailors the user experience of the application according to the local fabric of each geography we operate in."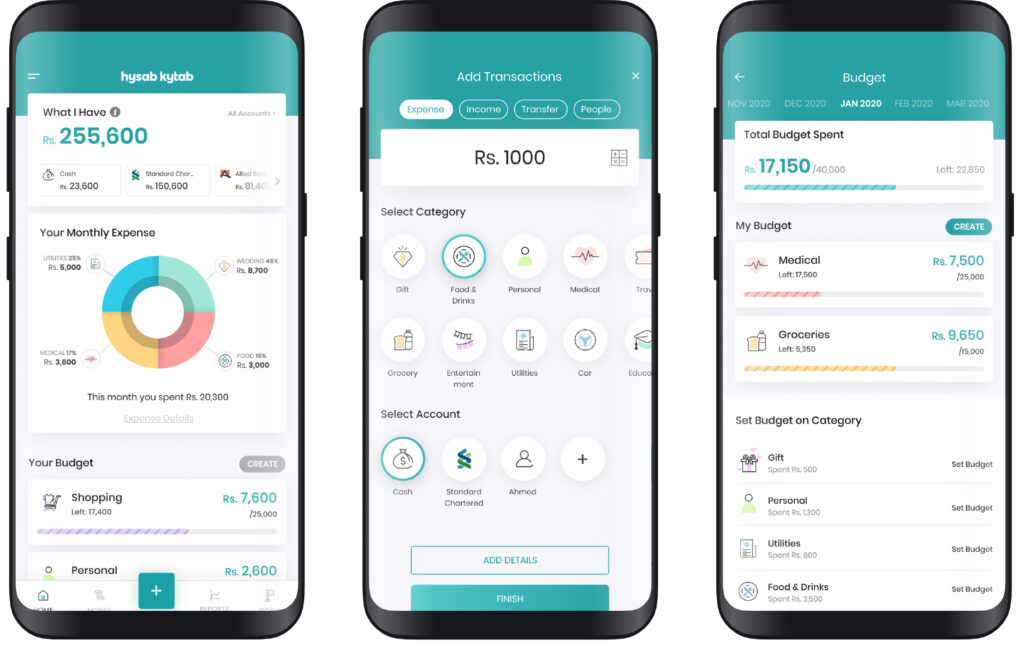 "We witnessed that users in the Philippines usually maxed out their credit cards and would pay a minimum amount to maintain their credit line. However, users in Pakistan would incur major expenses after getting their pay and then save what is left. Armed with these interesting insights, our white-labelled product provided to the bank in Philippines will be completely different to the one we offer to the banks in Pakistan."
Ilyas noted with a sense of accomplishment, "We are engaged with almost all the banks in Pakistan and are currently implementing our solution in one of the top retail banks." 
The team at Hysab Kytab provides white labeled PFM solutions to the banking industry. Why would the banking industry be interested? "It's simple," explained Haseeb, "Hysab Kytab provides values to banks through increasing the engagement of their existing mobile application in addition to obtaining more data points around their customers."
The team is constantly looking out for things they can learn from the patterns that the apps users display in their spending. They then test the various plans through which they can maximize engagement with the application. They then turn these insights into feature sets of their white labeled solutions.
The duo explained that since they are a fintech player, their focus mainly lies in the financial industry. "According to World Bank data, Pakistan has a financial inclusion level of close to 35% in comparison to our neighboring developing countries which are at 67%," explains Ilyas. "Considering the demographic dynamics in Pakistan, having a large young population, there is a large potential to financially include the unbanked population."
Hysab Kytab, however, did not stop at just banks. While some features such as the deals may compete with apps like GoLootlo, Bogo, Vouch365 etc, the team at Hysab Kytab looks for meaningful collaborations. Ilyas explained, "In a time that we live in, startups have realized collaboration and partnerships are the key to success. We at Hysab Kytab also follow the blue ocean strategy and have collaborated with over 15+ partners across all segments of the industry such system integrators, digital banking solution providers, and telecom companies."
Does the business model make sense?
The team primarily believes that conventional models of data utilisation will soon become obsolete and will come around to be replaced by newer, cost effective and efficient models. "Hysab Kytab is that – we are new, cost effective, and efficient; and to add, we are adaptive!" remarked Haseeb rather enthusiastically.
While the PFM domain has remained vastly under-discovered in local terms, the need for such a product is "evident from the uptake and high level of engagement we have managed to amass in a short span of time" explained Ilyas.
"Our growth numbers have been fantastic and continue to see an upward trend on a continual basis. For us 2019-2020 has been all about growth. We have close to 450,000+ users on the platform from around 160+ countries using the application. We have also managed to establish a huge partner network globally, especially in the Middle East and Africa Region for the white labeled version".
Ilyas feels that their product was set for success from the moment it was designed considering the eye for detail. "Minimalism, innovation and simplicity are the core principles that we follow when designing Hysab Kytab."
"We actively see how user segments are interacting with the application and continually tailor the application for the best user experience," he tells us. "A great insight to share here is that our data shows that users who are in the age bracket 18-35 are likely to use swipe functionality as compared to the 35-60+ age bracket, who tap on the icons to perform an action. In essence, the whole game is how we use many data points to drive engagement with the application" he added.
It is also pertinent to note that the application also won a project from Karandaaz, funded by Bill & Melinda Gates Foundation and DFID to run experiments on the uptake of digital financial services.
As for the future, Hysab Kytab feels that while there are a handful of microfinance players in the market Ilyas says, the next logical step would be to partner with the microfinance solutions for mutual wins as per their current strategy.
So it is safe to say that products like Hysab Kytab will help the market mature towards more data driven solutions, along with enabling a more financially inclusive and literate environment. Seeing the growth trajectory, there is a chance that competition will step in, however, it seems like Hysab Kyatab has a strong lead in the race. While the product helps answer the question "where did my money go" for users, it also helps answer the question "who should I sell this to" for businesses.
Personal verdict:
After having used the app for a couple of weeks, I would say I am very likely to continue using it until there is a stronger competitor that can outperform Hysab Kytab. Do I trust Hysab Kytab with my data? Yes, there is little to no chance of anyone uncovering my net worth (not that they would be interested or even pleasantly surprised). 
However I hope this does not lead me to being spammed by countless advertisement messages on my phone. I would, however, feel better knowing that while my finances are better managed, institutions that work around me understand me as a consumer better.