Somewhere around the middle of the 1990's, the paint industry started to place monetary tokens inside paint cans in order to incentivise the painter and the contractor to recommend a certain brand of paint. It still does.
Without much effort to communicate the product differentiation to their final consumers, most of the marketing budgets for different paint companies went towards the tokens instead of building their brands. Only multinational paint brands ICI Dulux and Berger Robiallac could be seen on television. Even though the practice of token prevails to this day, one can see a major shift even in the marketing budgets of local paint companies like Master and Brighto, from tokens to building their brands, and all the while trying to generate the pull from the actual consumer.
Similarly, the steel rebars category which has historically relied on dealings on a business to business (B2B) level with architects, builders, and contractors has very recently started to evolve its marketing for a business to consumer (B2C) audience pioneered by the trend-setting ads from Mughal Supreme in 2018 and 2019.
Similarly, in an effort to build top of mind recall and create an emotional bond with its end consumer, Amreli Steels Limited has launched a new integrated marketing campaign that aims to position itself as the preferred company for those with the strength of character by depicting a father and the sacrifices he makes for the greater good of his family. Industry experts told Profit that surprisingly the best of Pakistani advertising is coming from the least expected industry. At this rate who knows, maybe one day the highest paid brand managers might be working for the seths in the cement sector.
Practitioner Verdict – 90% Fresh!
Played by Shabbir Jan, the lead character of the ad is a father whose actions demonstrate the difference between doing what is right and what is popular. This is depicted with him waiting at red signals as other motorists pass by him, keeping meetings on track, rejecting bribes to the dismay of colleagues, denying requests to use his goodwill to secure a job for his son, and sacrificing his short term dreams so his daughter can study abroad. 
Article continues after this advertisement
According to Sohaib Hasan, deputy brand manager at Amreli Steels Limited, the production side of the advertisement was ready by March 2020, with plans to release nationwide after Pakistan Day – the 23rd of March – with the lockdown due to C19 stalling the launch. He said that when markets opened in May and there was an ease of doing business, the brand team considered releasing the campaign after Eid with a digital-first route. The channels on digital span YouTube, Facebook, Google Display Network, Instagram Stories, and various local publishers.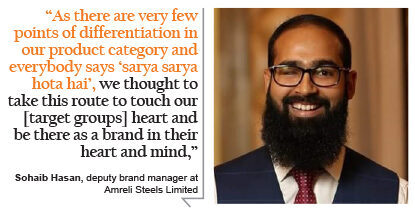 The advert has largely gotten nods of approval from advertising gurus and industry experts. "What we need to understand is that consumers don't want functional ads about the nuts and bolts," said Nida Haider, managing partner at IAL Saatchi & Saatchi. "Consumers don't want reasons to buy our self-aggrandized claims, they want emotion. They want to feel something. They want to be moved. And that is what leads to recall, consideration, and purchase. The brand that can move people can control categories." 
Sidra Salman, creative director at Synite Digital, probably had the best and simplest insight on how Amreli steel was able to nail it, saying this was advertising and brand building done right. "Identify the bulls-eye, find their deepest dilemmas, understand their real aspirations and build a story around it – this is and will always be the perfect recipe," she said. "It is a reminder that  good ideas/stories come to those who respect the process. It is about time that the local advertising fraternity put some method to our unhinged creativity to consistently create such relatable stories."
"A huge segment of the middle class can relate to the insights used," said Sidra Jung, CEO of Team Reactivate. "For sure the brand has been missing for most of the dwell time, even though it was refreshing to see ads that are less brand-led but there was a slight awkwardness when connecting the product to the insight towards the end. I feel it because the insight picked was not too close to the product. It was closer to the user."
"There are two ways one can review this ad; as an 'accha' critic or a 'sahi' critic," said Umair Kazi, a partner at Ishtehari. "By the ad's own narrative, I decided that the unapologetic yet unvarnished approach would be more apt. I watched the ad three times… taking mental notes so I could surgically dissect it to mere fragments of fails. Alas, I couldn't find any fault. It pains me to say this, because our agency had also pitched (unsuccessfully) for this brand. But kudos to Amreli; they've chosen the right message, the right agency, and the right approach." 
His lavish praise continued, adding that the ad did not become stale, and that he watched it thrice to look for flaws, but only found greater depth in the story each time. "To those that might say the brand comes in too late, or that it could've been a Vital ad, or that 2 minutes is stretching it… these are all things we'll keep trolling about in marketing circles while the rest of the country is busy Whatsapping this to their family groups and tagging that one unsuccessful but 'sahi' mamoo. Granted, the ad feels like almost everything else out of Zaheer's zambeel (the man is a walking concept archive)… but at this point, I'm just nitpicking. I do, however, wish that the cinematography was a little grittier. The overproduced shots make it look like an ad; I'd prefer it looked like content… which it undoubtedly is. A fine specimen at that, too."
"This ad focused on the narrative building through which they strongly communicate the strength of value in building a strong character of a person with principles and then beautifully connecting it with the strength of their steel," said Sheikh Danish Ejaz, CEO of Madvertising. "A job very well done I must say and the link between connecting the emotional and functional elements of the brand is outstanding. Kudos to the team who conceived the idea!"
"In my opinion, the TVC hits all the right spots," said Adeeqa Nazir, Head of Influencer Marketing of Digitz. "It communicates the emotional value of having your own house, of working towards it one pay cheque at a time. It gives the due importance to responsible construction as compared to a fancier one. And most of all, Amreli Steels addresses the stereotype of a male dominating field of work in a very beautiful, non-confirmative way. That's what makes it one of the best ads I have seen in some time."
Overview
"As there are very few points of differentiation in our product category and everybody says 'sarya sarya hota hai', we thought to take this route to touch our [target groups] heart and be there as a brand in their heart and mind," said Sohaib Hasan, the earlier mentioned deputy brand manager at Amreli Steels Limited. "And yes, with all this marketing to support the sales team in achieving [their] targets."
The steel rebars manufacturer is implied through the ad as being the right choice as opposed to competitors which are just popular choices. This positioning is verbalized as the difference between "Sahi" and "Achay". The overall theme of reliability has been consistent with how Amreli Steels Limited positions itself, with the 2019 campaign focused on strength to withstand earthquakes while the 2018 campaign centered around resilience as a strength of character.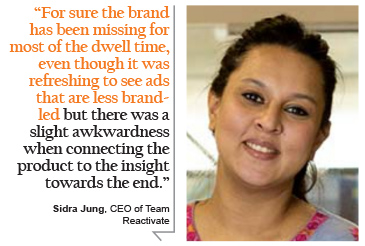 "In our category, there is no impulse or immediate buying and in many of the cases it is just one time but, so a sales lost once is lost for life," said Hasan. "Moreover, as per the [research from AC Nielsen], the product one ends up buying is eventually the product one ends up recommending."
Research from AC Nielsen told the brand team at Amreli Steels Limited that there are two types of categories – imagery driven and familiarity driven. Speaking to Profit, Hasan said that since the steel rebars category is familiarity driven – with a highly undifferentiated market – the research agency advised the brand team to go with an emotional concept – in line with findings from the brand health tracker. They were told that doing so would help the Amreli Steels Limited brand stay top of mind whenever the target audience thought of making a purchase.
"Initially we thought would the viewers be able to understand the difference between 'acha' vs 'sahi' but when the storyboard was pitched to us backed by a strong key insight we all said solid hai boss," said Hassan. "Thanks to the Nielsen Team – Rubina Asad and Omer Rizwan – as the findings from our previous [brand health tracking] also supported this clutter-breaking and emotional concept."
Hasan credits the minds behind the memorable Kingtox commercial – iD Creations and Arey Wah with cracking the campaign big idea – "Aap ki tarha SOLID" – with Zaheeruddin Ahmed at the helm.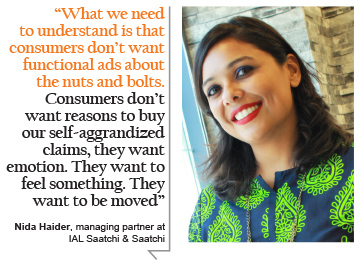 "This campaign was conceived after months of rigorous brainstorming, numerous strategy sessions, and countless revisions with the aim of creating an emotional connection with our target audience," said Mohsin Ali Sadiq, senior marketing manager at Amreli Steels Limited. "The essence of the communication is knowing the difference between what is popular i.e. "Acha" and what is right i.e. "Sahi" and choosing what is "Sahi."
Digital
"Initially we planned to do some digital PR also but due to the kind of response we have received from and the earned media we have received so far, we have cut down on it," he said. "In ATL, we plan to come on TV early in the coming fiscal year and from next week we will be on air on the radio. As far as [out of home] is concerned we have our adapt to this campaign [which] will be live on all screens of Jinnah Terminal as we have a year-long deal with them."
He credits the thought leadership at Starcrest Communications in coming up with a plan that eased any apprehension on the route. Sadiq said that with the change in media consumption habits brought about by C19, this campaign will be driven on digital platforms exclusively. Currently on YouTube and Facebook, the DVC has nearly 50 thousand and 2.3 million views respectively so far.
Hasan credited Mindshare with being part of the creative process, with the media agency offering inputs during creative development as well. 
"So, while we were deciding between the concepts we had their input on the concepts as well as started planning because it was the first time we were coming up with such a long ad," he said. "So since day one, they have been there with us on this project but due to COVID-19, we took [the] digital route."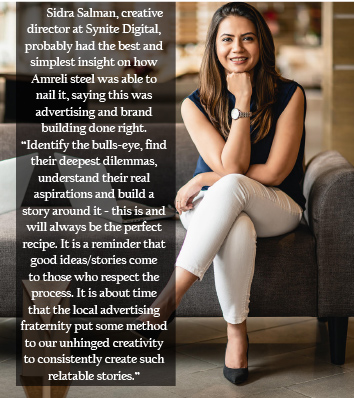 He added that Mindshare is now working with Amreli Steels Limited on the radio plan for the coming week with the TV plan rolling out early in the coming fiscal year.
Return on Marketing Investment
"Our expectations have been exceeded so far with the kind of responses we are receiving," said Hasan. "We wanted that whenever somebody thinks of steel rebars Amreli Steels Limited in the top of mind and most preferred brand. From the sentiment analysis on social media, and a significant increase in leads generated from social media and influx of calls on IVR we are glad that within a few days of campaign launch we are on the right track."
Campaign Credits
Production House: iD Creations
Zaheeruddin Ahmed, COO




Hamza Imam, Director
Creative Agency: Arey Wah
Kamran Sarfraz, COO
Digital Agency: Starcrest Communications
Zameer Qureshi, CEO
Faisal Sheikh, Consultant
Media Agency: Mindshare

Naveed Asghar, CEO
Agha Zohaib, MD
Altamash Kohati, Business Director
Mustafa Sabir, Senior Buying Manager
Hamza Jafri, former Media Strategist [with OPPO since June 2020]

Research Agency: AC Nielsen
Rubina Asad, Associate Director – Customer Insights
Muhammad Omer Rizwan, Senior Research Executive – Customer Insights