KARACHI: Despite Covid-related challenges, the Pakistan Stock Exchange managed to close the fiscal year 2019-20 in the green, registering a gain of 1.5pc.
Although the growth in FY20 has been nominal, it is significant given the fact that the exchange had closed in the red for the previous two years (FY18 and FY19).
The benchmark KSE-100 Index had touched a high of 43,468.22 on January 14, 2020. However, following news of the first confirmed Covid-19 case in Pakistan on February 25, the index gradually dropped to 27,046.71 by March 26, 2020 – the duration in which lockdowns had started to be imposed.
Interestingly, as per Capital Stake, the index had the "strongest return when compared with global indices like Nasdaq, DAX, FTSE 100, SSEC, Sensex30, FTSE MIB, and CAC 40.
However, during the Covid period, the PSX was not able to sustain itself as strongly as its counterparts and experienced the strongest decline in this period. 
The pre-Covid period was from July 1, 2019, until January 31, 2020, considering most countries went into lockdown in February.
The returns are as below: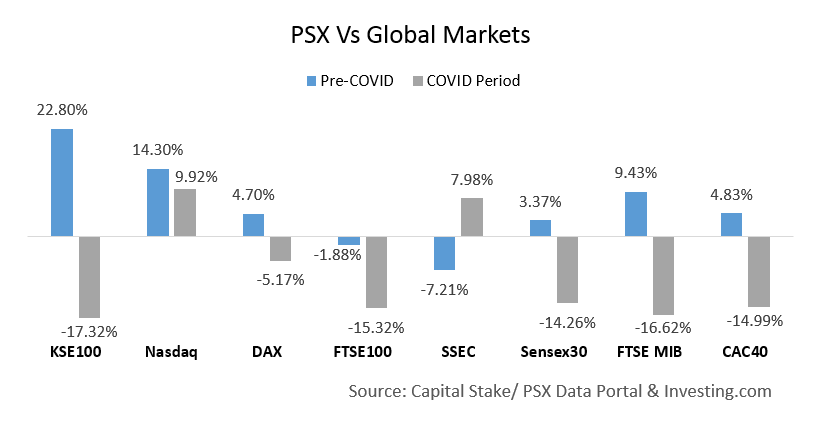 Profitability declined by 7.2pc YoY in 9MFY20, mainly on the back of Covid lockdowns from March till June.
The slowdown in economic activity can be seen through the drastic slump in the PSX performance. 
However, as per Shahid Ali, Chief Executive of Arif Habib Limited, "We believe that asset management companies and insurance companies will likely mobilize funds from fixed income to equities in order to generate healthy returns for their investors.
"Currently, total assets under management by mutual funds are Rs787 billion with around 22pc i.e. Rs174 billion in equities. Similarly, total funds under insurance (ex-State Life Insurance) are around Rs325 billion with almost 24pc in equities. The inflow from all these domestic institutions and HNWIs will likely drive the market going forward with equities becoming highly attractive as an asset class."
The turnaround witnessed in April following the announcement of government fiscal stimulus, and the gradual opening of the economy, however, provided some respite to the index, helping it close the year in the green. But this upward trend suggests that the upcoming year may prove to be a strong one for the PSX if the stimulus remains.
The KSE-100 Index was the third-best performing market in the region, after China and Taiwan, with returns of 0.1pc and 14pc, respectively.
Pakistan generated a negative return of -3.3pc in FY20 compared to Asia-Pac (ex-Pakistan) average of -11.0pc.