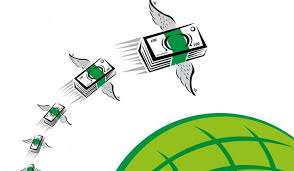 While the Canadian research firm BCA Research's report has hinted at improvement in Pakistan's remittances inflow, the Asian Development Bank (ADB) has predicted remittances to go down drastically in wake of the ongoing coronavirus pandemic.
ADB's latest report, titled 'COVID-19 Impact on International Migration, Remittances, and Recipient Households in Developing Asia' released on Monday and said, "The COVID-19 pandemic is expected to hit remittances hard in Asia and the Pacific. In 2019, 6 of the 10 largest remittance recipients globally were from this region—India, the People's Republic of China (PRC), the Philippines, Pakistan, Bangladesh, and Vietnam".
ADB said that Pakistan, a country heavily reliant on remittances could see a decline of 26.8 percent from baseline remittances in 2018 under the worst case scenario. Back in July, Pakistan received all-time high over $23 billion home remittances inflows during the last fiscal year (FY20).
According to State Bank of Pakistan (SBP), on a cumulative basis, workers' remittances surged to a historic high level of $23.121 billion during FY20 compared to $21.739 billion during FY19, witnessing a growth of some 6.5 percent or $1.3 billion.
Similarly, workers' remittances sent by overseas Pakistanis also posted a significant increase of 51 percent during the last month (June 2020) of FY20. Workers' remittances reached record high level of $2.466 billion in June 2020 compared with $1.636 billion in June 2019.
Globally the remittances could decline by $108.6 billion this year as job losses mount and employers trim payrolls amid a COVID-19 pandemic that has devastated economies. The countries likely to face more severe effects from the pandemic-induced decline in remittance inflows are the ones where remittance shares to gross domestic product (GDP) and per capita remittances are high i.e. Tonga, Samoa, and other Pacific countries, with remittances relative to the size of their economies and populations very high.