On July 15, a company called the 'Progressive Group International' filed a letter of intent to acquire the majority shares in Balochistan Particle Board, a publicly listed company the shares of which are traded on the Pakistan Stock Exchange. A week later on July 22, the Balochistan Particle Board submitted this information to PSX.
Here is where things start to get a little odd. In that letter, the Balochistan Particle Board management noted that its board of directors had recommended the winding up of the company in a meeting held on July 2, a decision that was subject to approval in the Extraordinary General Meeting to be held on August 5. 
"In view of this information, the board does not consider this information as material or price-sensitive," the note said.
So far, so good. What it did not mention was that the board was also, frankly, annoyed. Despite being in liquidation, declaring bankruptcy, and very obviously showing an intention of selling, the board went ahead and sued the Progressive Group just five days later on July 29, right before the Eid holidays. The matter is now pending in the Sindh High Court. 
If you are confused about exactly who these companies are, do not worry: so were we. When Profit contacted multiple equity research analysts at investment banks and brokerage houses throughout Karachi's financial district on the topic, they either did not comment, had no research on the firm, or at best, could comment on the cursory aspects (through no fault of their own). "The Balochistan Particle Board is a small firm," said one analyst. It was up there in illuminating comments we received. 
But Profit seeks to highlight this mini tale because it is a fascinating insight into two very odd companies with questionable or confusing practises, that are also somewhat cagey when it comes to divulging information (this may explain the lack of analyst commentary). 
When contacted, Balochistan Particle Board said they were in the process of liquidation, and could not comment. When contacted, Progressive Group said the entire matter was under sub judice, or under judicial consideration and prohibited from public discussion.
No matter, Profit gleaned what it could. 
So first, exactly what is the Balochistan Particle Board?  The company was incorporated in 1979, and was publicly listed in 1980 on the Karachi Stock Exchange. It has a registered office in Karachi, and a  factory incorporated in Balochistan.
The chairman of the board of directors is Muslim R. Habib, of the Habib family. Habib is also the director of Habibsons Bank, and sits on the board of the Habib University Foundation. That last name explains the litany of companies that the Balochistan Particle Board is associated with: Bank AL Habib, Habib & Sons, Habib Capital Management, Habib Commercial Company, Habib IT Solutions, Habib Leasing Corporation, Habib Mercantile Company, Habib Sugar Mills etc.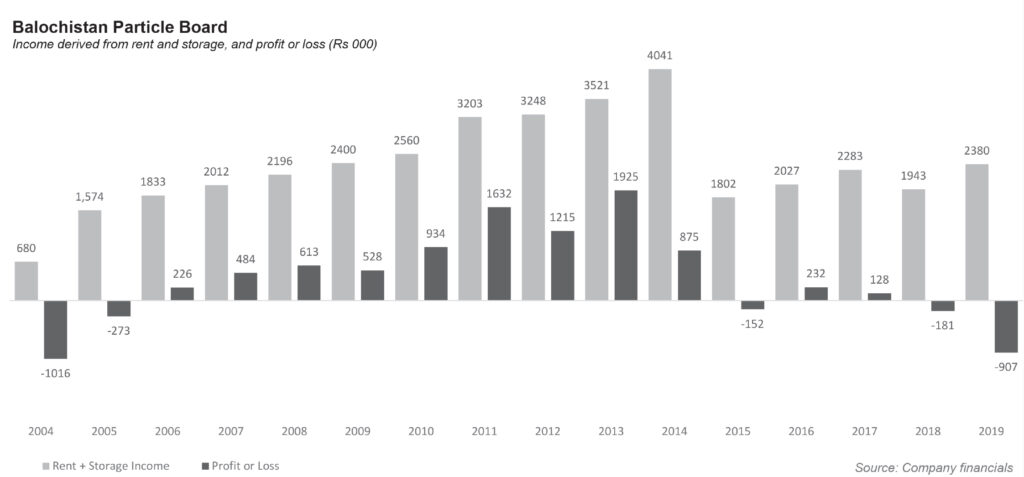 Yet none of that Habib clout could help the fortunes of this company. That factory in Balochistan was meant to manufacture urea formaldehyde, a common polymer that is found in laminates, textiles, paper, glue, and even artificial snow. And for some 17 years, the company plodded along uneventfully, until 1997, where a 'crisis' in board companies wreaked havoc, and forced a pause on the production of urea formaldehyde.
Specifically, the Sindh government demanded Rs57.4 million in vend and permit fees on methanol, and excise duty on Rs14.1 million on the transportation of methanol from Karachi to Hub, under the Sindh Abkari Act, 1878. 
Thus began a long and protracted battle between the Sindh government and Balochistan Particle Board, that lasted for the next 23 years. The High Court of Sindh decided in favour of the company in 2001, and again in 2003 and 2004 (after an amendment in the Abkari Act in 2002). So, the Sindh government filed an appeal in the Supreme Court. A judgement was heard but not pronounced in 2006, petitions were again heard in 2010 and adjourned, then again heard in 2016, and again in 2019, where finally the Sindh government and the company were able to hash out a deal and the appeals were dropped. 
Then in October 2019, the Securities and Exchanges Commission of Pakistan (SECP) passed an order to wind up the company. This resulted in some more appeals, but thankfully, this process was shorter. By June 24, 2020, in the last hearing, the board of directors had leaned toward voluntary winding up of the company, leading to the meeting on July 2 where it was formally declared. 
But in that entire time from 1997, the factory lay dormant. The one consistent sentence that runs through almost all financial statements from 2009 to 2020, is this: "The manufacturing operations of Urea Formaldehyde Division continued to remain closed on account of prevailing adverse conditions and arbitrary demand in respect of excise duty, vend fee and permit fee raised by the Government of Sindh."
The auditors were dismayed, to say the least. In the company's 2009 financials, they noted: "The management has not yet envisaged any business plan to recommence its operations." They also said that they "expressed reservation about the company's ability to continue as a going concern." 
And yet, continue it did, plodding along for the next year, and the year after that – all the way to 2020. How? Well Balochistan Particle Board decided to let out its premises on rent to third parties for storage and to conduct commercial businesses. This storage business actually turned out fine, steadily climbing between 2004 to 2014. At the business's height, the company actually made a profit of Rs1.9 million in 2013. That means that 'Balochistan Particle Board' should really at this point be called 'Balochistan Storage', seeing as the company has basically been operating as a publicly listed storage facility for more than two decades. Did any auditor's report matter at this point?
And there are other just odd points to consider: that factory has the capacity to produce 4,000 tons of urea formaldehyde, but is just sitting idle. The company's property and plant – its assets – have depreciated substantially, with the net book value just a tiny, tiny fraction of the original costs on paper. Its total average employee in 2018 and 2019 was one.
If you think the Balochistan Particle Board is bizarre, then the Progressive Group International is a close competitor. The Progressive Group International is a holding company that apparently consists of 11 divisions in various fields, like insurance, airlines, hotels: Pakistan Industrial and Commercial Leasing, Progressive Insurance Company, Pearl Air Ltd, Al-Zukhraf Textile, Global Exports, Progressive Investments UK, Cargill Afro Asia Investments, Habib-Alvi Investments UK, Cargill Commodities Kenya, and Cargill Holdings Kenya, and the oddly named Craving Hotel and Restaurant. 
We use the word 'apparently' because Progressive Group does not have a website (this information was gleaned from the letter of intent). When Profit called Progressive Group's Pakistan number, the company was open about not having a website. And at least that number worked: the group's listed UK number ended up being a private number of some British citizen in Manchester (who was very confused when Profit called).
Of those 11, two of have traces of existence on the PSX: the Progressive Insurance Company, which is on the exchange's defaulter's list, and the Pakistan Industrial and Commercial Leasing, which as of 2019 and 2020 seems to be in the process of delisting from the exchange. There are no financial statements available for the leasing company, but there are for the insurance company: the company has been making a consistent loss since 2013, and its insurance license as of December 2019 has been suspended, due to not meeting the minimum paid up capital required, and the non-compliance of PSX regulations.
One division that does have a website is Pearl Air, which was meant to start operations in 2010. But the tabs on the website are still under construction, and the mystery of this airline is such that there are literal online discussion forums trying to dissect whatever happened to this airline (did it not meet CAA requirements?) 
So: this is the group that is deciding to take over Balochistan Particle Board? What is the underlying reason? Sure, the price per share is quite low, having hovered roughly below Rs10 between 2018 and 2020, even hitting around Rs1.5 at some point. This year the share price has stayed around Rs5, before shooting rapidly starting mid-July to up to Rs17 as of time of publishing. And the market capitalisation is around Rs102.18 million, or pretty small. 
At this point, there are apartments in Karachi more expensive than this company's market capitalisation.
But what does the Balochistan Particle Board represent? It is one factory in Balochistan, that one cannot even determine whether it has worked well in the past, considering it has not worked, period, for the last 23 years. If this is Progressive Group's intention of diversifying, it seems an odd choice.
So what's happening, then? Why is Progressive Group interested in buying a company that is functionally bankrupt at this point? Why would they be willing to pay over Rs100 million for this company? The answer lies in one small detail that you may not have paid much attention to: Balochistan Particle Board owns the land on which its factory is built, which is why it has been able to rent out that premises.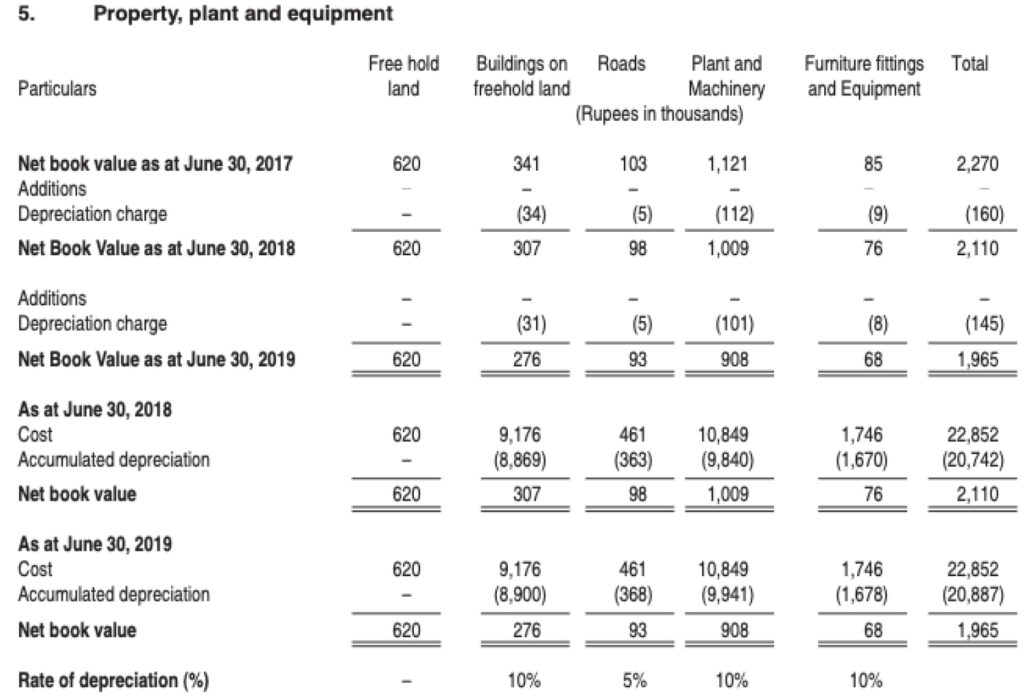 The company's financial statements list the value of that land at the absurdly low price of Rs620,000 and the company makes around Rs200,000 a month in rent from it. Progressive Group probably thinks that land is worth considerably more than the company as a whole. The company only has about Rs14. million in liabilities, so even after paying those down, the land alone should recover the cost of both the company and the liabilities and leave a nice, tidy profit for the Progressive Group.
Of course, this is profit that Balochistan Particle Board's current owners would like to keep for themselves. Hence the lawsuit: if they do not make it easy, make the Progressive Group will go away and leave them alone.