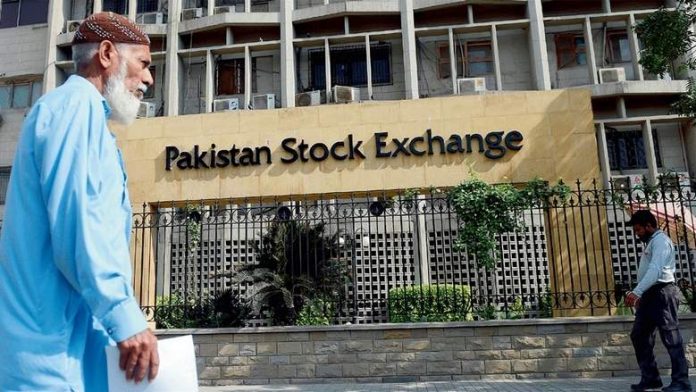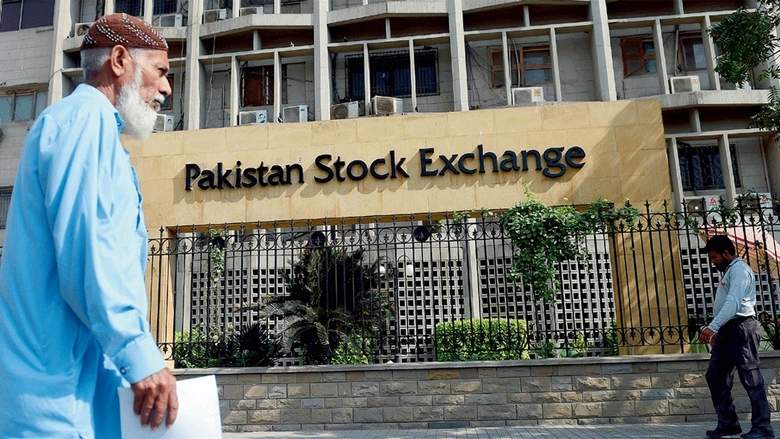 KARACHI: Investors of the Pakistan Stock Exchange witnessed another exciting session on Thursday, as the benchmark index continued to accumulate gains while volumes jumped to the highest level seen in a decade.
Global equity markets also saw a positive trend, whereas crude oil prices slipped lower from the previous close; WTI crude price falling 1.76pc to $40.79 and Brent crude price dropping 1.67pc to $43.68.
"Investor sentiment at PSX has been sky high in recent times, especially on the announcement by the prime minister regarding his visit to Karachi tomorrow," said a report issued by AHL Ltd. "Infrastructure development is expected to positively impact construction sector scrips, which prompted investors to take interest in cement and steel sectors." 
MARKET SUMMARY
The benchmark KSE-100 Index remained in the green zone throughout the day, registering its intraday high at 42,212.93 after gaining 377 points. It settled higher by 353.26 points at 42,188.11.
Among other indices, the KMI-30 Index gathered 701.95 points to end at 67,533.60, while the KSE All Share Index added 303.31 points, closing at 29,780.50.
The overall market volumes jumped from 837.02 million shares in the previous session to 919.45 million shares (+10pc). Average traded value also inched up by 1pc, from $157.6 million to $159.9 million. Unity Foods Limited (UNITY +4.59pc), The Bank of Punjab (BOP +4.02pc) and K-Electric Limited (KEL +0.70pc) led the volume chart, exchanging 51.41 million, 49.76 million and 41.81 million shares, respectively.
Sectors that drove the benchmark index north included cement (83.52 points), banking (49.21 points) and oil & gas marketing (41.77 points). Among the companies, Maple Leaf Cement Factory Ltd (MLCF 29.00 points), Systems Limited (SYS 26.80 points) and MCB Bank Ltd (MCB 24.33 points) remained the top contributors.
Adding 3.60pc to its cumulative market capitalization, the refinery sector emerged as the session's top gainer, with Byco Petroleum Ltd (BYCO 5.60pc), Attock Refinery Ltd (ATRL 2.79pc) and National Refinery Ltd (NRL 2.22pc) posting decent gains.
Meanwhile, according to a notification sent to the exchange, Maple Leaf Cement Factory Ltd (MLCF +7.50pc) announced that the company's CEO has acquired 24,761,001 voting shares of Pioneer Cement Ltd (PIOC +7.54pc). The acquirers now hold 10.9pc aggregate shareholding in the target company.
WHY IS THE PSX ATTRACTING VOLUMES?
Abdul Azeem, Research Director from Spectrum Securities, explained that punters, retailers and short term investors are more active therefore traded volume is high, while Syed Noman Ahmed, Deputy Head of Research at Insight Securities opined that the reason behind a surge in volumes is the "strong interest in penny stocks".
Sateesh Ballani, Director of Research at Ismail Iqbal Securities, added to this argument by stating, "This type of surge in volumes is mostly driven by retail investors that usually invest in shares that are below Rs20. Even if you analyse, the highest share price in today's top five volume leaders was Rs40 (Maple Leaf Cement Factory)."
While these explanations make sense, Tahir Abbas, Head of Research at Arif Habib Limited, was of the view that the lowering of interest rates has flushed the market with liquidity.
He added that the quick economic recovery Pakistan is depicting following Covid-19 is playing a role.
"Quick economic recovery post Covid-19, as compared to slower economic revival previously expected, is leading towards buoyant interest in our market," he said. "You cannot forget that the market is also trading at an attractive valuation as compared to regional markets too."
Analysts believe that the price earning ratio is going back to the long term mean and expect it to go higher. As Pakistan's risk rating has reduced, evident by the Eurobond yield going down, the stock market is reaping its benefits. 
Naushad Chamdia, CEO of Standard Capital, stated that high net worth individuals and the general public are re-entering the Pakistani market due to a rebound in indicators, adding that SBP lowering policy rates will result in "beefed up profits of companies."
Chamdia said, "The outlook of companies listed at PSX in construction-related and auto allied sectors are poised to show phenomenal growth in FY21." 
In addition, he feels that the announcement of projects by the government will help improve the fundamentals of listed companies.
Hamza Kamal, Equity Analyst at AKD Securities, said that investors have divested from other asset classes considering their non-lucrative returns, in particular bonds. This is a major reason behind the interest in equities.
He added, "Compared to real estate returns, equities offer avenues for small scale investors. In the case of the latter, it has been individuals that have been driving the market lately (CYTD net inflow from individuals stands at $152.5 million, highest relative to other local groups of investors)."
Samiullah Tariq, Head of Research at Pak Kuwait Investment Company, said that real estate does not seem as lucrative as of late, considering the problems associated with it. For instance, the issues that emerged during the recent spells of rain. 
SO THESE VOLUMES MEAN ANYTHING?
Investors place a strong interest in volumes as an indicator or proxy of stock and market performance. Technical analysts use volume to understand and predict market sentiment.
Volumes and the index are high when investors are bullish. Volumes can also be high during a sell off.