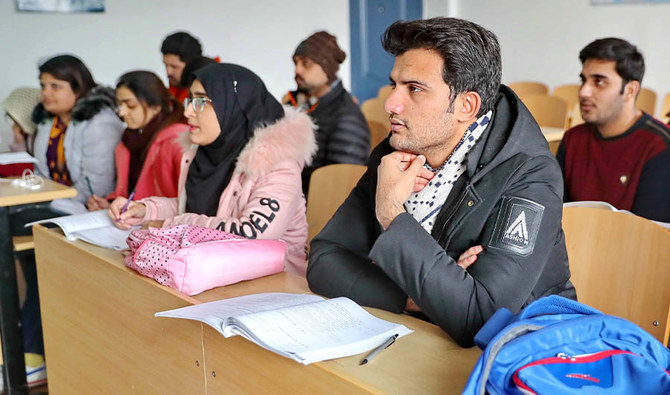 ISLAMABAD: Around 4000 students that were supposed to attend foreign universities on full or partial scholarships this winter may lose their admissions, and their scholarships, if foreign embassies do not grant them visas.
According to a group of students who got scholarships in reputed universities of the world are going through difficult situations as they are unable to get visas within the stipulated time. If they do not get them and are unable to attend their classes, their admissions and scholarships will be cancelled.
Unlike students in India, Bangladesh and other countries in the region, the students here are given one year visa processing time instead of one to three months. More than 4000 students who got scholarships in foreign universities are victimized by the delayed visa processing by foreign embassies. "The Government of Pakistan should request or protest to foreign embassies to issue visas of Pakistani students within one month time so that they will attend winter semester classes abroad," they said, adding that the winter semester in foreign universities start by October.
According to sources, apart from the prolonged visa processing systems introduced by foreign embassies in Pakistan, the closure of visa processing for at least six months has also badly affected the students. The six-month closure has especially affected visa aspirants at European and North American embassies. The waiting time for acquiring an appointment for a master visa at the German embassy is 16 months. By the time students get their appointments, their admission letters become obsolete.
Countless students have become victim to admission cancellations in Germany due to the prolonged waiting time for visa appointment. Furthermore, the American embassy has ceased giving appointments altogether because of the pandemic. This situation in  the embassies of France, UK and Canada is similar.
According to the sources, these problems are not new and existed before as well, but have become worse because of the Covid-19 pandemic. Waiting-queues for western embassies have been on the rise since 2018. Unlike what the students face in Pakistan, the students are comparatively facilitated in India and Bangladesh. India has a number of consulates and embassies that cater to its education-hungry population. India has about four embassies that facilitate acquiring visas for students in as early as three months in Germany. As a result, they outnumber Pakistani students a hundred-fold in securing admissions in foreign institutes. In Bangladesh, the US embassy gives students their visas 120 days in advance.
According to the affected students, unfortunately embassies in Pakistan are well known for delaying student visas and have plainly refused to cooperate with the students, even in the times of global crises. Applying to foreign institutions is not an easy feat. Students become devastated upon giving their utmost best to clear countless expensive entrance exams like the GRE, IELTS and TOEFL, just to end up finding out that their aspirations and struggles have all fallen in vain because of bureaucratic inefficiencies.
Visas are delayed and sometimes even refused although the student has secured his admission in the respective foreign university. Students in Pakistan therefore waste their money and efforts on a prolonged gamble. Currently, the fate of these students is merely based on the color of their passport rather than their grades and talent.
They suggest that the federal government should create a special Cell in the Federal Higher Education Commission of Pakistan under one window operation to facilitate Pakistani students to study abroad. Before the 18th Amendment in the constitution, HEC has been facilitating the students seeking admission in foreign universities.