Ahsan Malik is a progressive farmer from South Punjab. The land he owns is substantial, but not excessive, because of which he farms his land himself. The main product he produces are fruits, including the most delectable mangoes in the summer and oranges in the winter. 
Traditionally, farmers like Ahsan Malik would aimt to get big yields so that they can export their fruit to the Gulf states, where there is demand and Pakistan has favourable trading ties. Not only this, the region is also a big market for the bi-products of these fruits, such as mango pulp. 
But the way Ahsan operates his farm is different from his fellow agriculturalists. For starters, unlike him, he is not scrambling to have his fruits and fruit pulp shipped off the gulf. That is because he exports his produce and bi-products to China, and gets very favourable terms under the China Pakistan Free Trade Agreement (CPFTA).
The CPFTA is a significant but little known piece of diplomatic success between Pakistan and China. The China Pakistan Economic Corridor (CPEC) has been a ray of hope in the public eye and a top priority on the government level for nearly all of the previous decade. In fact, even recently when the coronavirus pandemic was at its peak and the world was shutting down, CPEC projects continued in Pakistan with social distancing guidelines. 
But in the zeal for CPEC, other things China and Pakistan have to offer each other often go ignored. The CPFTA is one of those things.  
"No one talks about the China-Pakistan Free Trade Agreement (CPFTA), which can be a real game-changer in the lives of millions of Pakistani entrepreneurs if its benefits are realized," says Ahsan, who himself is a beneficiary of the agreement. 
Last year, he exported a couple of consignments of mango pulp to China, which, according to him, found a few buyers there. Now, he plans to concentrate on orange pulp products, which is liked in China and for which a market already exists there. 

This is the sort of thinking that is necessary in businessmen. For Ahsan, the gulf market is also important, in fact, it is his most important market. The gulf countries also have a taste for these products. However, China with its sheer size, number of people, and volume of economic activity can be a market for anything and everything. And since a free trade agreement exists between the two countries, what is stopping Pakistanis from trying to capture the Chinese market? 
"I don't mean that we're losing the Gulf market; I want to say that we should capture Chinese markets too, which is very friendly to Pakistanis because of our diplomatic ties with China," Ahsan explains. "Otherwise, European countries have captured almost all the agricultural and dairy markets of China."
He has a point. Pakistanis possibly have a very friendly and welcoming market right next door. And it isn't just mango pulp that could fina a market in China, because this is a possibility for all kinds of products. Pakistan's biggest export product is textile and cotton, for which the industry has been looking for new markets, and China has the potential to be a big fish. But can more awareness of the CPFTA be incentive for people to look Eastwards? Profit, investigates.
Origins of the CPFTA
In the 1990s, Chinese product was King. Markets upon markets everywhere in the world quickly became China Towns, as a flurry of Chinese products hit the international market. These products were characterized by their cheap prices, innovation, and accessibility. From electronics to kitchen items to children's toys and clothes, China managed to capture all kinds of markets.  
It would not be until 2007, however, that a free trade agreement would be signed between China and Pakistan. This naturally helped China export their products to the huge market they had captured in Pakistan, but would also help Pakistan export products to China. The problem was, not many people believed that there would be  a market for Pakistani products in China. 
The date on this speaks volumes. From 2013 to 2019, Pakistan's exports to China went down by 26%, while imports went up by 47% in these six years. This was mostly the time that consisted of the Pakistan  Muslim League Nawaz's term in power that covered the administrations of Prime Ministers Mian Nawaz Sharif and Shahid Khaqan Abbasi. 
During this period, Pakistan had largely had an import friendly outlook, which had also been disastrous for the country's balance of payments. This import-happy ideology along with the idea that there wasn't a market for Pakistani products meant that no one even looked towards China as a possible market. This changed when the incumbent Pakistan Tehreek i Insaaf government of Prime Minister Imran Khan came into power in 2018. 
The PTI has been on an unabated mission to make Pakistan export more and import less ever since it began its tenure. One of the avenues that the PTI has been working along is the Chinese market and the CPFTA. Even though things have improved in the past couple of years, the trade deficit between Pakistan and China is still huge. And until this is bridged, it means that CPFTA is not doing the job it was supposed to be doing, or more aptly put, Pakistan has failed to make full use of it on its end.
The CPFTA now
With its new pro-export policies, the incumbent government decided to set out and try to renegotiate the CPFTA. The request was to make more room for Pakistani products in China so that businesses would want to look in that direction. It was essentially a sprucing up of the old agreements with some shiny boons for Pakistan. 

This way, the CPFTA phase-II came into being in early 2019, and has been in effect since January 2020 – right in the beginning of the pandemic. The agreement will remain till 2024, and after that, it will be taken up for review.
The goal, at the end of the day, of any free trade agreement is to increase bilateral trade. The CPFTA-I, as it is now known, served China far better than it did Pakistan. When both countries went into the agreement in 2007, both China and Pakistan reduced bilateral tariffs which helped bilateral trade grow by 242 percent between 2007 and 2018.
But as a study conducted by the Pakistan Business Council shows, while the growth in Pakistan's exports to China outpaced Pakistan's exports to the rest of the world, Pakistan's imports from China grew even more. 
"The result of this was that the trade deficit with China ballooned. It already represented a quarter of Pakistan's total trade deficit in 2007. By 2018, this had grown to 35 percent. The CPFTA also received widespread criticism amongst business groups in Pakistan, who believed that Pakistan had negotiated poorly, both in terms of getting access for the products for which it was better placed to export to China, and also in terms of granting access to Chinese goods that were perceived to have inundated the Pakistani market, contributing to premature deindustrialization," reads the report. 
However, as some traders say, it is unfair to blame the trade deficit for all of these problems. "Pakistan did not do well in the export sector to other countries too," says Syed Asad Raza, a LUMS graduate, and owner of a construction company in Lahore. "We've never evaluated the reasons for the decline in exports and ever-increasing poor competitiveness of our manufacturers." 
"The fact is we've lost creativity and we're good at only presenting lower value-added and non-unique products to the world. If we are not ready for a competitive world, we should be ready to lose more and more in world market share in the coming years."
Cotton Queen
The textile industry makes up 57% of Pakistan's exports. It is the backbone of our export industry, and also of the free trade agreement with China. If cotton export is ensured and successful, that is what will also lead other products being exported to China. 
Citing Pakistan Bureau of Statistics (PBS), Syed Ali Imran, a UK-based chartered banker, and a corporate finance specialist, writes there was a growth of 3.94% in the first half of fiscal year 2020 despite devaluation and incentive packages to the textile industry. He hoped the enforcement of the CPFTA-phase II will bring about in the export figures as of the 313 products included in the revised FTA, 120 are from the textile industry. "Now, when the world is recovering from the pandemic and normalcy is returning to trade markets, Pakistan faces a cotton crisis. The last season saw the production devastatingly low."  
This year the government has, for the first time, set the support price of cotton to encourage farmers to cultivate more and more cotton crops. "With the high-interest rate scenario, increased energy cost and devaluation impact, industries are bound to procure expensive cotton through import which is affecting the country's trade balance as well," he said.   
"To get the benefits from CPFTA – II, it is important that input cost should be controlled at all levels which is not limited to production of cotton only but borrowing and energy cost as well."
The Pakistan Bureau and Statistics reported textile goods worth $6.91 billion were exported in the first six months of the current fiscal year, whereas last year, the figure was $6.64 billion. Now, with the inception of CPFTA-phase II, the textile sector needs growth in cotton production as the export orders to China must increase.
Both countries have realized the situation, and recently the textile manufacturers of the two countries met in Pakistan in recent weeks. "Both sides discussed their problems and agreed to include the textile-related cooperation framework as a part of CPEC," explains one cotton exporter wishing to remain anonymous. "Pakistani textile sector needs to focus on the value-added segment of the textile industry, such as readymade garments. Chinese counterparts would help Pakistan to improve the quality of garments."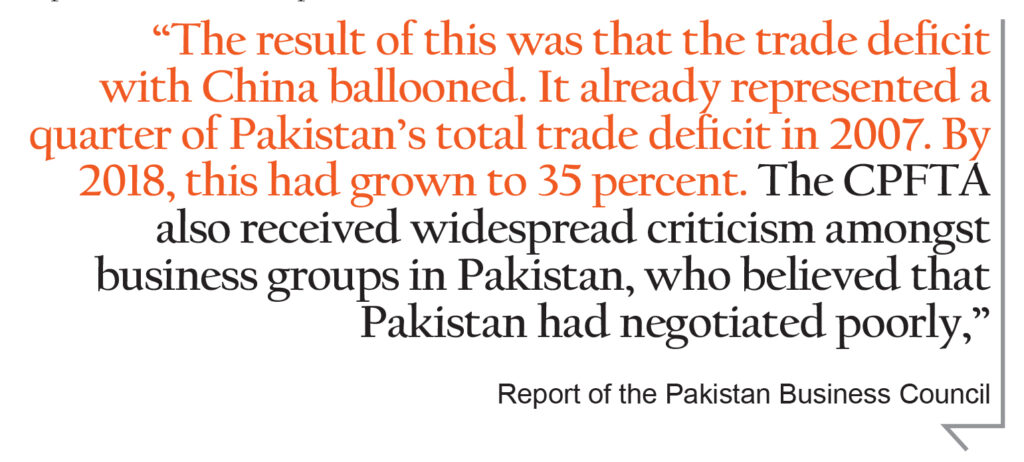 The other areas where the Chinese would cooperate with Pakistanis is to train the Pakistani workforce on the value-added segment, man-made fiber, and labor skills. China will provide technical support along with training to accelerate the textile sector at large especially through nine special economic zones (SEZs) established under CPEC.
Before the framework sets in, Pakistan will have to improve its cotton quality, which lacks quality as well as quantity. Pakistan will have to produce 15 million bales of cotton to meet the demand whereas its average production is 10 million bales. Last year, climate change adversely impacted the yield and brought it down to eight million bales.
Makeshift Arrangements
Achieving these goals is going to be a tough ask, even with the Chinese onboard to help. But for now, the industry is trying to do the best it can. Eventually, however, the All Pakistan Textile Mills Association (APTMA), has said that they want a stable policy to enhance the cotton production so that the text sector meets export demands.
Recently, APTMA Punjab Chairman Abdul Rahim Nasir demanded that the government immediately announce a new textile policy to attract investment in the textile industry, warning that a delay in forming the policy may result in lost investments. "The textile value chain is being affected badly due to a delay in the announcement of the new textile policy," he lamented. 
In his statement, he appealed to Prime Minister Imran Khan and Adviser on Commerce and Investment Abdul Razzak Dawood for an early announcement of the policy so that the industry could avail its benefits through its implementation.  
Currently, Nasir claims that Pakistan is short in production capacity and many exporters are refusing export orders due to this reason. "A clear long-term policy will give investors a clear vision that the government is ready to support the textile chain on a long-term basis." According to the APTMA Punjab chairman, the new textile policy carries the potential of taking the textile sector out of the prevalent crisis-like situation. 
He said that APTMA's leadership has been making efforts to secure an export-led textile policy. In this regard, a team led by former APTMA chairman Ahsan Bashir has submitted a draft for a five-year policy to the PM which has addressed the shortcomings in the previous policies.
He estimates the new investments in the country worth $30 billion in the next five years if the local industry is facilitated with regionally competitive energy tariffs and a business-friendly environment.
He said 2020 was a challenging year both for the government and the industry due to the pandemic which plunged the global economy to the worst recession. This pandemic is fraught with risks of losing on massive export orders in the wake of the closure of markets, he added.
"The local industry strived hard for its survival in this testing time; we all stood like an iron wall against the challenges and it all resulted in regaining the lost market at a fast pace," he concluded.