In 1979, the Soviet red army invaded Afghanistan to prop up the communist government of the People's Democratic Party of Afghanistan (PDPA) against a growing insurgency. In 1979, the world was a very different place. The cold war, while in its last decade then, seemed to be there to stay, and both the United States and the Soviet Union wanted to save their interests internationally by backing left or right wing governments. 
The reason we tell you all of this is because Pakistan had nothing to do with the invasion. The reason we tell you this is because to this day, in O level history classrooms, teachers peddle the claim that the invasion of Afghanistan actually happened because the Soviets wanted to invade Pakistan next to have control of its warm water ports. 
Pakistanis are obsessed with how strategically placed the country is and its natural resources. And while the warm waters through Pakistan might have been on the back of the Soviets' minds, there is little reason to believe that this fear justified Pakistan's involvement in the Soviet-Afghan war. 
But Pakistan jumping into the fray was nothing new, since relations between Europe's brooding Gargantua and Pakistan have always been frosty, and tepid at best. Now, however, Pakistan has recently given permission to Russia to use the Gwadar port to access warm waters through the Arabian seas. 
From a business point of view, this is good news for Pakistan and for the slowly but surely developing Gwadar port and its aspirations to be an international hub of sea trade. However, it either indicates a thaw in relations or a very real possibility that diplomacy will result in this possibly great business move coming to not much.
Pakistan-Russia relations
Article continues after this advertisement
When Pakistan was founded in 1947, other former colonies were being  born into independence. And with the second world war over, both America and the Soviets were looking for allies in the Cold War that was brewing. From the very beginning, Pakistan was staunchly on the side of the Americans. 

India was quick to jump on the socialist bandwagon, and Pakistan joined the US mainly in retaliation. And while the government of Prime Minister Zulfiqar Ali Bhutto had leftist pretentions, it never really aligned itself to the Soviet cause and Pakistan and the USSR remained uninteresting and nearly non-existent until 1990 and the fall of communism. 
In fact, as mentioned earlier, Pakistan actively involved itself in helping bring the Soviet Union down by creating the mujahideen guerrilla forces that fought the invading Soviets. This was a time when Zia dined with Reagan, Osama bin Ladin was a freedom fighter and the Pakistan army was a player in the end of the Cold War. 
"Relations between these two countries were slow to rehabilitate even after the fall of the USSR, and even today have not reached their full potential, mostly because Russia (USSR) had traditionally been an arms supplier and aligned itself politically and economically towards Pakistan's rival India," says Dr Qais Aslam, Professor of Economics at the University of Central Punjab (UCP) in Lahore and an acclaimed economist.  
"On the other hand, Pakistan's military and economy was armed and financed by Russia's rival superpower, the USA. Therefore, most of the time these Pakistan and Russia had been on the opposite side of the cold war conflict as well as the Indo-Pak conflicts," he adds. 
However, first signs of the relationship possibly improving and being economically and financially beneficial came as recently as 2017 according to Dr Aslam. "Iin 1996, Kazakhstan, Kyrgyzstan, Tajikistan, Uzbekistan from the Central Asian Republics (CAR's), Russia and China aligned themselves politically, economically and for strategic purposes in the Shanghai Cooperation Organization (SCO)," he says. "India and Pakistan joined SCO as its full member in 2017. Since then the relations between Russia and Pakistan have been warming up."  
"In addition, India has increasingly tilted towards the USA against China and Pakistan in its economic and military relations, forcing Pakistan to become closer to its traditional ally China and now with Russia."
Bilateral trade between Pakistan and Russia 
In economic terms, the bilateral trade between Pakistan and Russia in 2009 was US $411.4 million. In 2010, both countries established the Russia–Pakistan Intergovernmental Commission on Trade, Economic, Scientific and Technical Cooperation. In 2011, they signed an agreement by which Russia is financing the mega-energy project, CASA-1000, transmitting power generation from Turkmenistan, Tajikistan, and Kyrgyzstan to Pakistan. Russia has also provided $500 million for the CASA-1000 power transmission project. 
"In 2012, Russia and Pakistan covertly developed strong geopolitical and strategic relations. From 2014 onwards, Russia started selling military equipment to Pakistan," says Dr Aslam. "In November 2019, Pakistan decided to solve a Soviet-era trade dispute with Russia, in which the Pakistani government was supposed to pay $93.5 million to Russia within 90 days. The settlement would pave the way for Russia to invest over $8 billion in Pakistan."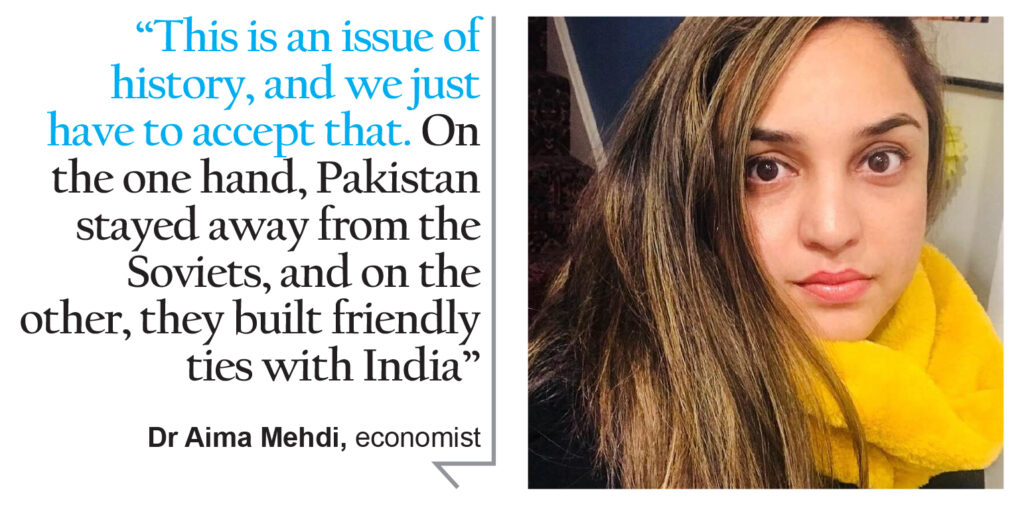 He opines that after 2015 Pakistan – Russia military and economic ties improved rapidly. Since then Pakistan army and Russian army have participated in anti-terror war exercises together, both in Russia and in Pakistan, there is hope for increased military cooperation and exchange of both ideas and equipment. 
In 2018 Pakistan – Russia trade relations stood at US $ 800 million. An important aspect of these relations is CPEC, which links the warm waters of Gwadar to Russia through cities in China. There is also a keen interest in improving relations on the Pakistani side because the Pakistan military wants to buy arms from Russia. This would also go in the benefit of the Russians. While the Cold War may be over, the old Russian interest in limiting US influence in Asia through these strategically important relations with Pakistan and its neighbors is still very much there. Pakistan will also seek to buy Russian gas and oil in the long run through the CPEC and SCO partnerships. 
"There is much needed technology, know-how, education and health facilities that Russia can provide to Pakistan that might be more cost effective than the European and American commodities and services," says Dr Aslam, explaining what is in it for Pakistan. "In addition to this, Russia being a very large country in terms of territory and population, can become a big buyer of Pakistani goods and services, which would end up improving Pakistan's balance of payments position."
Significance of Pakistan-Russia Trade Ties
Adding to what Dr Aslam says, economist Dr Aima Mehdi tells Profit that the Gwadar port is the crown jewel of CPEC, and will be a major reason for Russia being interested in Pakistan "It is the deepest seaport in the world making it convenient to berth ships without the need of building far fetched offshore docks."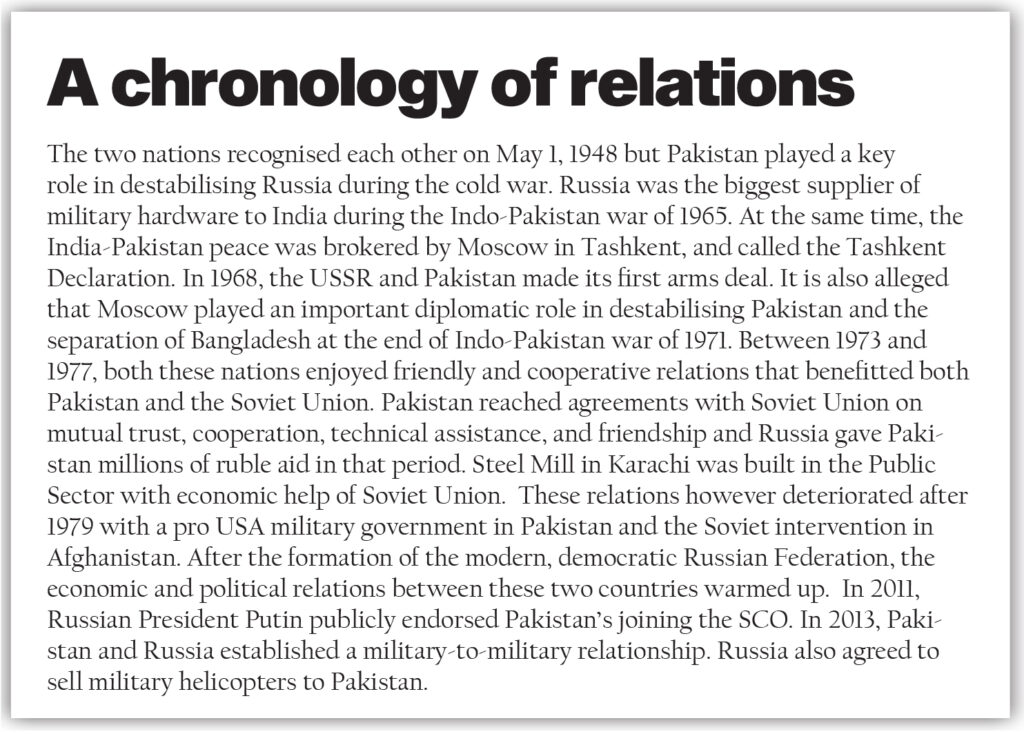 However, she maintains that the bleak history of diplomatic relations between Russia and Pakistan  makes the stability of the blossoming relationship up for question. "This is an issue of history, and we just have to accept that. On the one hand, Pakistan stayed away from the Soviets, and on the other, they built friendly ties with India." 
However, times are different now, and the same things that once kept the two countries apart may today bring them together. One of these factors is India's growing friendship with the United States and other such political events that have brought Russia closer to Pakistan. Some of the main events that mark this friendship are joint military drills of 2016, gas supply agreements between Russia and Pakistan, and the friendly diplomatic visits between the two nations.
Now that Russia has been granted permission to use Gwadar port it is not necessarily a bad thing in terms of business. As a stakeholder Russia will share the risk and as well as add to the worthiness of the project. However, what is more significant is the exact terms and conditions under which Russia has been granted this permission.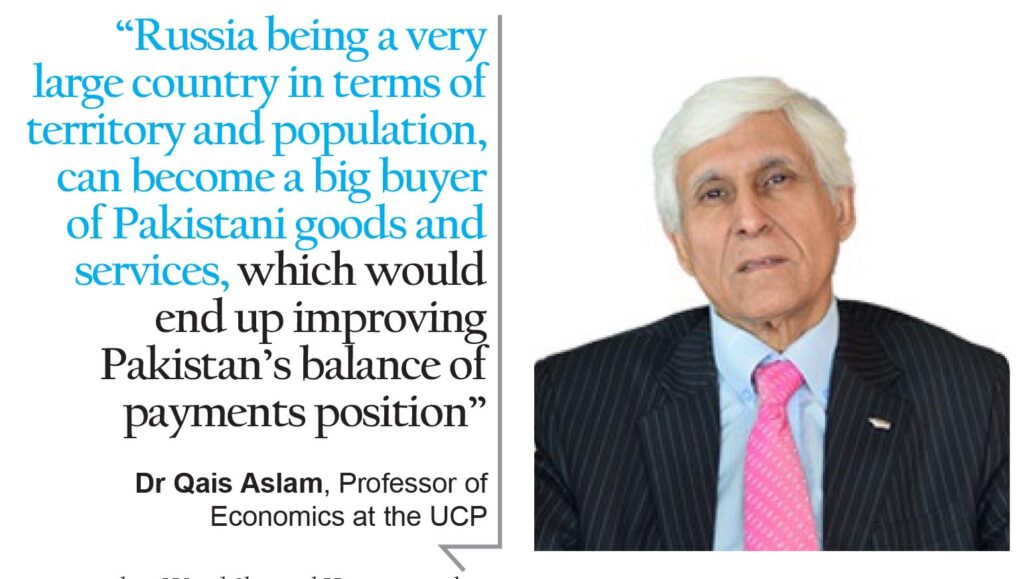 Dr Aima states that this should be seen as an initiative for strong bilateral economic ties which will add to the economic wealth of Pakistan. It should also be seen as a way to diversify defence links and to gain more allies in the geographical region. Despite the social and economic benefits of the alliance with Russia, the sovereignty of Pakistan should not be compromised.
However, former ambassador and veteran journalist, Wajid Shamsul Hasan, says that the two countries are working hard to expand economic ties. Islamabad is also seriously taking into consideration Russia's economic potential through port development and pipeline investment and energy transfer. 
"Moscow also looks serious in their desire to participate in the gas pipelines and other projects related to energy and power-plant construction and electricity consumption and not just in using the Gwadar port to access the warm waters of Arabian sea," he says. "Islamabad claims that CPEC could be linked with the Eurasian Economic Union, it will thereby increase the capacity of the Port of Gwadar expanding relations between Russia and Pakistan." 
"So far, the two countries have been simplifying procedures and encouraging trade by establishing an intergovernmental commission on trade and economic cooperation. But unlike the trade relations between Russia and India, which amount to $10 billion a year, the volume of trade is inconsistent with its real potential."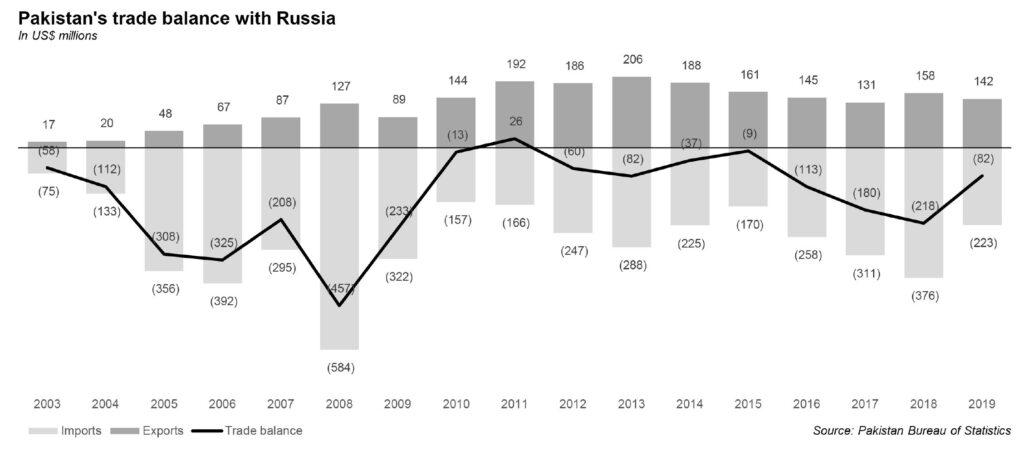 In fact, the current volume of trade between the two countries compared with the overall volume of Russia's foreign trade is very small. In conclusion, the relations between Moscow and Islamabad will see a growing trend in the fields of energy and transit of goods, consultations and closer political, defence and security interactions. 
Therefore, Pakistan's hopes for a strategic partnership with Russia are high, and closer relations will be accessible through calculated and step-by-step measures. From the animosity of the cold war to friends of today, both Russia and Pakistan have come a long way. The new realities of the region and the world are changing, and both countries have realised the futuristic challenges.