We begin this story with two requests of our readers – the first is that they remember, as they read through this description of dicey events and questionable business practices, all of the relatives and friends they undoubtedly have that have been scammed by property dealers, housing projects, and real estate developers. Because this much we can safely assume: that the average reader of Profit at the very least knows someone that has their money stuck in some unsellable plot, or has bought a 'file' or a registration certificate for a plot in some shiny new housing scheme that they have yet to receive and are likely not to. 
Our second request is to applaud and marvel at the twin genius of the internet and citizen journalism. Because the idea for this story comes from a tweet, or more precisely, one twitter handle @2paisay, that has been relentlessly waging a battle against the Master Tiles Group and their latest project, La Ville De Paris, and has written a brilliant blog compiling all of the red flags from the project through meticulous research and analysis of the project's marketing campaign.  
Yes, this is the same Master Tiles that recently hosted the much talked about wedding in which their daughter married the scion of the family that owns Jalal Sons. The project is nearly as gaudy as the wedding and plans to build a replica of Paris over 4800 acres full with a 200 meter tall Eiffel Tower, a replica of the Arc de Triomphe, and a Champs-Elysees-style road. It is also the same Master group, that only a few years ago in 2015, was involved in Master City, in which the buying and selling of plots was halted after the courts got involved, and when the housing scheme did not comply, contempt notices were issued against its owners.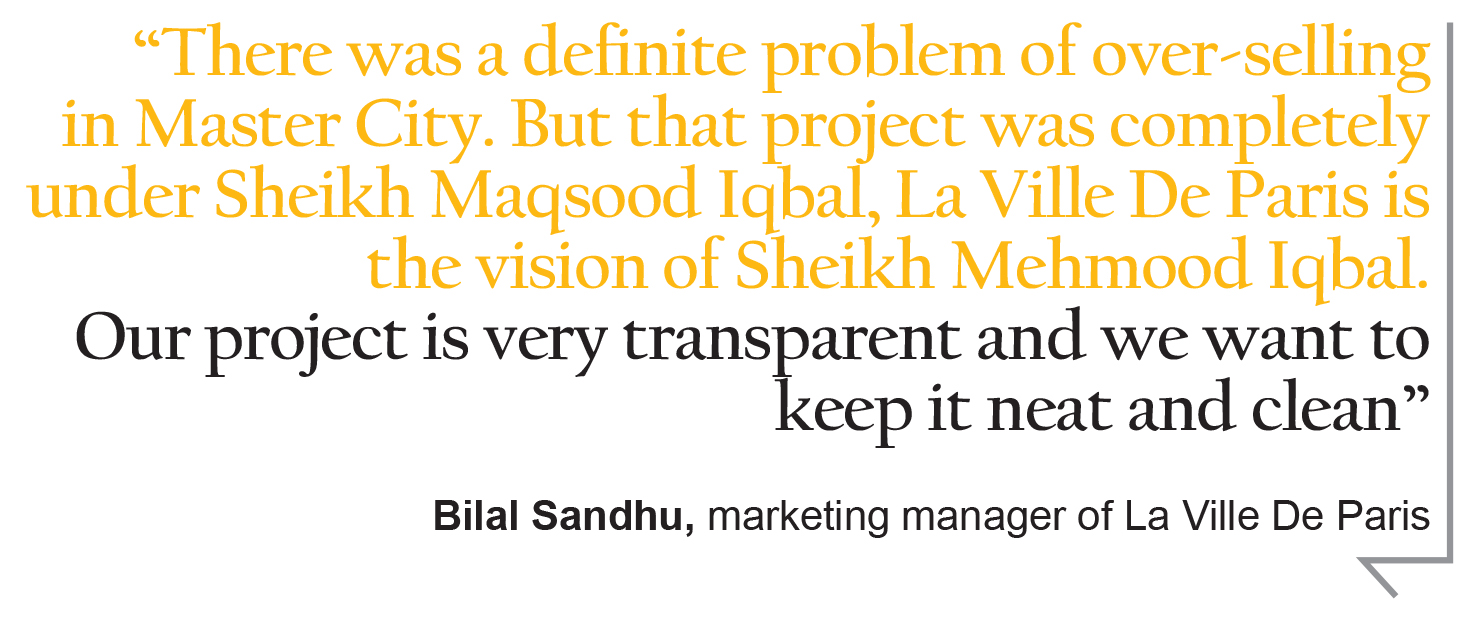 Since the publishing of the blog by Twitter user @2paisay, Profit has been digging into the regulatory and legal realities of Le Ville De Paris. On Friday, the Securities and Exchange Commission of Pakistan (SECP) warned the general public about the La Ville De Paris scheme, declaring it unlawful for investment. Before this, the Chairman of the Gujranwala Development Authority (GDA) confirmed to Profit that not only had the Le Ville De Paris not gotten the necessary approval from the GDA, but that the GDA had not even received a request from them, yet they have been collecting money from people in lieu of 'certificates.' 
All of this is illegal. All of this is a scam. Hook, line, and sinker. All of this is infuriatingly typical of what goes on in the murky world of Pakistani real estate. The story of what led to the SECP recognising and declaring what seemed to be a massive undertaking a scam tells the larger story of the real estate scam in Pakistan that so many regularly fall prey to. Profit investigates. 
Article continues after this advertisement
The bait – Paris 
There is one and only one real cultural estimation of whether you have 'made it' in Pakistan – and that measure is whether veteran journalist Sohail Warraich has ever called you up and asked to film an 'Aik Din Geo Kai Saath' episode with you. A seemingly unassuming, gentlemanly, even oafish presence, Warraich is beneath the surface a master interviewer that can shrewdly get powerful men and women to spill their secrets, and bring out the private personalities of those that otherwise maintain very stoic media profiles out of necessity. 
In an episode of the show that he filmed with Malik Riaz, the founder of the Bahria Town group, one moment of Warraich's journalistic mastery was on display when he asked Malik Riaz a number of lighthearted questions to soften him up, before throwing a pointed question about the European inspiration behind his housing projects. "We go to foreign countries, we see what they have done, we steal the idea and we bring it here," Riaz responds with shocking candour. "That is all there is. Like I just saw the Eiffel Tower recently, so we imported a replica from China and everyone loves it and comes to Bahria Town from far away to see it." 
This little tidbit reveals a much darker side of how real estate developers hook in people for their housing schemes. A 'plot' (pee-lat) in Pakistan is sacred. The desire to live in a clean, gated, 'posh' area is the upper-middle class dream for most Pakistanis, one that they spend their entire lives at times, trying to achieve.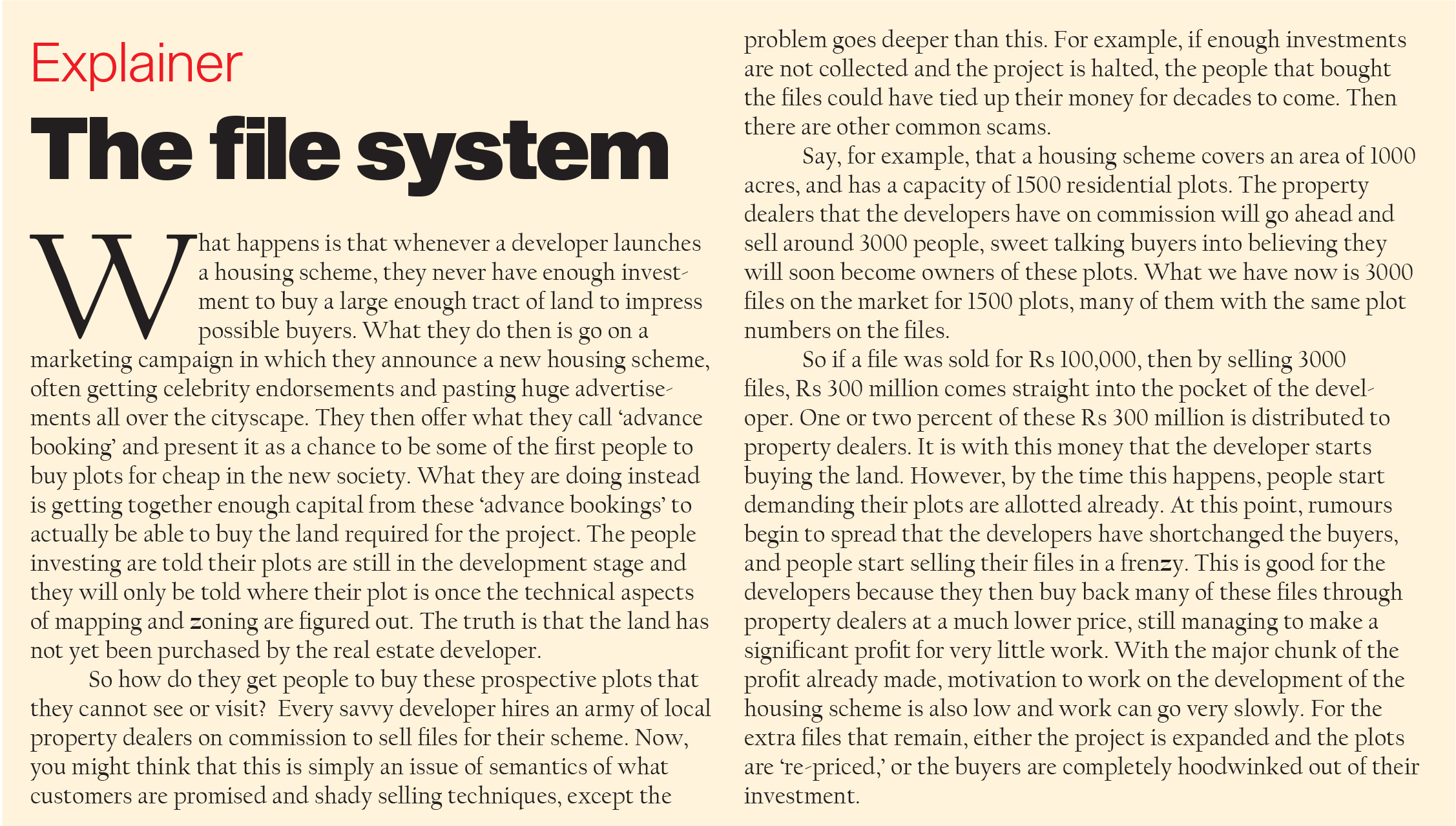 Every year, the urban housing demand in Pakistan is 350,000 homes. Of this, 62 per cent is for lower-income groups, 25 per cent for lower middle- income groups, and 10 per cent for higher and upper middle-income groups. The formal supply per year is 150,000 units, a vast majority of which caters to the higher and middle-income groups. So when a swanky businessman like Malik Riaz or Sheikh Mehmood Iqbal of the Master Group says they are going to build a European city in Pakistan, and you can buy a file or a certificate to be a part of it when it is fully developed in a very short amount of time, you don't think, you run and find the nearest property dealer. 
That is exactly how La Ville De Paris began as well. With huge billboards, full page newspaper advertisements, and property dealers on commission. The marketing campaign for this project was massive, and along with a promise to build Paris in Gujranwala, there was the added bonus of a French team working on the project, led by Chairman, Jean Louis Raja Martinez, a supposedly famous French management guru that was to have control of everything from investors to the technical aspects of the project. While Martinez was unavailable for comment, the project's marketing manager, Bilal Sandhu said that Martinez had come to Pakistan only out of love for the project and that now Pakistanis "will have a place like Paris where houses will be offered for sale at a reasonable price, with the kind of facilities that they would expect to find in Paris." 
That is a pretty little mission statement. The problem is, for all their pomp and show, La Villa De Paris is operating the same way you would expect any housing society in Pakistan to operate. The general perception is that since there is a large group like Master Tiles behind the project, it will be legitimate and free from fraud. The truth is a little different. You see, buying a residential plot in a new society is like building a house on sand. 
The real estate developer, even before acquiring any land or deciding where the project will exactly be located, begins a marketing campaign with big promises of a Paris-esque housing society. It is usually named something like 'Dream Gardens,' 'Paradise Villas,' or some other Utopian sounding name. Along with the marketing campaign is an offer to buy 'files' or 'certificates' to pre-register for the opportunity to buy plots in these societies. All of this is done without any approval from district administration, housing authorities, and any sorts of checks from regulatory agencies like the SECP. Then, once they have collected enough capital from selling these certificates, they then buy the land and begin development. If this does not work out, the money often sinks and people are left stranded.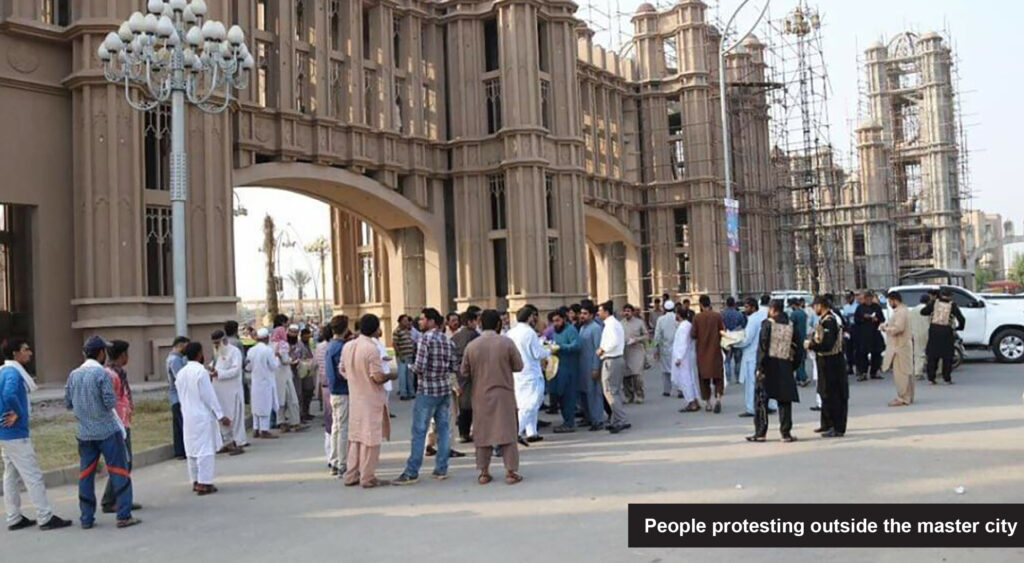 These tactics are common, however. They are the same ones that Bahria Town uses, and which are being used in ARY Lagoona. Even in societies like DHA, the infamous 'file system' is operational which has been explained in more detail in the in-set that accompanies this story. But what got the SECP to notice the La Ville De Paris project and advise the general public "to refrain from investing their hard-earned money in any unauthorized scheme," was the lottery that they recently tried to hold. 
The hook – Le Paris' method  
La Ville De Paris is offering certificates. Essentially, you buy a certificate for Rs 115,000 and then you have the right to conduct business and buy and purchase plots in the housing scheme. Without a certificate, you cannot do any of this. The problem is how mysterious everything surrounding these certificates has been. For starters, by their own admission, as revealed to Profit, Le Ville De Paris has only purchased 3000 acres out of the 4800 acres the society is to be built on. 
This means that while the company may claim this is just a business tactic, the money from the certificates will be used to purchase the rest of the land. More importantly than this, they have gotten no approval from any government agency or the Gujranwala Development Authority (GDA), before launching this project since they will not get it before purchasing all of the land.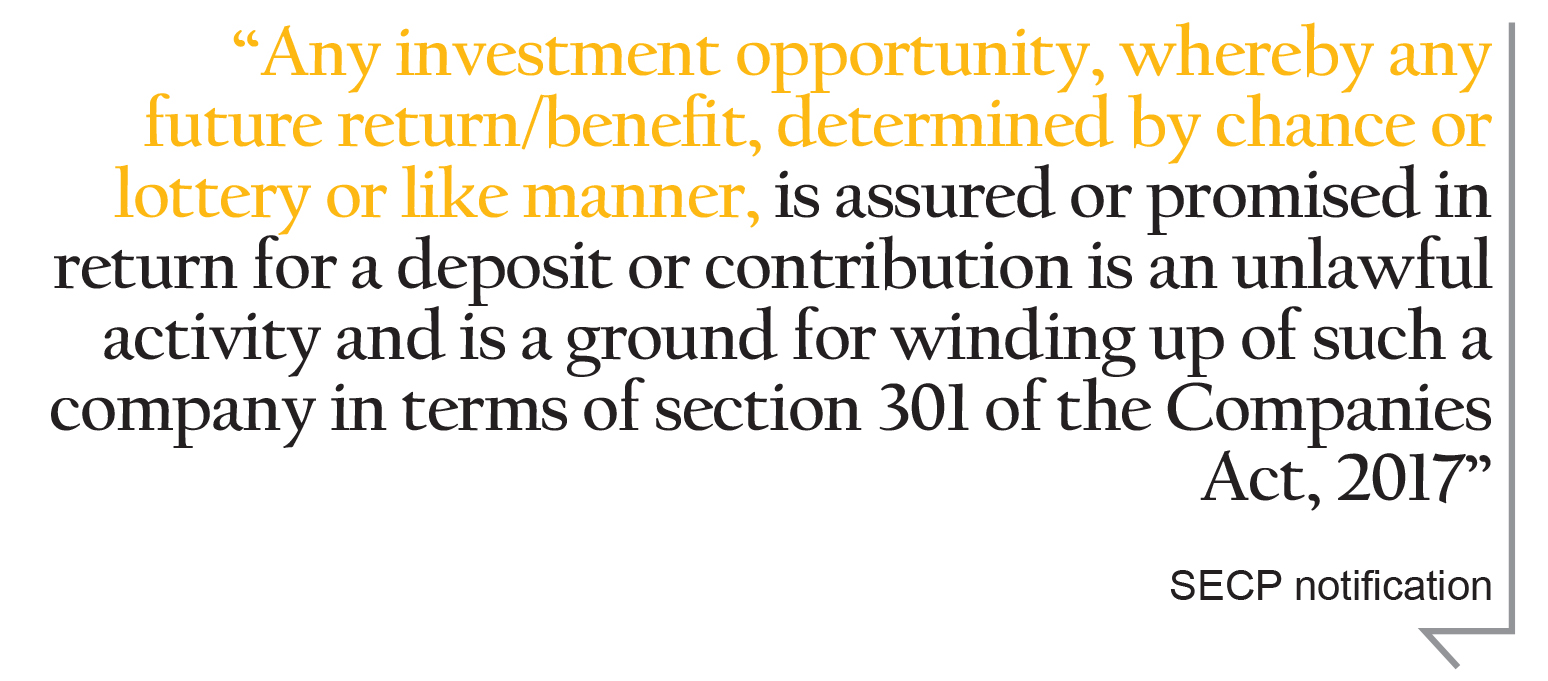 And if any issue crops up or the project cannot go ahead or fail, the certificates become useless and the money people have put into them is lost. The problem is made worse considering that the details surrounding the certificates are few and inconsistent. Speaking to Profit, the project's marketing manager initially said that anyone can buy more than 100 certificates if they want. 
According to Sandhu, the project's marketing manager, these certificates are required for investing in La Ville De Paris or for any type of plot, whether commercial or residential. "These certificates must be in the possession of the customer making any purchase in the La Ville De Paris project. A customer who does not have a company certificate will not be able to make any purchases in this project in the future. Our main purpose in announcing the value of the certificate was to reach the original buyer. If we gave these certificates for free, we would probably be able to reach only ten or twenty percent of the original buyers and the rest would get our free certificates without having to make any investment later," he claims. 
But the SECP, in its warning to the general public, said that "any investment opportunity, whereby any future return/benefit, determined by chance or lottery or like manner, is assured or promised in return for a deposit or contribution is an unlawful activity and is a ground for winding up of such a company in terms of section 301 of the Companies Act, 2017." 
In addition to this, while the Master group promises that the project will be completed in 12 to 18 months and guarantees money back if it is not done in that time, the encouragement to sell the certificates ahead and the guarantee of profit make it questionable. With Pakistan's land registry the way that it is, and the certificates in no way being a promise of land, it is entirely possible that the money is not returned.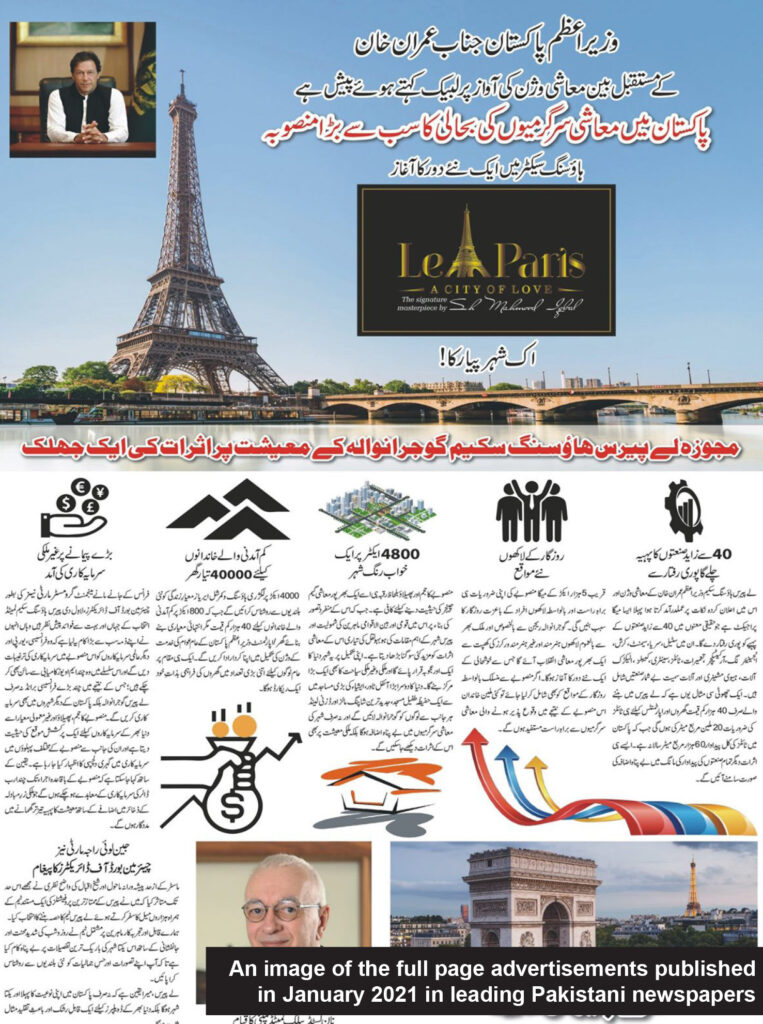 The problem with this is that La Ville De Paris claims that they are not selling the certificates to gather capital to buy land and begin the project's development. They say the only purpose the certificates serve is to attract serious customers that will buy the plots in the project. However, only one certificate is required to make purchases, so why would anyone want to buy hundreds unless they plan on selling them ahead. And why would La Ville De Paris agree to doing this unless they were trying to gather capital quickly so they could acquire the land. 
By their own admission, they have not bought all of the projected land yet. Of the 4800 acres, only 3000 acres have been purchased and of these 800 acres have been earmarked for the Prime Minister's Naya Pakistan Housing Scheme. With thousands of certificates being sold, it seems that this is a drive to raise investment.   

When confronted with this, Sandhu changed his tone later on and said that only limited certificates are being sold, which can be up to 2 percent of the quantum of the whole project. Despite being asked a number of times, Sandhu and officials of the project refused to reveal how many certificates have been sold so far, how many the company aims to sell, and how many of the certificates have been sold to the same person.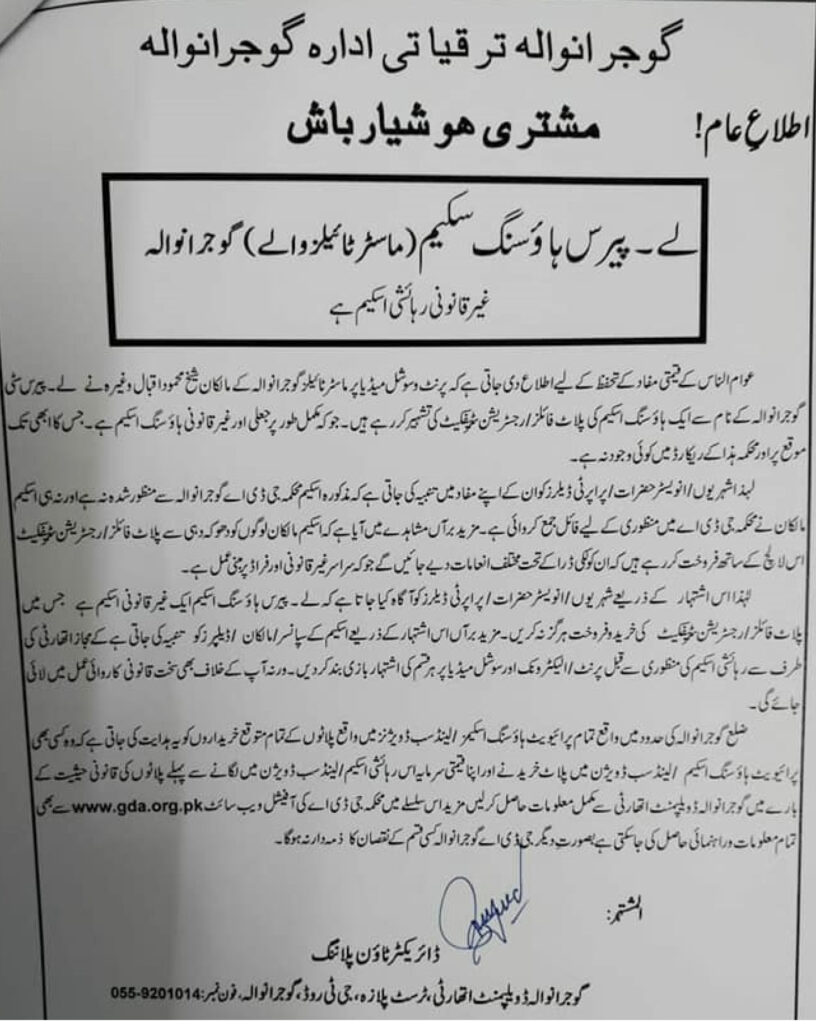 The lottery 
This goes pretty much how you would expect it. If you have been driving around Lahore or Gujranwala in recent days, you might even have noticed huge billboards announcing a lottery on the 31st of March this year for people that are in possession of certificates for the La Ville De Paris Project. The lottery has some big prizes, with the total lot of 105 prizes amounting to Rs 143.5 million, and the prizes are all cash. The first prize will be Rs 50 million, which will go to one lucky winner, while the second prize of Rs 10 million will be won by two lucky winners. Similarly, the third prize will be Rs 5 million which will be given to five lucky winners, and the fourth prize will be Rs 0.5 million will be won by 97 people.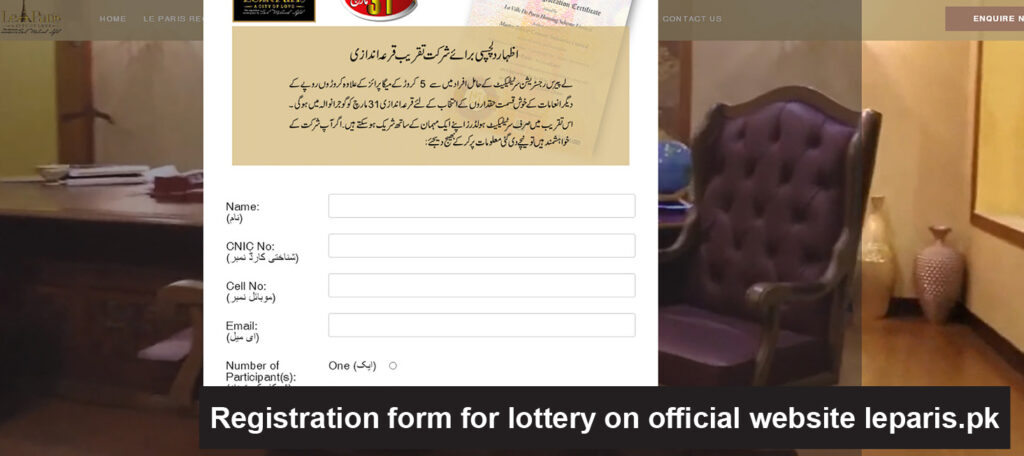 Now, keep in mind that this Rs 143.5 million is of course only a fraction of the money that the developers have gathered. They have sourced this amount by selling certificates. Essentially, what La Ville De Paris did is offer certificates for sale to people that you need to acquire if you want to buy any commercial or residential plot in Le Paris.The confusion is that the certificate that is being sold and it is guaranteeing a profit.
The lottery just makes the deal more attractive. Why not put in Rs 115,000 for the chance to walk away with Rs 50 million? And if you don't end up winning anything at all, you can then always either use the certificate to buy a plot in the project or sell the certificate to someone that does want to do this. 
A history of deceit 
This is perhaps the biggest red flag of them all, both about the La Ville De Paris Project and about real estate developers in Pakistan in general. This is not the first time that the Master Group has ventured into this business, and when that happened, it did not go very well. Despite the proven fraud of that episode, the group has very easily been able to come back into the industry, with the past having been forgotten, and with their promises and armies of property dealers been able to wrangle significant investment from people unaware of what exactly they are signing up for. 
Back in 2015, the group had developed a housing scheme called Master City. According to one official of the Board of Revenue, the management of Master City had tried to commit fraud with overseas Pakistanis through the same old technique of selling files and then not handing over any plots to the buyers despite the time in which development was to have finished ending. The episode was quite the spectacle, with the victims of Master City protesting for several days. "The victims claimed that billions of rupees have been defrauded from the people by the owners of Master City. Meanwhile, a person named Javed had also obtained a stay order from the court on the sale and purchase of plots in Master City," revealed the official on condition of anonymity.
"The court ordered the owners not to buy or sell until further court orders, and at that time, the managing director of Master City, Sheikh Ahmed bin Maqsood, had also admitted that buying and selling was not being done in compliance with the court orders. Despite this, Master City continued both the buying and selling of plots after which the court took notice again and this time not only issued a notice against them, but also charged them with contempt of court." 
Despite all of this, the Master Group were able to continue the buying and selling of plots in Master City with impunity, and have now been able to launch a new project while many unsuspecting investors in the Mater City project, who were also made the same promise of quick returns and development in 12 to 18 months, continue to not receive any dividend or any plot allotment from the project. You see, when the court issued the stay order, Master City could no longer accept money in lieu of files, and since they had not actually acquired all the land for the project beforehand but had sold more files than were plots, they cannot assign plots to people that bought those files under the promise of getting a plot within a couple of years. Now, as long as the project remains tied up in court (which could be decades), these investors cannot touch their money.  
The association with Master City is something that the group has actively tried to avoid, of course, something that is evident in the project not containing the word 'Master' when even the wedding of the group's owner's son had 'Master' plastered everywhere. One official of the Gujranwala Development Authority (GDA) also confirmed to Profit that La Ville De Paris was being run under a different entity, and an advertisement was also issued recently in which the project denied any connection with Master City. However, despite the entity being different, the owners of the project remain the same people behind the Master Group and Master City. 
"This is a technical difference only. Back in 2015, Sheikh Mahmood Iqbal had taken a lot of pride in it and had presented it as a result of the group's hard work over years.Now that people have been defrauded in Master City, they do not want the baggage from that to affect their new scheme," says the GDA official on condition of anonymity. "The only difference is that Sheikh Mahmood Iqbal is looking after the affairs of Le Paris, while his brother Sheikh Maqsood Iqbal was looking after the affairs of Master City." 
"The GDA has already started preparing for legal action, and we would encourage people to be wary of such fraudulent schemes. The government needs to take action to make sure that unless a scheme completes its area, its design and its infrastructure, it will not be approved – otherwise, innocents will continue to be fooled into investing with these crooks." 
This seems to be a solid idea, particularly because if a group can actually produce the amount of money that is needed to procure and begin development on 4800 acres of residential, urban land, then it can be expected that they are not in it to make a quick buck but are invested in making sure that the housing scheme is up to the mark and that genuine investors and buyers come to them, and get what they came there for instead of being enticed in with the offer for cheap plots only to lose all of their money. 
The GDA's Town Planning Director has also issued a public notice stating that the owners of Master Tiles had advertised the plots and files of La Ville De Paris City, which was totally illegal. The notice also states that La Ville De Paris is a completely fake and illegal housing scheme, which the GDA has no record of yet. In addition, the distribution of certificates and lucky draws by the scheme owners is completely illegal. The notice also warned investors not to invest in any illegal scheme and seek GDA details about its legal status before investing in any scheme," he said.
"There was a definite problem of over-selling in Master City," admits Sandhu. "But that project was completely under Sheikh Mahmood Iqbal, La Ville De Paris is the vision of Sheikh Maqbool Iqbal. People are just getting worried because of similar names. "Our project is very transparent and we want to keep it neat and clean." 
"Some people in the ceramics industry that are our rivals have also tried to say that we have a cash flow problem and are not to be trusted. However, we are only selling a few thousand certificates. Master Tiles has a net worth of $4 billion. Do you really think the group would want to risk its business and its reputation for a single project? Senior property dealers are overseeing this project even the president of Property Dealers Association DHA Lahore, Abubakar Bhatti is personally overseeing this project in Lahore. After all, this is the credibility of the project, that's when so many senior dealers are marketing it."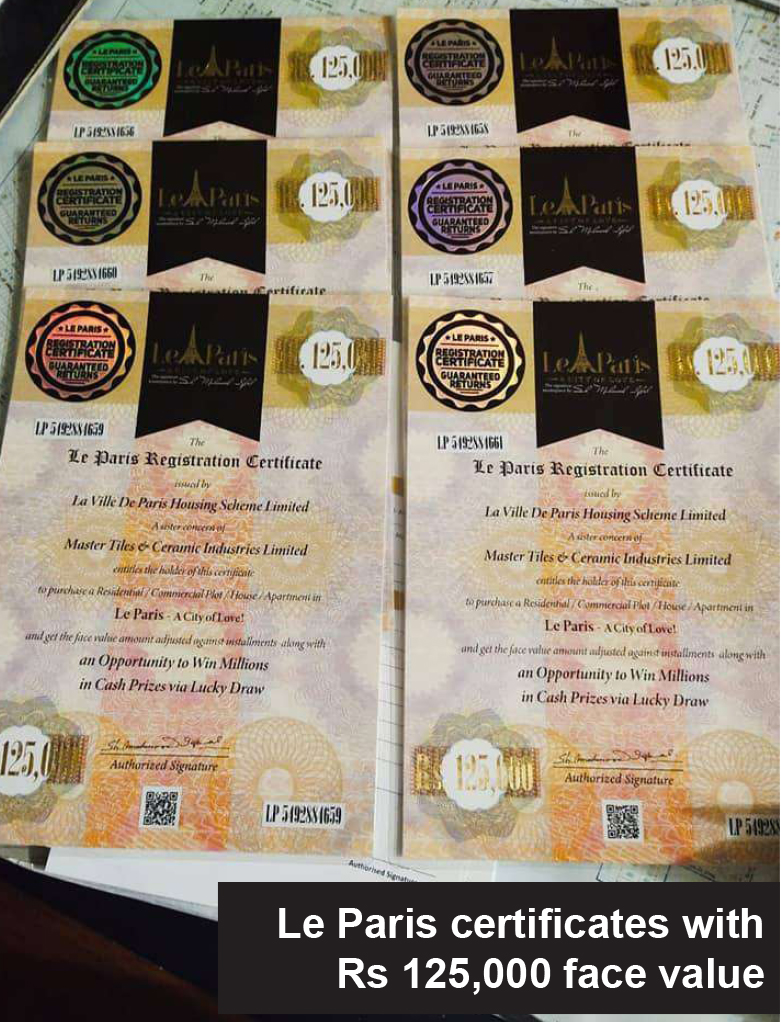 Despite these clarifications, officials of both the Board of Revenue and the GDA continue to slam the La Ville De Paris project, saying another fraud was going to happen, and that the clock was ticking to possibly contain some of the damage. "The biggest red flag is that the purchase of land for this project has not been completed yet and the project has been announced. Secondly, the purchase of land and its transfer is not an easy task, and there is not a single 4,800 acre area in Gujranwala where there are no court cases. When a housing society is announced, it must first be approved. For example, any Housing Society in Gujranwala has to get approval from the Gujranwala Development Authority (GDA) and La Ville De Paris does not have any approval," says a revenue board official. 
To these accusations, La Ville De Paris have claimed that they are in the process of approval, and are waiting to acquire all the land before applying for final approval. This still does not explain how they have launched without the approval, or are accepting money for the certificates. The chairman of the GDA, Ali Ashraf Mughal, responded to these claims by vehemently denying any approval being "in the process" and said that they had not even been approached by La Ville De Paris yet. "We have not received any documents from La Ville De Paris and we have removed all their advertisements from Gujranwala city. We have also written letters to the concerned authorities to remove their advertisements from Lahore as well."