Engro Polymers and Chemicals has that unusual honour of being one of those few companies that have really taken off in the last three years or so, with ever increasing revenues, and skyrocketing net incomes (in comparison to previous years). And the year 2021 is proving no different. On April 19, the company announced its first quarter results for the calendar year 2021 – and they exceeded expectations of most analysts. The company's net profit after tax stood at Rs4.14 billion, compared to Rs193 million in the same period last year. Similarly, the company's earnings per share stood at Rs4.56, compared to Rs0.21 in the same period last year. 
Much of this increase was led by a combination of factors. For one, revenues experienced a 122% increase year-on-year. Then, there was a 63% increase in PVC (plastic polymer) ethylene margins and higher PVC volumetric sales, that resulted in gross margins standing at 40% in this quarter (compared to 18% in the first quarter of 2020). Finally, there was a 48% year-on-year drop in finance costs. 
Even compared to just the last quarter of the calendar year 2020, there was a 14% increase in earnings. This again, was led by a 26% increase in revenue on a quarterly basis, and 215% quarter-on-quarter increase in other income, and finally, an 11% quarter-on-quarter decline in finance cost. 

The results are glowing – but to understand why this is happening, it helps to see the company as an early player in the PVC market, which is only now beginning to take off in Asia, and SOuth Asia in the coming decades. 
For some context, Engro Polymer & Chemicals Limited is the only integrated chlor-vinyl chemical
Article continues after this advertisement
complex in Pakistan. It is also the sole manufacturer of PVC resin in Pakistan. The company also produces Chlor Alkali products like Caustic Soda, Sodium Hypochlorite and Hydrochloric Acid. It is a subsidiary of Engro Corporation, which holds 56.19% in the company (a remaining 11.01% is owned by Mitsubishi).
The company was started in 1997, under the name Engro Asahi Polymer and Chemicals. The first PVC plant was commissioned in 1999, with 100 kilotons capacity. A second PVC plant was set up in 2008, which was also the year that the company was listed on the stock exchange. Commercial production was declared in 2019, while a caustic flakes plant was announced in 2019. 

All the while, the company's revenues have slowly improved. Between 2009 and 2013, revenue went from Rs11.6 billion, to Rs24.6 billion. Revenue then fell for two years, before climbing against between 2017 and 2020. This rise was extremely rapid, shooting to nearly Rs38 billion in 2019. 
But the biggest change was in net income. The company experienced a loss between 2009 and 2011, and again between 2014 and 2015. But then in 2016, the company made a profit of Rs660 million. This shot up to Rs2 billion the very next year, and then Rs4.9 billion in 2018. In the year 2020, this shot up to the highest ever recorded profit for the company at Rs5.7 billion. 
What is going on? The company's annual report notes that "South Asia continues to be a crucial market in the vinyl world due to its large supply deficits both for PVC and feedstocks, and serves as an important lever in balancing the global vinyl supply and demand. The potential for growth in the region remains enormous for at least the next decade based on the large population of over 2 billion and a per capita consumption of only 2 kg which in comparison with global average of 6 kg per person is considerably low."
The report also said that the importance of agriculture in the region cannot be emphasized enough in terms of PVC demand. "
"Pipes and fitting account for 73% of total PVC regional demand [in South Asia], which considerably outweighs the global proportion of 45%. Other applications like chlorinated PVC pipes, wire and cable, and PVC profiles continue to gain wider acceptance in the region owing to their better value proposition compared to competitive products," the report noted.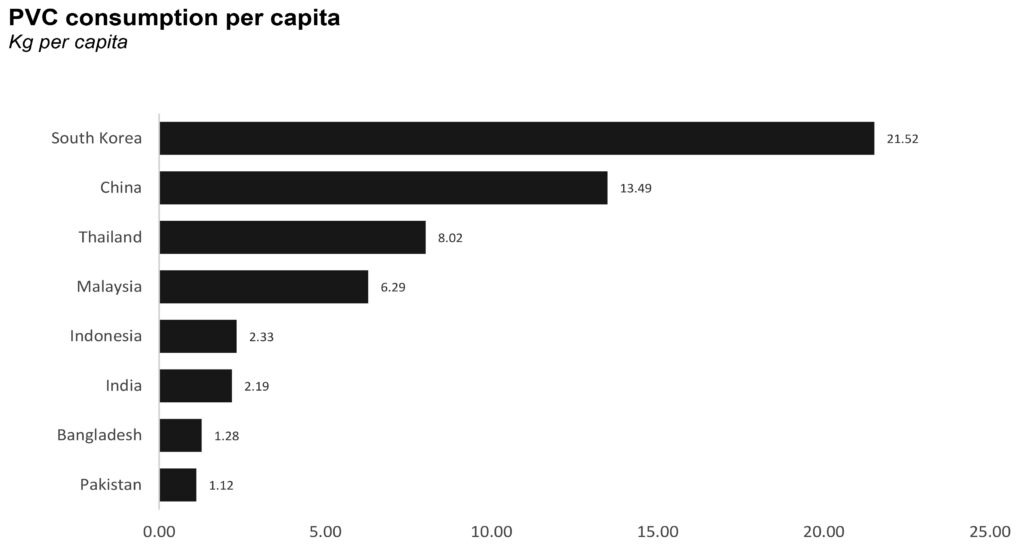 And this has ramifications for Pakistan as well. PVC is now being used in a wider variety of products in the country, such as PVC flooring, garden hose, garden furniture, PVC roofing, wall panels and ceiling. 
That being said, the domestic PVC market in the first half of 2020 saw a decline of 15% year on-year due to the national lockdown imposed by the government in response to the pandemic, and the diversion of government spending from development projects to COVID-19 prevention and support programs.
But, in the second half of the year, the government announced a stimulus package, and switched to smart lockdowns. The PVC market recorded an increase of 38% from the first half, which translated into an overall market increase of 3.3% in 2020 in comparison to a 7% decline in 2019. 
In fact, the domestic market saw its highest ever imports of 90 kilotons of OVC, as importers capitalized on historically low global price,  amidst the international commodity crash. 
And that is why things are looking up for Engro Polymer – and they know it. As the report said, "In view of the government's focus on affordable housing, expected improvement in economic growth and our continued efforts to develop downstream applications, we are hopeful that the country's per capita PVC consumption will increase in the years to come and converge towards international levels."