Pakistan is number one. It is number one thanks to cable companies, broadcasters, advertisers, and media agencies in that order. The whole world, nay, the whole APAC region looks at Pakistan and acknowledges its number one status in a coveted category. What is it number one in? Being left behind in media innovation. Specifically direct to home (DTH).
Across Afghanistan, India, Bangladesh, Sri Lanka, Nepal, and the APAC region, DTH is the chain between broadcasters and TV audiences, whereas in Pakistan a cable operator is wedged in the middle. With DTH, signals are transmitted from direct-broadcast satellites. And while we harp on about 5G and being a wireless nation, our broadcasters are still reliant on cable and the lobby that ensures that nothing ever changes.
Simply put, DTH is a digital satellite service that provides television services direct to home with a personal dish, meaning that viewers at home are directly in touch with the broadcaster, which leaves out the innovation barrier in the form of local cable operators. A satellite transmits encrypted signals to an antenna, which in turn are directed to a set-top box that sends a decrypted stream to the TV.
For viewers at home, the benefits of DTH are manifold: greater service coverage, more channels, better signal quality, multiple language options, the option to only pay for the channels and services that the user wants, and value-added options such as parental lock and both pre-booked and impulse pay per view. Given the electricity distribution issues nationwide, the principal drawback is the loss of service even if it rains.
According to PEMRA, DTH services will minimize the discretion of government agencies in off-airing any news channel, unlike in the current analog system where channels are penalized under one pretext or the other. The regulator also believes that DTH services will democratize access to real-time audience analytics, which can help channels negotiate better with advertisers and impact their channel ratings. 
This prospect hurts channels that have allegedly relied on their backdoor relationships with rating agencies for high rankings, while also hurting the business model of rating agencies and cable operators. The latest MediaLogic data suggests that channels with the highest rating air repeated content while the channels with original programming rank lower. The democratization of viewership data from DTH services gets in the way of the media oligopoly.
Article continues after this advertisement
"Keeping the benefits in mind, one can see why DTH adoption has been delayed by PEMRA as the democratization of entertainment access hurts the pathetic quality of content creators in Pakistan," said a former cable executive. "The Actors Collective Trust (a body representing Pakistani actors) does not want competition, no one does, everyone wants to remain a monopoly in their own way. So they oppose better content and channels from abroad. Same with broadcasters."

With the current status quo, cable operators control the distribution of eligible channels, carry out real-time editing according to the Code of Conduct of the Pakistan Censor Board, and distribute television channels in such a sequence that the first three frequency slots are allocated to the national broadcaster. At the subscriber level, they earn through a one-time connection fee and a monthly subscription fee.
A history of promises
In 2015, The Express Tribune reported that there were between 70,000 to 2.5 million DTH users in Pakistan, concentrated across Karachi, Lahore, and Islamabad. DTH services of Indian companies such as Dish TV, Reliance Sundirect, SDN, Tata Sky, and Videocon were reported as being sold through local agents working under the radar, earning $150 million per year through illegal channels according to a PEMRA spokesperson.
"The money was moved illegally from Pakistan to Dubai as license and subscription fees by the agents/operators in the country who illegally market and sell Indian DTH services like Tata Sky, Sun Direct, Reliance, Videocon, Dish TV, etc," said Wakeel Khan, director general of licensing at PEMRA. "We can target cable operators and the agents but it is difficult to go to every home. That's where (Pakistan) Customs intelligence, FIA, and other agencies have a role to play."
Understandably, this is a point of concern for authorities such as PEMRA which had not sold DTH licenses to any company at the time, least of all not permitted cable operators from airing channels such as Star Sports, Star Movies, and National Geographic. Moreover, cable operators were paying Tata Sky, Reliance, Dish TV, and others in India through channels that the FIA could not record nor detect.
It was also reported that PEMRA had lined up ten investors that were interested in bidding for DTH nonexclusive licenses – which would be valid for 15 years – in Pakistan with a spokesperson from the regulator stating that DTH should have rolled out in 2009 and that DTH would be a game-changer. 
Given that license holders would pay PEMRA an annual fee of Rs 10 million and 2% of their gross revenue, the DTH service model would be a permanent source of income for the regulator. In light of this, in the months that followed, PEMRA began cracking down against the illegal provision of Indian DTH services, with less than impressive outcomes.
In August 2016, the then PEMRA chairman Absar Alam announced that the regulator would launch its own DTH service by October that year, adding that the crackdown on illegal Indian satellite dishes was ongoing while appealing to the administration of television channels and cable operators to voluntarily follow the rule that only 6 minutes per hour limit of Indian content can be aired or face fines, suspension, and revocation of the license after repeated violations.

On the 21st October 2016, PEMRA issued a statement that a blanket ban would be imposed on the airing of Indian content on satellite TV channels and FM radio, adding that those found guilty of violating the ban would have licenses revoked without any show-cause notice. The following month, PEMRA announced that it had shortlisted 12 companies – including Parus from Russia and Star Time from China – while DTH licenses would be issued to the three successful bidders.
From Pakistan, the shortlist contenders included Orient Electronics, Mag Entertainment, Skyflix, Smartimes Communications, Sardar Builders, Smart Sky, Naya Tel, Maestro Media Distribution, Shahzad Sky, HB DTH, and IQ Communications. PEMRA said that a committee, which included members from intelligence agencies, had scrutinized these all contenders.
A spokesperson for the regulator said that 1,500 direct and another 15,000 jobs would be generated with the initiation of the DTH services in Pakistan while the basic or starting price of the DTH license would be Rs 200 million. The spokesperson ruled out the possibility of delaying DTH services in Pakistan for two years on the demand of the cable operators association.
In November 2016, PEMRA officials said that illegal Indian DTH services transfer between $200 to $350 million to India annually on account of subscription fees, adding that legal DTH services will give consumers a choice against the current monopoly of cable operators as well. The spokesperson added that the DTH launch would inject $400m in the media sector and that the regulator is set to auction off three nonexclusive licenses on the 23rd of November 2016. 
In response to this news, the Cable Operators Federation (COF) announced their plans of going on a strike at 7:00 pm on the 21st November 2016, stating that DTH services – which are the norm all over South Asia at this point – would spell an end for the archaic mafioso cable business in Pakistan. The COF requested that PEMRA postpone the DTH license auction for five years or more, which the cable lobby said would allow its members to recover investments.

This despite the fact that PEMRA announced its intention to sell DTH licenses in 2010, which already gave the COF and its members six years at the week before the scheduled auction to make alternative plans. As evidenced by the timeline above, DTH license auctions had already been postponed nearly thrice and the COF made no effort to pivot its business model.
"DTH is an inevitable platform for progress in media services and [Supreme Court] had instructed PEMRA not to halt auctioning of the DTH licenses," said Absar Alam, the former chairman of PEMRA. "The ones who are opposing and running campaigns against DTH, the ones who have approached the courts, had never opposed Indian DTH."
The month after the auction, the LHC ruled that the DTH auction was null and void, citing that broadcasters were not allowed to bid for the license, which PEMRA stated was always the rule due to concerns that any vertical integration between broadcast media and distribution services would result in an undue concentration of ownership. 
In March 2018, the Space and Upper Atmosphere Research Commission (SUPARCO) and China Great Wall Industry Cooperation (CGWIC) signed a contract for the acquisition of communication satellite PakSat Multi-Mission Satelite (PakSat-MMI). Among the range of arguments in favor of this acquisition, it was said that the PakSat-MMI would prove to be another major asset to initiate and expand various communication services including DTH.
In May 2018, the SC rejected the LHC judgment from December 2016 which stated that PEMRA had acted in violation of its own ordinance while conducting the bidding for DTH licenses in November 2016. From October 2018 to date various news reports suggest the FIA raids against illegal Indian device providers are ongoing, with cable operators identified as culprits.
"When the cable lobby requested a delay in the sale of the DTH license – citing an interest to shift reserves towards other investments – they took that extra time to procure Indian devices illegally and hurt the national exchequer by up to $300 million a year," said a cable executive. "Instead of using that time to innovate, they doubled down on their thievery." 
The day before the auction for the DTH licenses on the 23rd November 2016, the Lahore High Court (LHC) issued a stay order, which Alam said would not impact the auction. After 15 hours of bidding, PEMRA announced that the three DTH licenses were auctioned off for Rs 14.69 billion. The highest bids submitted were Rs. 4.91 billion by Mag Entertainment, Rs. 4.90 billion by Shahzad Sky, and Rs. 4.89 billion by Star Time from China.
"The current analog distribution system is offering a maximum of 80 channels while the DTH would increase the capacity to around 120 and each local DTH license holder is expected to have at least 500,000 subscribers," said Alam. "To date, this is the biggest investment in Pakistan's electronic media history."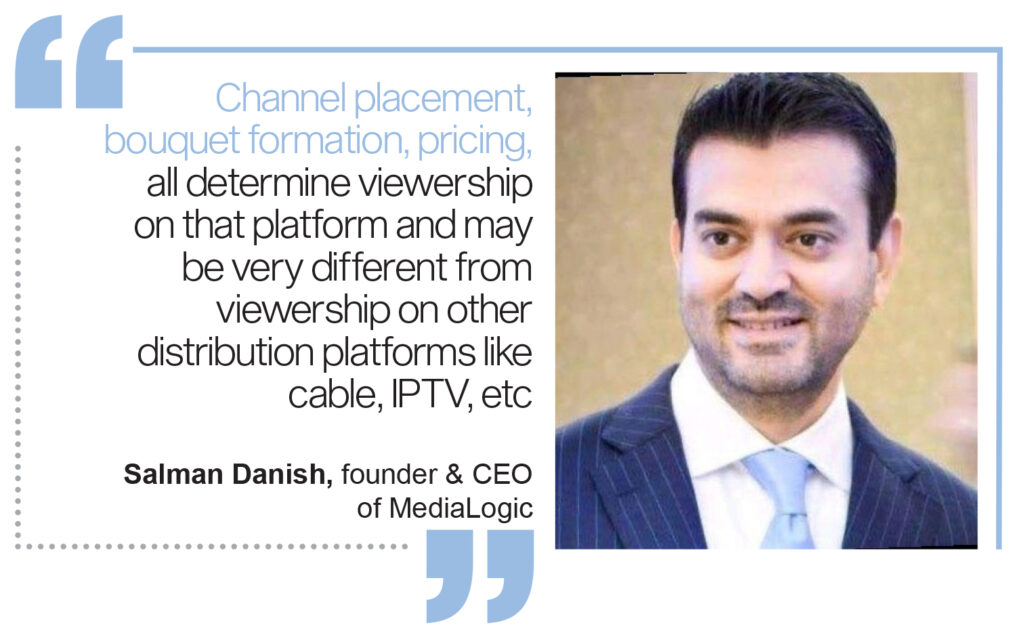 He said that the licensees will have to start operations within a year or risk termination. Cut to January 2020 and PEMRA stated that licenses for Mag Entertainment and Star Time were delayed due to security reasons and that local firm Shahzad Sky had requested leeway in paying the remaining 50% of the bid amount over ten years citing Letter of Credit issues.
As of the 16th of May 2021, nothing has changed. 
The ease of doing business ranking for Pakistan makes perfect sense, given the barriers before the media regulator. Now imagine what a foreign direct investor goes through and understand why they stay away.
"I think this has more to do with institutional voids and political instability signatures to developing countries," said Umair Saeed, chief operating officer of Blitz Advertising. "I am sure there is corruption, every institution and every industry is a miniature Pakistan so it will obviously have corrupt people with vested interests. Take for example the evolution of telecom in Pakistan; we had AMPs, then GSM, then briefly WLL/CDMA, and the one fine day we went straight to 4G. I recon the same happened to DTH, several companies worked on setting up DTH solutions and then stopped midway as the feasibility didn't work out."
Saeed told Profit that the primary reason quoted by two such players he personally knows was a change in political leadership and the resulting chain reaction in policy, adding that nobody wants to invest in anything in Pakistan until they are promised a return on investment attractive enough and a risk score manageable enough. While he acknowledged that there are some culprits in the ranks of broadcasters and their industry representing institutions, he overall felt that it was not entirely their fault.
The ground realities
Speaking to a seasoned media practitioner with over two decades of experience, Profit was told that DTH is not feasible for Pakistan given that budgets for TV advertising have been declining by 8% year on year since 2017. He said that if PEMRA rolls out DTH and introduces over 200 channels to the Pakistani audiences, there is simply not enough advertising expenditure to go around.
The second ground reality he shared is that equipment tends to be one of the largest investments a broadcaster makes in order to operate a channel, with DTH requiring an entirely fresh investment into new equipment to broadcast directly to homes nationwide.
The third ground reality he shared is that the DTH provider in Pakistan would be facing a black market of illegally procured Indian devices, which has been documented above as an unending and futile battle led by the FIA. 
"The legally operating DTH provider would need to face a customer that is used to paying 10 thousand rupees a year to now charging them nearly 15 thousand rupees a year for the legal service," he said. "Pakistanis don't care about IP, the law, and doing anything the right way, they just want things at the lowest price. This is why you have bootleg shops all over the country. They will not accept an expensive solution and will go to those that provide a workaround."
He added that in a country where less than 1% of the population has a credit card, the prospect of acquiring a sizable portion of the market for DTH is foolish. Sources at MediaLogic shared that a DTH service and its ability to share audience analytics with broadcasters would have no sizable impact on their value proposition, which is the monopoly currency.
"Channel placement, bouquet formation, pricing, all determine viewership on that platform and may be very different from viewership on other distribution platforms like cable, IPTV, etc," said Salman Danish, the founder & CEO of MediaLogic, in a 2019 interview with Profit. "So DTH data in terms of TV ratings is never considered industry currency for ratings."
At the time he said that television audience measurement companies such as MediaLogic would still collaborate with new platforms such as DTH so that the data continues to remain representative. He said that MediaLogic has created data platforms that accept and integrate with new data streams coming from DTH and IPTV, which he said is the key to accurate TV measurement in the future.