One minute in, the next minute out. No, we're not talking about Pakistani openers in cricket. We're talking about restaurants and the rules regarding their operations during a pandemic. With the authorities constantly oscillating between allowing customers to dine in, allowing outdoor dining only, or only allowing takeaway and deliveries – it has been a tough time for restaurants across the board.
From the very beginning, restaurants have been one of the industries most affected by the pandemic not just because they are always the first up in the chopping block whenever cases of Covid-19 get out of hand, but also because the regulations they have faced have varied widely. Restaurants have had to go from operating fully to shifting to outdoor dining to only serving takeaway and delivering food. And this entire process has happened multiple times with the regulations for Covid-19 changing at the drop of a hat. 
Because of the strain that this has put on eateries, many business models have crumbled in the face of this onslaught. Restaurants are indoor places where people gather to eat – which makes sense for them to be a significant spot of spreading the virus. Lots of your favorite food joints may no longer exist, may have moved to smaller premises, or may even have resorted to share kitchens. There is constant adaptation that is taking place just to stay afloat until the end of the pandemic. We have seen in this time the advent of cloud kitchens and all kinds of other innovations. 
The dining experience
When it comes to restaurants the cost of food is not merely just the cost of raw materials or ingredients and staff. The cost of running and maintaining the restaurant is an overhead that depends on the scale of the restaurant and how hard it is trying to maintain a particular ambiance. Naturally, the lockdowns and dining restrictions have not been great for the industry. 
"Around 20% of restaurants have closed down," says Athar Chawla, Vice President of the Federation of Pakistan Chamber of Commerce and Industry and the CEO of Wah! Brands. "We need to realize that historically, the majority of the restaurants in Pakistan were dine-in centric. The takeout/ delivery culture was not as prevalent. Sales on deliveries made up a smaller share. Proof of this is that as soon as dine in and out is opened up people rush to eat out if they can." 
Article continues after this advertisement

There is merit to that. In a country like Pakistan where there is a lack of public spaces, what does one really do to socialize? Think about it. If you ever want to catch up with friends, where do you usually go? Some nice café or restaurant, the mall or the movie theater? These make up the major sources of entertainment for citizens. There are not really widely available places of entertainment like very developed parks, plazas, art galleries, museums, theaters, mini golf or other game courses. Which is why restaurants and cafes are so significant to the social milieu, and why when a new one opens it always starts off so strong – because it is something different to do. Which is why takeaway makes little sense in Pakistan, and ordering in feels wrong when you're paying the same without the ambiance, service, or the fun of being out.
"If we take Karachi, for instance, prior to COVID outdoor dining was primarily done at Do Dariya or highway," says Chawla. Of course, the traditional roadside charpayi and table chair restaurants did exist then too. But those were places one would go for cheap and tasty food rather than ambiance and dining experience.
What did Covid change?
If we look back, when Covid hit last year, the world went into lockdown and restaurants in Pakistan were closed. They were then allowed to operate on deliveries and takeaway. "Delivery sales had always been 15-20% of total sales. After Covid, they became the new focus. says Babar Nehal, Chairman of the All Pakistan Restaurant Association who also happens to own Hoagies and Tooso.
"Dine-in restrictions resulted in a significant chunk of business being eroded. While sales rose on the delivery front, they just couldn't compensate for the total sales. The impact wasn't big because the share of delivery sales was small to begin with," he says.  What that means is there has been a growth in delivery sales but the total sales witnessed prior to covid are far from attained without dine in.
Let's take an example. If you love steaks, chances are you only like eating them at restaurants and not at home. That's because there's nothing like a steak right off a skillet. This is a customer that a restaurant no longer has. Another example could be the people that order dessert after a meal to celebrate birthdays or an event. However, that chunk of customers doesn't exist. Because honestly, who wants to order an overpriced dessert which is almost the same price as a 2 pound cake at a popular bakery?
"Overheard largely remained the same because your fixed costs remained the same. You may have saved on electricity and may have let go of some of your wait staff, but you still had to pay rent and other operational costs." Says Nehal
Discount wars, commissions and a race to the bottom
Even though every time you order food, your mom is probably going to tell you she can make it at home cheaper, the restaurant industry insists that the cost of ingredients and making food is significantly high.
"The cost of the food is the biggest component in the pricing of a dish. However, with more and more people jumping the delivery bandwagon the market started becoming saturated. This resulted in discount wars at a time where profits were already struggling. It was like a race to the bottom to protect or acquire turf. This is not how you cover your overheads." Says Nehal
Chawla agrees and says the marketing cost to retain or attract new customers has also increased. One such cost is the commissions paid to third party delivery apps that sometimes can charge commissions of up to 32% leaving very little for restaurants to take home. One also needs to keep into account that the packaging costs also roughly make up 5% of costs, in addition to the fact that delivery and takeaway portions are believed to be slightly bigger.
"Delivery is one of the most expensive mediums of sales for a restaurant," says Chawla. He adds that while third party delivery apps have helped, there remains one major aggregator with a significantly high market share which sometimes results in it being tougher for restaurants and their bottom lines
"Third party delivery apps did help in a way by reaching out to customers and making food available to them, however in order to survive after paying their commissions you needed to rely on volumes. Heavy discounting brings in volumes but also ruins your bottom line." Says Nehal
What lies for the dining industry?
Well, COVID seems like it's going to mutate a few more times before leaving. The restaurant industry is tired of it and the restrictions it has brought with it. "No businesses are closed. The major lockdown restrictions we see are for weddings, malls and stores, and restaurant dining. Everything else is functional regardless of how they implement SOPs. The restaurant industry is far more likely to implement SOPs. Opening up dine-in for vaccinated people is the way forward," says Chawla.
While that is for the government and health officials to decide, it is interesting to see some restaurants expanding and franchising as some close down for good. "Some brands are expanding that have money or are old and big names. They can afford to do so. However, around 80% of restaurants are small mom and pop operations. They are suffering," he says.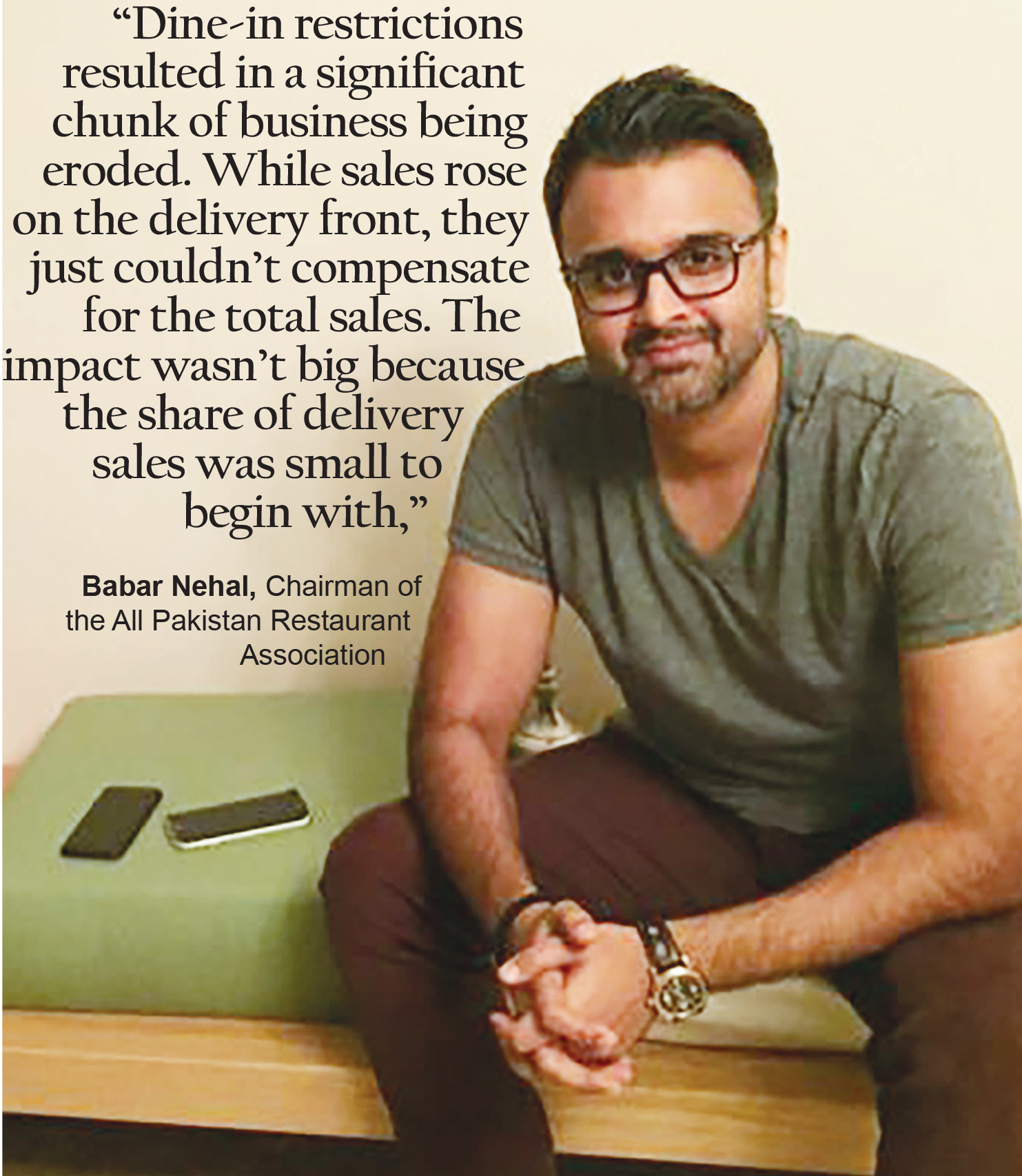 Nehal however feels that this is the perfect time to expand for those that can afford. "Franchising and expanding has slowed. However, it is the perfect time because good days are to follow soon. It is also the perfect time to create a local franchise."
Nehal explains that one could create a local franchise of the same restaurant opened up in different places across the city, but smaller in size. "You can open up smaller restaurants at multiple locations or franchise." This way you're able to cater to a larger audience and do not have the additional overhead of a large outlet not being fully utilized. However, again, this option is available to those that can afford to pump in money at the moment.
The waiters?
Working in the service industry is no walk in the park. Sometimes serve meals to families that are way above your paycheck for the month. Sometimes you're disrespected by the customers despite being underpaid and underappreciated. The only saving grace is when you get generous tips, or even tips for that matter.
However, as a result of COVID, the amount of tips have also drastically increased. They only get tips when a customer is dining at the establishment, regardless of indoor or outdoor. With this additional income vanishing, the waiters find it hard to make ends meet.
While Profit does not have the moral authority to tell the readers what to do, this scribe requests everyone to tip generously, even to the person that is dropping your order to your car when you're ordering takeaway.
Loss for some, opportunity for others
When you order pasta at a restaurant, you're paying for the food, the overheads, and the vibe. That is exactly why you could have pasta for Rs 300, Rs 600, or Rs 2000 depending on where you go. However, when you're ordering home you're not really paying for the vibe and ambiance. In fact you're washing your dishes yourself. In that case, you're basically paying for the taste and ingredients.
Home chefs have been able to increase sales because they do not have high overheads and are able to operate at cheaper prices and have been able to pick up customers during the pandemic.